The high-speed rail project, developed by the Acciona-Ghella joint venture, will connect the Norwegian capital with Ski through a 19.5-kilometre tunnel.
Two ACCIONA Ghella Joint Venture (AGJV) tunnel boring machines (TBM), which are drilling the Follo Line high-speed rail tunnels between Oslo and Ski, reached the Norwegian capital today. The milestone was celebrated at a ceremony with ACCIONA Chairman José Manuel Entrecanales and Norwegian Minister for Transport Jon Georg Dale.
'This is a great technological achievement. It is the first large-diameter project drilled with TBMs in this country. For ACCIONA, where sustainability is the pillar of our strategy, it is very satisfying to work in Norway, which is undoubtedly a benchmark country in environmental issues,' said José Manuel Entrecanales during the ceremony.
The AGJV consortium is using four dual-shield TBMs to build twin 19.5-kilometre tunnels, each with an interior diameter of 8.8 metres. The four machines departed from the same point, the Norwegian town of Asland, with two of them drilling south toward Ski and the other two northbound toward Oslo. Once completed, they will be the longest tunnels in Scandinavia. The Asland-Oslo segment is 9 kilometres long and has taken two years.
Drilling is scheduled for completion in spring 2019 when the last two TBMs reach the surface in Ski. The project is approximately 65% complete at present and is scheduled for completion in 2021.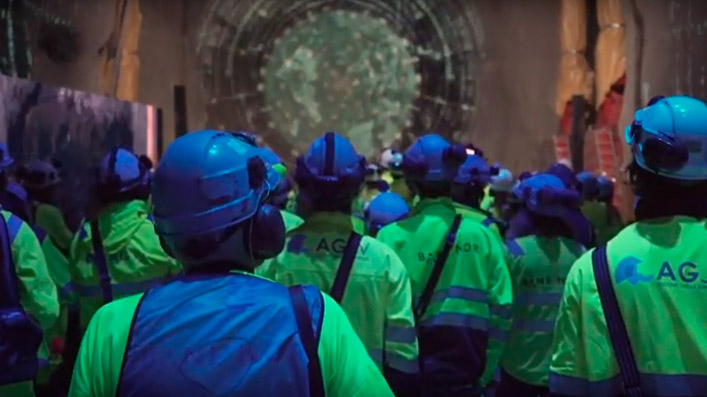 watch video