WE TAKE CARE OF WATER FOR A BETTER PLANET
Water care is indispensable in contributing to the Global Goals and in responding to water scarcity, one of humanity's greatest challenges. We work to ensure sustainable water management and universal access to this resource.
We guarantee access to water and its sustainable management
ACCIONA is putting its innovative and technical potential into action to create solutions to water scarcity, sanitation problems, access to this vital resource and increased demand. Water treatment for a sustainable future.
The company leads the water treatment sector through its design, construction and operation of drinking water treatment plants, waste water treatment plants, reverse osmosis desalination plants and tertiary treatments for water reuse, and has reinforced its focus on services for cities.
ACCIONA deploys its Business as Unusual approach to designing water infrastructure that can tackle the main water challenges and ensure the availability and sustainable management of this resource in every corner of the planet. One third of the water it treats is in water-scarce countries.
To this end, it explores innovative solutions and applies the latest water treatment technologies, while also focusing on the digitalisation of the sector, which it considers essential to deliver more efficient and sustainable water treatment processes. Water management processes to ensure compliance with Global Goal 6 "Clean water and sanitation".
Key figures
1033Hm³

total volume of treated water in 2021
37.3%

of the water treated in water stressed countries
+ 100 M

people have benefited from our services throughout history
VR Experiences to discover water treatment plants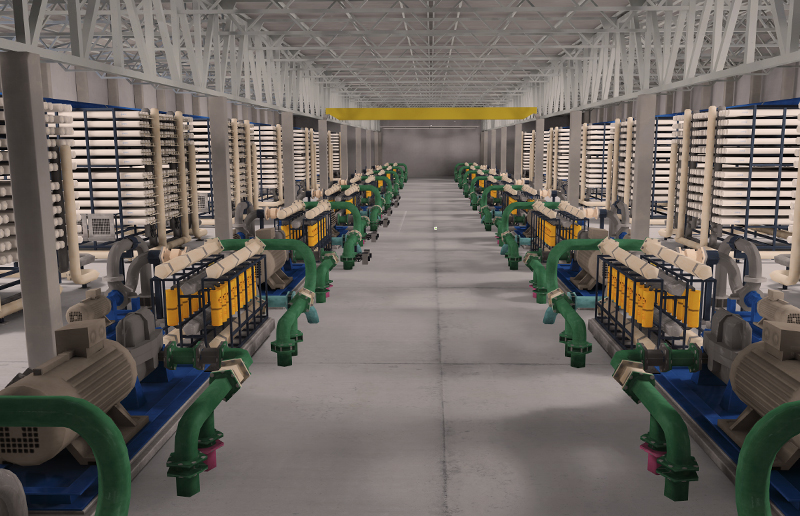 VR EXPERIENCE SWRO TORREVIEJA
Discover the process that water follows to be desalinated and the operation of reverse osmosis technology from the largest desalination plant in Europe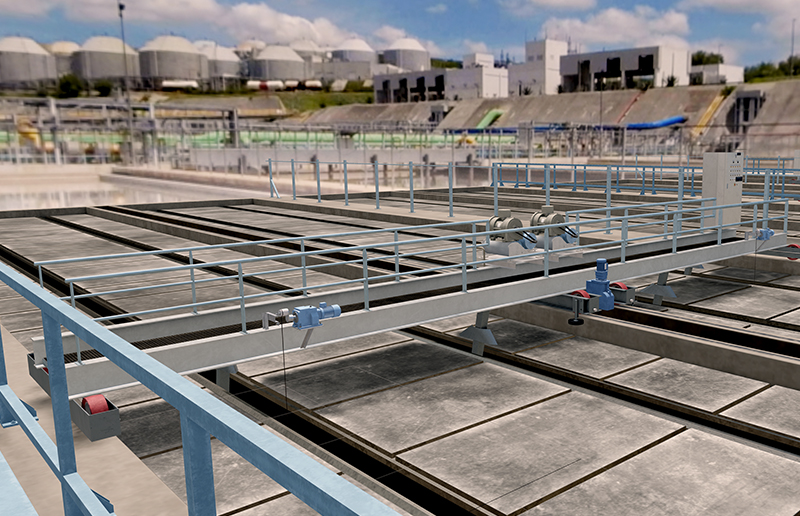 VR EXPERIENCE ATOTONILCO
Discover the process that wastewater follows to be treated and the operation of one of the largest wastewater treatment facilities in the world
WE MANAGE THE INTEGRAL WATER CYCLE
ACCIONA sustainably manages water at each of its treatment stages, and is committed to ensuring a global distribution of this resource with optimal quality conditions.
So we take part in water's journey from the point it is collected, its purification, the maintenance and control of water storage and management of distribution networks, to supplying water to the population and control of sanitation networks, treatment of urban and industrial waste water and water reuse.
All our processes and facilities are run through tracking and automation equipment, which require specialised maintenance, upgrades and continuous management to optimise water treatment plants and processes. We use all the company's departments to be more competitive and to optimise designs with the aim of ensuring sustainable water management.
Water collection from different sources
Desalination: Removal of salt and other minerals from sea water or brackish water to make it fit for irrigation or human consumption
Purification: Water treatment for human consumption
Distribution: Maintenance of the water distribution network
Water supply to populations and agricultural irrigation
Maintenance of the sanitation network
Water purification: Removing pollutants from waste water so as to achieve optimum quality to return the water to the environment
Water reuse: Tertiary treatment for use in agriculture, urban parks and other activities
AUTOMATION AND CONTROL
Automation and control systems are fundamental in ACCIONA water solutions.
The automation and control teams are in charge of each process and installation, requiring specialised maintenance, updates and continuous relations to optimize the plants and processes. To achieve this, different departments of the company work in a coordinated way in order to support special tasks and provide added value to the proposals. In this way, they improve the designs and contribute to increase the competitiveness of our projects.
To achieve this, different departments of the company work in a coordinated way in order to support specialized tasks and add value to the proposals.
Water cycle process automation is what sets the company apart from competitors, and is also one of the company's know-how repositories.
Volume of managed water
485
Hm³ of desalinated water
377
Hm³ of treated wastewater
We develop water projects all over the world
WE CONTRIBUTE TO SUSTAINABLE DEVELOPMENT
You might be interested in...
We work on the development of water treatment, desalination, reuse and distribution technologies. Our facilities are a technological reference as they have the most modern analyses and characterization for the study of new water treatment processes and the design of more efficient pilot plants.
Water scarcity and sanitation are two major challenges that we contribute to mitigate through technological solutions in water treatment, developed in our water technology center.
THE IMPORTANCE OF WATER TREATMENT
Water treatment aims to solve the problems of water scarcity and pollution and to ensure access to clean water worldwide. Find out what it is.