Role models: ACCIONA and Inspiring Girls organized a meeting of 60 teenagers with sportswomen Laia Sanz and Balba Camino to discuss the role of women in motor racing competitions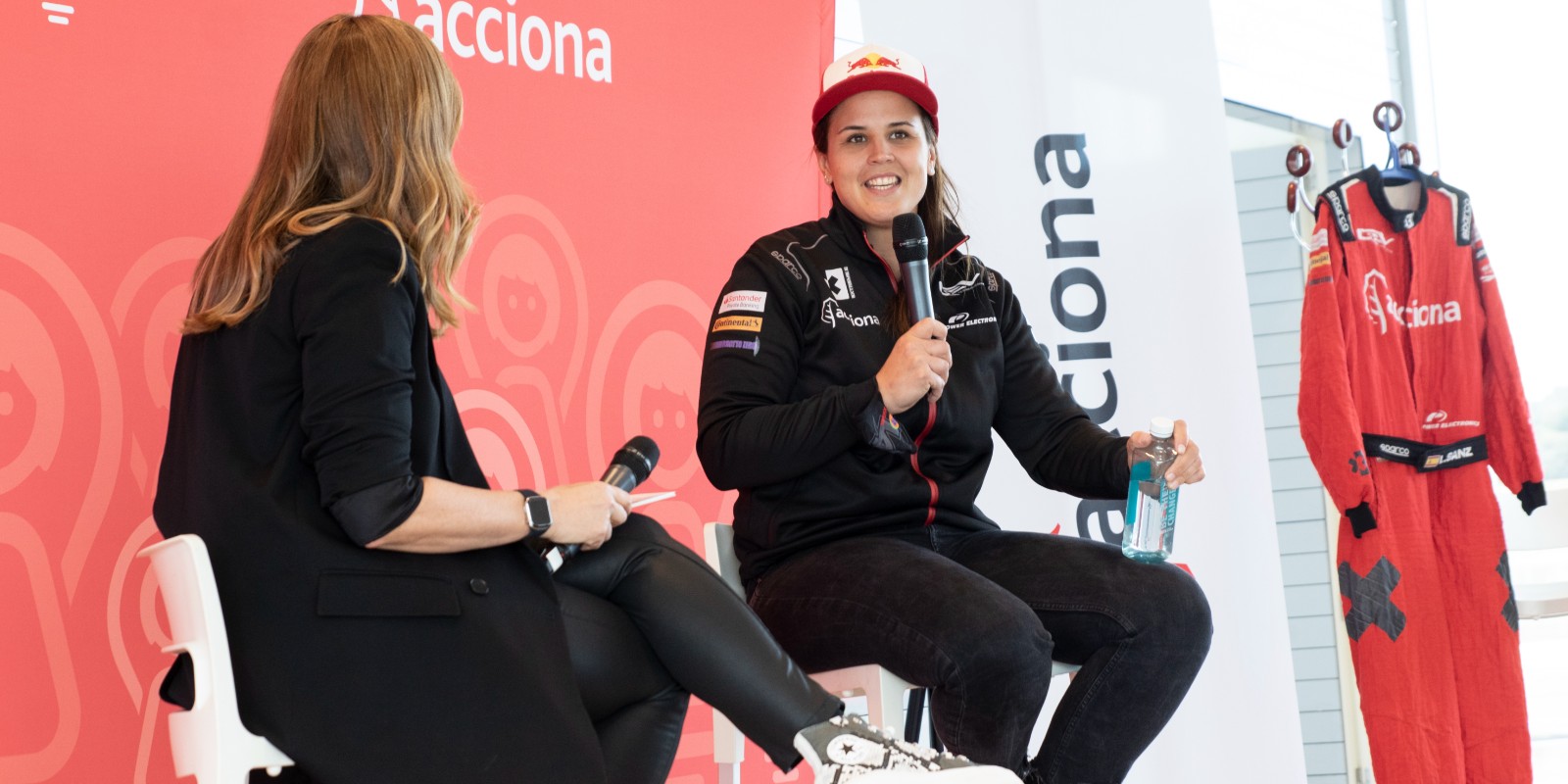 On International Women's Day, ACCIONA and Inspiring Girls organized a meeting between 60 teenagers aged 14 and 15 and sportswomen Laia Sanz and Balba Camino.
Laia Sanz is the only woman to have ranked in the Top 10 of the Dakar Rally, a race she has finished twelve times in a row. She is also a 14-time Trial World Champion and currently races in the mixed-gender Extreme E electric SUV championship, together with Carlos Sainz, as part of the ACCIONA | SAINZ XE Team.  
For her part, Balba Camino, who acted as the event's master of ceremonies in her capacity as ACCIONA's Events director, is the first woman in the world to win a GT championship and has been the Spanish champion five times. 
The sportswomen met a group of students from the IES Gregorio Marañón school in Madrid to share their professional experiences and to reflect on the impact that gender has had on their respective careers.
Laia Sanz highlighted the role of mixed-gender competitions in breaking down prejudice among young people: "We want the new generations to understand that there is another way of doing things. This implies making female role models visible in activities traditionally dominated by men. It's about shaking up systems and breaking prejudice, which is the same thing that, in another field, we're doing with the Extreme E championship, where we demonstrate that electric cars are powerful, competitive and fully reliable".
In this way, Sanz emphasized that the Extreme E championship, which is mixed-gender, offers women an exceptional platform to give female talent visibility in motor racing, although the driver pointed out that there is much less discrimination now than in the 1990s and early 2000s, when she started her career in motorsports.
In addition to the conference, the teenagers were able to participate in activities such as trying out Batak, the machine used by Formula 1 drivers to improve their reaction capability, or the Crazy Karts XL, mini electric cars that help to balance coordination with precision.
This initiative is part of ACCIONA's commitment to promoting the presence of women in traditionally male-dominated sectors, such as construction, a goal that has guided ACCIONA in its "Sostenibl@s 50:50" scheme.
To achieve this goal, the first step is to identify local female talent and provide training for the execution of specialized tasks. In this way, apart from increasing these women's employability, replicable models are created, eliminating the still persistent stigmas regarding female presence in certain activities.
An example of this scheme is the Loreto Project (Australia), where ACCIONA has achieved gender parity in the construction of a school, and the Marga Marga Hospital (Chile), which has a nursery built entirely by women. In the energy sector, what stands out is the Grid Code Conecta Project in Spain, where women are 50% of the grid code team for energy projects' interconnection, as well as the Women in the Isthmus project in Oaxaca (Mexico), which promotes the selection and development of women engineers in the wind power sector.