ACCIONA Chairman and CEO, José Manuel Entrecanales, has taken part in the launch of a new task group of CEOs from leading world companies to drive the private sector's contribution to the fight against climate change, within the framework of the World Economic Forum in Davos.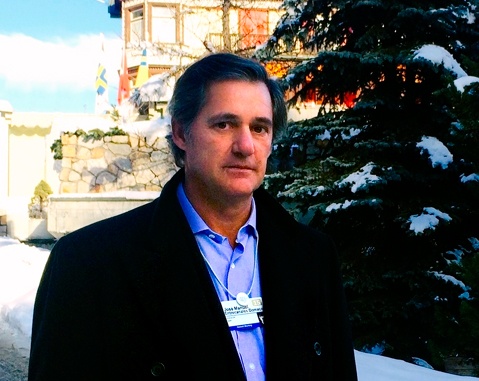 The group is comprised of the top executives of corporations of all economic sectors among which, besides the Chairman and CEO of ACCIONA, are Brian T Moynihan, Chairman and CEO of Bank of America; Olof Persson, Chairman and CEO of Volvo, Gerard Mestrallet, Chairman and CEO of GDF Suez, Ben Van Beurden, CEO of Shell; Rynning- Christian Tønnesen, Chairman and CEO of Statkraft and E. Hans Vestberg, Chairman and CEO of Ericsson, among other.
The new CEO Climate Leadership Group, set up under the auspices of the World Economic Forum and the United Nations (UN), sets out to create closer cooperation and coordinate the efforts made by companies that are committed to the fight against climate change. The idea is to bring the private sector on board to drive the institutional and political agenda of the forthcoming Climate Change Conference (COP21) to be held in Paris.
The first meeting of the launch of this new working group was opened by the Secretary General of the UN, Ban Ki Moon and was completed by Laurent Fabius, Minister of Foreign Affairs of France. Also participated, among others, Al Gore, former Vice President of the United States of America; Christiana Figueres, Executive Secretary of the United Nations Framework Convention on Climate Change United Nations (UNFCCC); Jim Yong Kim, President of the World Bank and Laurence Tubiana, Ambassador for Climate Change and Special Representative of the Ministry of Foreign Affairs of France for the Climate Change Conference 2015 Paris.
The CEO Climate Leadership Group acknowledges and assumes the key role that the private sector should play in the effort to avoid global warming, and it has made a commitment to work to raise awareness and convince political institutions of the need to take specific measures and implement policies to encourage a low-carbon economy. As economic operators, the companies undertake to innovate throughout their value chains to reduce emissions and to work together to develop new financial instruments that provide incentives for reductions, and also helping to speed up the dissemination of technologies that can channel the transition to a low-carbon economy.