ACCIONA 100% EcoPowered will compete in the 38th edition of the Dakar January 2 to 16, 2016.
After being the first zero emissions vehicle at the starting line in 2015, the ACCIONA will participate for the second time in the 2016 Dakar; an engine's most extreme test.
With this 100% zero emissions vehicle, ACCIONA demonstrates the viability and potential of renewable energies, even in the most extreme conditions. This bet began in 2011 when a kite-drawn sled reached the South Pole, then continued on with a sailing boat's participation in the Vendeé Globe; navigating around the world alone, without stopping, and without consuming fossil fuels.
This last October, the ACCIONA participated in the International Morocco Rally, becoming the first electric vehicle to finish a world rally calendar trial.
The ACCIONA 100% EcoPowered will be in Paris this 18 November for the official presentation of the 2016 Dakar and its route.
The race will unfold between January 2nd and 16th, and will run through Argentina and Bolivia.

ACCIONA, a Spanish multi-national in infrastructure, water, services, and renewable energy, will return for the second consecutive year to participate in the Dakar rally; being once again the first and only vehicle at the starting line to consume not a single drop of fossil fuels.
The ACCIONA 100% EcoPowered's construction has meant continuous research and development work carried out by ACCIONA's R&D+i Department since its first design in 2012.
This year, this extreme challenge will be tackled again, with new assets incorporated; reducing its weight by 40%, incorporating up to eight new more powerful battery packs, 4x4 traction, and a sequential gearbox that allows for the electric engine's performance to be enriched. These enhancements have already demonstrated its effectiveness through its participation in the International Morocco Rally, where it was the first zero emissions vehicle to compete and complete a world rally calendar trial.
Through its participation, the company hopes to continue demonstrating the capabilities of clean energy as a true alternative to fossil fuels and the CO2 emissions that cause global warming.
Ariel Jatón will be at the wheel; a driver with extensive experience in the competitive world, having participated various times in the Dakar Rally. Ariel has been the Rally Cross Country's Argentine champion, having collaborated on the car's development and construction from day one. Joining him on-board as navigator will be Gastón Scazzuso, whose professional trajectory as an electrical engineer is applied to motorsports.
100% zero-emissions energy systems
A highly efficient synchronous electric engine, equivalent to 300 HP, weighing only 80 Kg compared to its internal combustion counterparts which weigh more than 280 Kg.
7 packs of high-performance batteries, ultra-light, and with a rapid recharging capacity of 60 minutes.
Highly-efficient solar panels integrated into the rooftop bodywork to recharge the vehicle's primary power supply system: electronic components, navigation systems, lighting, and communication.
One of this project's main challenges has been evolving the electrical propulsion and battery system's design to guarantee increased autonomy on all types of terrain without representing a handicap for the vehicle's dynamic handling.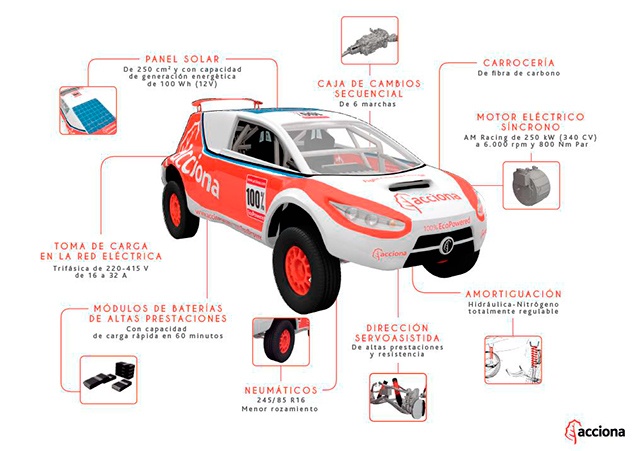 Follow us at: www.accionadakar.com
and our Social Networks:
Facebook: ACCIONA Dakar
Twitter: @accionadakar
Instagram: accionadakar
YouTube: ACCIONA Dakar