This is one of the project's key construction milestones, with the two towers of the future cable-stayed bridge reaching 145 metres.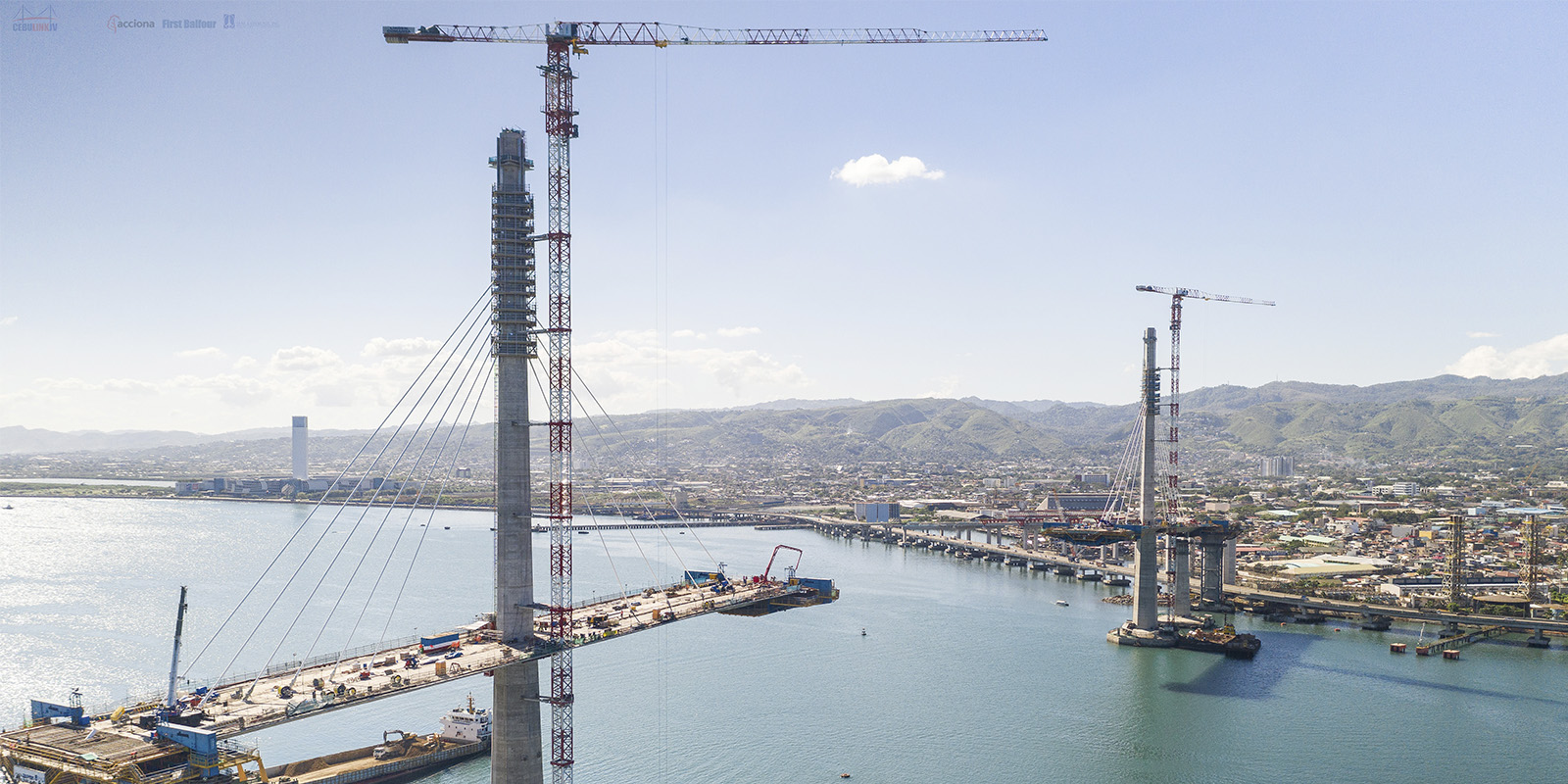 The Cebu Link Joint Venture (CLJV), consisting of ACCIONA and two local partners, First Balfour Inc. and D.M. Consunji Inc, has successfully completed one of the project's key construction milestones after completing construction of the concrete towers for the Cebu cable-stayed bridge.
Self-climbing formwork systems that were specifically designed for the project have been used to construct the two towers. A five-metre vertical section was initially built on which the towers were then constructed, progressively rising as new sections were created, to reach the maximum height of 145 metres.
The next phase of the construction work for the bridge is to install the cable-stays that will connect the two pylons to the main deck of the bridge, and this work has already begun in parallel to the tower construction. A total of 20 cable-stays have been installed so far.
At present, the Cebu Bridge construction project is more than 60% complete.
The project, which was awarded in 2017 by the Cebu Cordova Link Expressway Corporation, a subsidiary of Metro Pacific Tollways, consists of the design and construction of a 650-metre cable-stayed bridge as the principal structure, with a main span of 390 metres between pylons. This new infrastructure will also include several viaducts, as well as a 5.2 km section of highway over the water.
The coming into operation of the bridge will bring numerous benefits for traffic management in the region, alleviating the congestion currently suffered on the existing bridges by connecting Cebu City with Mactan Island via Cordova. This bridge will also provide a new connection between Cebu's industrial zone and Mactan International Airport, and to the new urban developments of Cordova on the island, becoming a core communications route that will boost the local economy.
ACCIONA opened its new sales office in the Philippines in Manila in 2019. The company began operating in the country in 2016 with a contract to design and construct, and operate and maintain for a one-year period, the Putatan 2 drinking water plant treating salt water. In the water sector ACCIONA is also currently constructing the Laguna Lake drinking water treatment plant in the city of Muntinlupa. The two plants will serve an area that is home to nearly six million people and each plant will have a capacity to treat 150,000 m3 per day.
In the Philippines, the company is also constructing two sections of railway line that will connect the city of Malolos with Clark International Airport, some 80 km north of Manila. The two sections include construction of 22.5 km of railway line and are worth a total of €890 million.