CLEAN, NON-POLLUTING ENERGY
Ensure access to affordable, reliable, sustainable and modern energy for all
1 in 8 people still do not have access to electricity. In order to ensure access to affordable, reliable, sustainable and modern energy for all, it is necessary to increase the use of renewable energy from 25 % today to 38 % in 2025.
ACCIONA is positioning itself as a key player in addressing the growth in energy demand while curbing the progress of global warming and promoting the transition to a decarbonized energy model.
CLIMATE ACTION
Take urgent action to combat climate change and its impacts
The generation and use of energy is responsible for 74 % of total greenhouse gas emissions in the world. This activity is the largest contributor to global warming. Investment in renewable energy, energy efficiency and other low carbon technologies will continue to be essential to meet the new needs of humanity and to minimise their negative impact on the environment.
ACCIONA considers the fight against climate change and its related effects to be a strategic priority. The Company is working to mitigate greenhouse gas emissions in order to contribute to the progress of society and respond to the main challenges of sustainable development in the areas of infrastructure, water and energy, leading the transition to a low-carbon economy.
Located in the province of Cuenca (Spain), the 50 MWp photovoltaic plant will fully enter service in 2023
The Bolarque photovoltaic (PV) plant consists of the installation of a latest-generation solar plant at Villalba del Rey (Cuenca) that will transform the sun's rays into clean energy equivalent to the consumption of 24,000 homes without contributing to climate change with maximum respect for the surrounding environment.
Construction work on the photovoltaic plant at Bolarque started in November 2021, and it is expected to enter service by 2023. It consists of more than 92,568 modules of 540 watts each, to produce an average 94,700 MWh of clean electricity per year.
The construction of the Bolarque PV plant will mean duties and taxes that will contribute to the well-being of the local community. ACCIONA Energía also undertakes to invest a percentage of its sales from the plant in community projects. These will be determined together with community representatives after an evaluation of the area's needs.
The construction of the facility will mean the creation of around 145 jobs, with 5 permanent posts established for the operational phase.
GENERAL INFORMATION
Location: Villalba del Rey (Cuenca)
Peak power: 50 MWp
Technology: photovoltaic solar on tracking structures
Forecast entry into service: Bolarque I in 2022 and Bolarque II in 2023
Ownership: ACCIONA Energía
KEY FEATURES
Latest-generation infrastructure that promotes advanced activities in the rural environment.
Average estimated annual production: 94.7 GWh, equivalent to the consumption of around 24,000 homes.
Around 44,000 tonnes of CO2 emissions to the atmosphere avoided every year.
Creation of 145 new jobs (140 during construction and 5 in the operational phase).
Investment programme for community projects in the area.
Preventive and corrective measures plan to offset environmental impacts.
KEY FIGURES
50
PEAK MEGAWATTS (MWP) TOTAL CAPACITY
24,000
EQUIVALENT HOMES SUPPLIED
74,282
PHOTOVOLTAIC MODULES
43,755
TONNES OF CO2 AVOIDED PER YEAR
64.7
SURFACE AREA (HECTARES)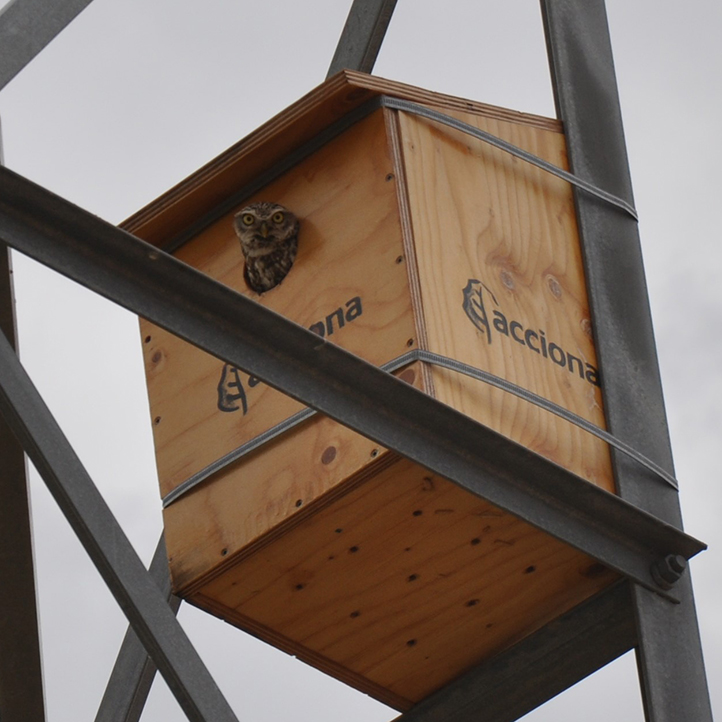 ENVIRONMENTAL MEASURES
The location of the project is the result of rigorous environmental studies aimed at reducing the impact on the surroundings, flora/fauna and existing ethnographic features (huts). A plant barrier will reduce the visual impact on the landscape.
Preventive and corrective measures will be applied to reduce the impact on plant and animal life, for example:
Monitoring and protection of Montagu's harrier nests.
Placing of nest boxes to encourage nesting.
Creation of a plant corridor with native species.
Adaption of power lines to avoid birds of prey impacts.
Monitoring of incidents involving carnivorous birds and mammals.
Permeable and safe fencing for wildlife.
Bolarque photovoltaic plant, in figures