Water is essential for life, for our homes, for security and economic, social and environmental development. And it is a resource that is both abundant and scarce.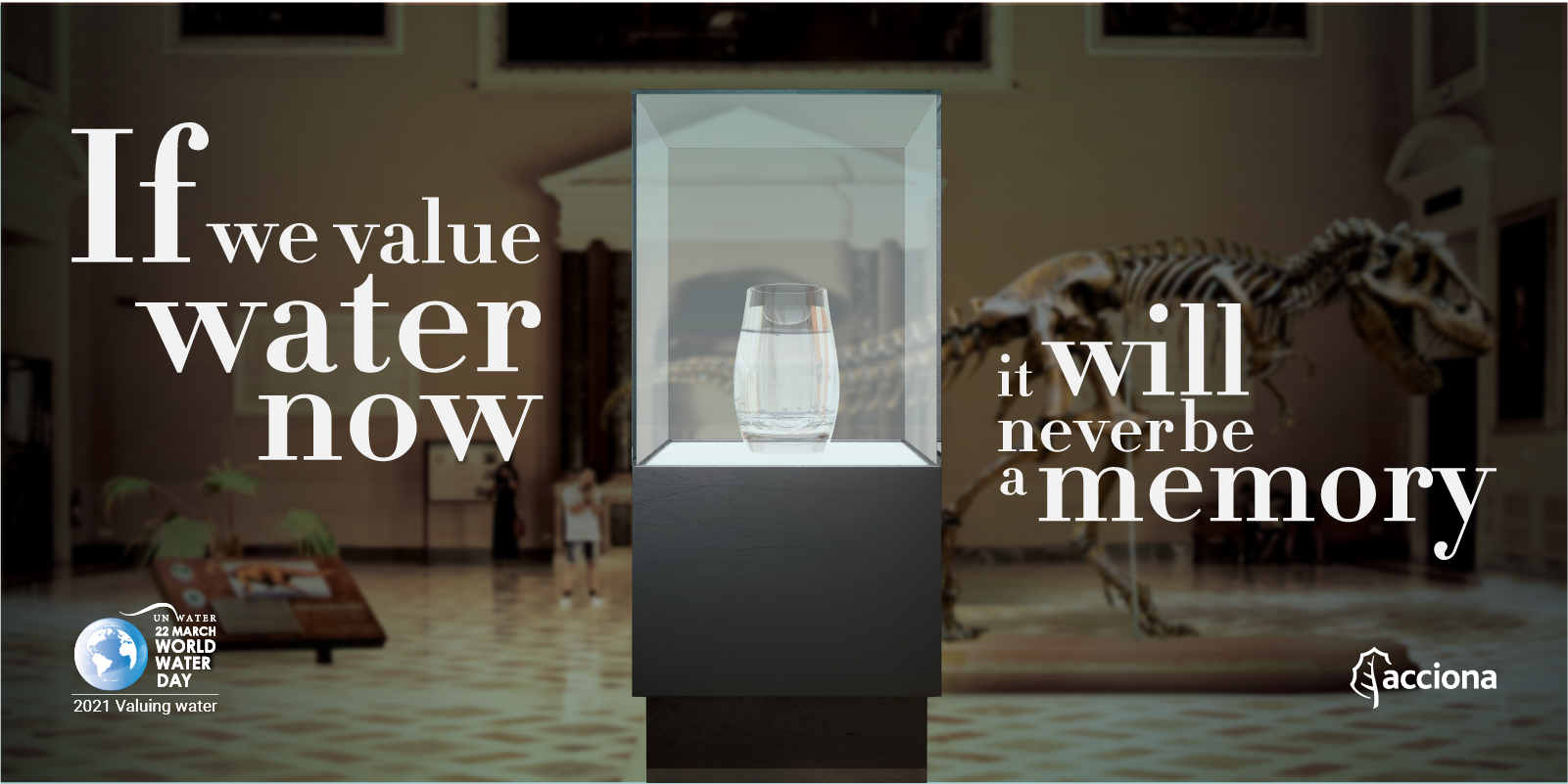 Water is essential for life, for our homes, for security and economic, social and environmental development. And it is a resource that is both abundant and scarce.
About 70% of the Earth's surface is water but only 3.5% is fresh water. Therefore, good management to ensure its availability is a key factor for our present and future wellbeing. This is the only way to ensure that water does not become a museum piece.
With the aim of highlighting a resource that has incalculable value, World Water Day will be held worldwide on 22 March.
WATER FOR LIFE
We all need access to sufficient quantities of water for drinking and personal hygiene.To ensure this, ACCIONA works constantly on the development of suitable infrastructures.
The company has built more than 125 drinking water treatment plants with a total capacity of over 8.6 million m3/day on the five continents. Projects such as the drinking water plants at Putatán and Laguna Lake in the Philippines; Mundaring in Australia, or Saint John in Canada are just three examples.
CLEAN WATER
Around four thousand million people are lacking basic sanitation services, with more than 80% of wastewater from human activity discharged into rivers and seas without prior treatment.
To put an end to this problem, ACCIONA has built more than 330 wastewater treatment plants with a processing capacity of 22.3 million m3/day that are capable of providing a service to a population equivalent of 80 million.
These projects incorporate technologies that boost energy efficiency, the recovery of resources and the quality of the water treated.
WATER FOR HEALTH AND WELLBEING
A person needs a minimum of 50 to 100 litres of water a day for drinking, nourishment and personal hygiene.
ACCIONA is a pioneer in desalination through reverse osmosis, the best desalination technology for supplying fresh water in areas that suffer water stress, and for promoting a decarbonized economy.
The company has built desalination plants that can processes around 4.9 million m3/day, sufficient to supply around 25 million people.
Reverse osmosis technology means 6.5 times fewer CO2 emissions than conventional desalination technologies in the Middle East and Africa. Just in this region, ACCIONA is developing major projects such as the Shuqaiq I and III, Al Khobar I and II desalination plants in Saudi Arabia; Jebel Ali, in the United Arab Emirates, or the extension of Umm Al Houl in Qatar.
WATER FOR CITIES
By 2050, 68% of the world's population will live in cities.
For more than 30 years ACCIONA has provided end-to-end water services that benefit sustainable development in large cities. Specifically, from water management and treatment solutions that include maintenance and repair to the commercial management of water in over 180 cities in Spain, Peru, Panama, Italy, Portugal and Mexico, with a total population served of around 17.8 million.
WATER FOR THE ENVIRONMENT
Water is the habitat for millions of species, and an essential resource for most of the natural environments of ecological value. If bodies of water disappear, diminish or degrade, important species for the life cycle and the balance of nature are affected and disappear too.
ACCIONA researches innovative technological solutions in the area of water re-use to optimize tertiary treatment processes and respond to the growing demand for water for agricultural uses, irrigation for urban green areas, recreational activities and groundwater recharge to combat saline intrusion.
WATER AGAINST CLIMATE CHANGE
Climate change will determine the quality and quantity of water available in the future.
Given that floods and droughts will increase, the risks of pollution and higher levels of pathogens in water will also rise.
We need to move to a circular model of production and use water more efficiently. This will also contribute to reducing greenhouse gases in the atmosphere.
Water is a unique resource. It means homes, development, and health. And it is the basis of life. ACCIONA commits to caring for it to ensure that it is correctly managed, and that we can all continue to enjoy such an essential element.
Indeed, our future depends on it.