The microgrid in Schneider's factory in Puente La Reina allows optimum efficient energy management, combining sustainability and digitalization.
The microgrid as a service model developed by ACCIONA Energía can be replicated in any industrial plant. It facilitates cost saving and flexibility without any investment by the client.
Microgrids facilitate the integration of renewable energies, electric vehicles and energy storage, as well as providing greater reliability and resilience to energy supplies.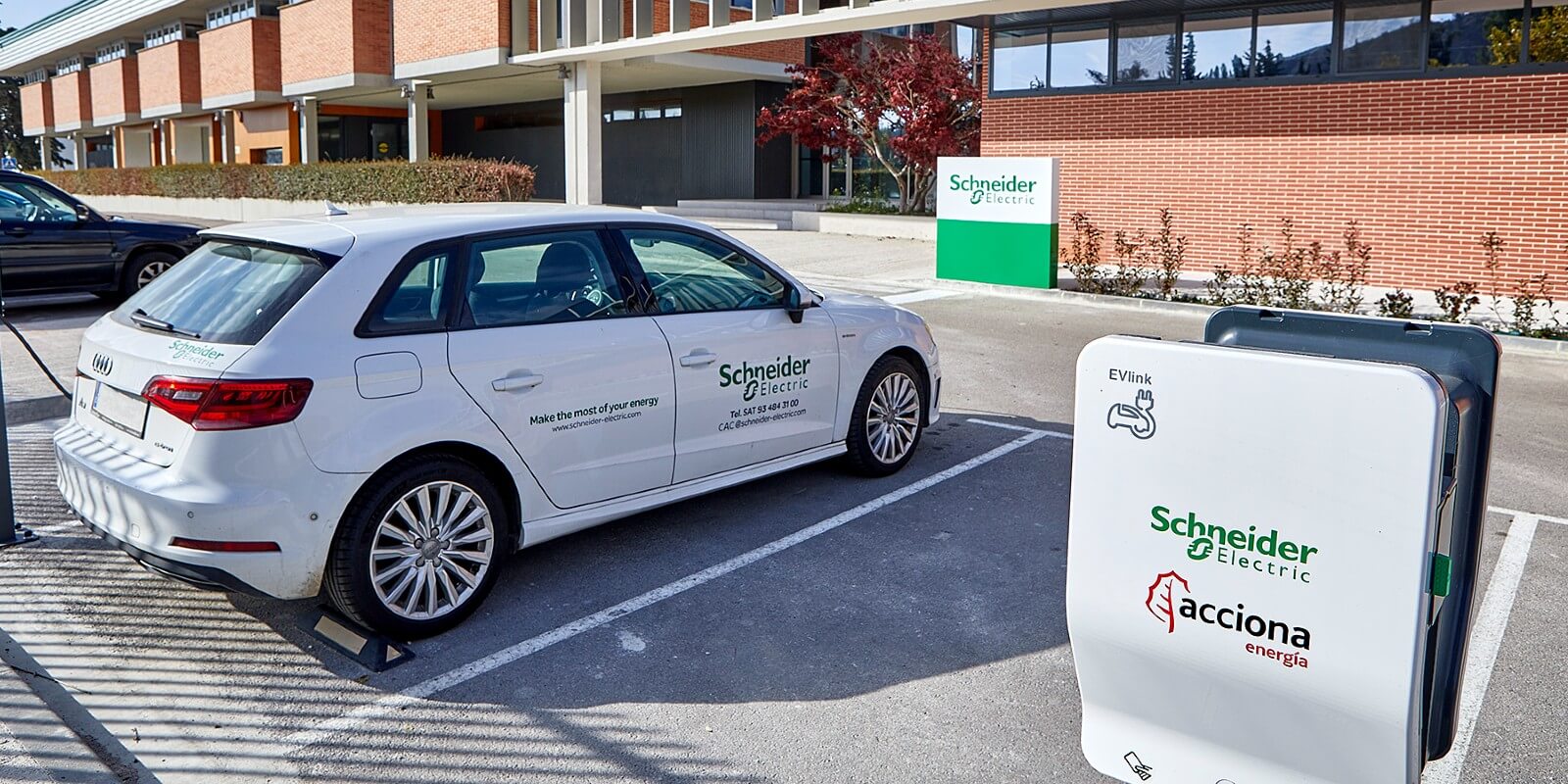 Schneider Electric, a leading company in the digital transformation of energy management and automation, and ACCIONA Energía, the biggest 100% renewable utility without a fossil fuel legacy in the world, have created the first microgrid in a Spanish factory in Schneider Electric's plant in Puente la Reina (Navarra).
The microgrid in the plant at Puente la Reina combines the production of renewable energy on site, battery storage and charging points for electric vehicles so that they can achieve maximum autonomy and optimize consumption in the grid. The microgrid offers more efficiency, lower energy costs and a smaller carbon footprint. Through this project, Schneider Electric and ACCIONA Energía strengthen their leadership in technology, sustainability and decarbonization.
The microgrid installed in the facility in Puente la Reina will include 852 kWp of photovoltaic energy, five charging points for electric vehicles and 80 kWh of battery storage, all controlled by EcoStruxure EMA software developed by Schneider Electric.
The ultimate aim of the project, which can be replicated in any industrial plant, is to continue to progress in the energy transition by combining distributed energy resources (solar, storage, electric cars), sustainability and digitalization to create a more profitable, resilient and sustainable energy infrastructure.
Schneider Electric's plant in Puente la Reina (Navarra) is one of the company's most innovative facilities in Spain, incorporating the latest digital and automation technologies and a reference in Industry 4.0 and Smart Factory. It employs 350 people and manufactures around 76 million switches and plugs from the Odace, Ovalis and New Unica ranges, for example.
The microgrid designed by ACCIONA Energía for Schneider Electric in Puente la Reina is based on the "energy as a service" approach. This model facilitates cost saving, digitalization and flexibility without the need for the client to make any investment. ACCIONA Energía owns the installation and undertakes its maintenance and management, so the client does not need to worry about the management and operating costs of the microgrid, and just pays for the service.
Sustainable and reliable energy thanks to microgrids
Energy models are undergoing a major process of change as generation is decentralized and the demand for electricity grows, driven by the worldwide megatrends for digitalization and decarbonization. As a result, energy as a service (EaaS) is emerging as an innovative way of fulfilling these two objectives.
Microgrids facilitate the integration of key elements for the energy transition such as renewable energy sources, electric vehicles and battery storage to provide more resilient and reliable supplies. They can function disconnected from the main grid, either isolated or connected, with active management of the energy to optimize costs.
Microgrids are designed to guarantee reliable supplies when demand peaks occur, during periods of grid inactivity or when intermittent renewable generation needs a backup.
They also use AI algorithms in their software and control panel to optimize the use of energy, combining direct self-consumption with capacity from storage or from the main grid based on an equation that calculates availability, cost and CO₂ emissions. These algorithms also manage the recharging of the electric vehicle batteries to reduce energy costs.