Decarbonization: The company meets its commitment to offset more than the annual carbon footprint of the top three participants in last year's tournament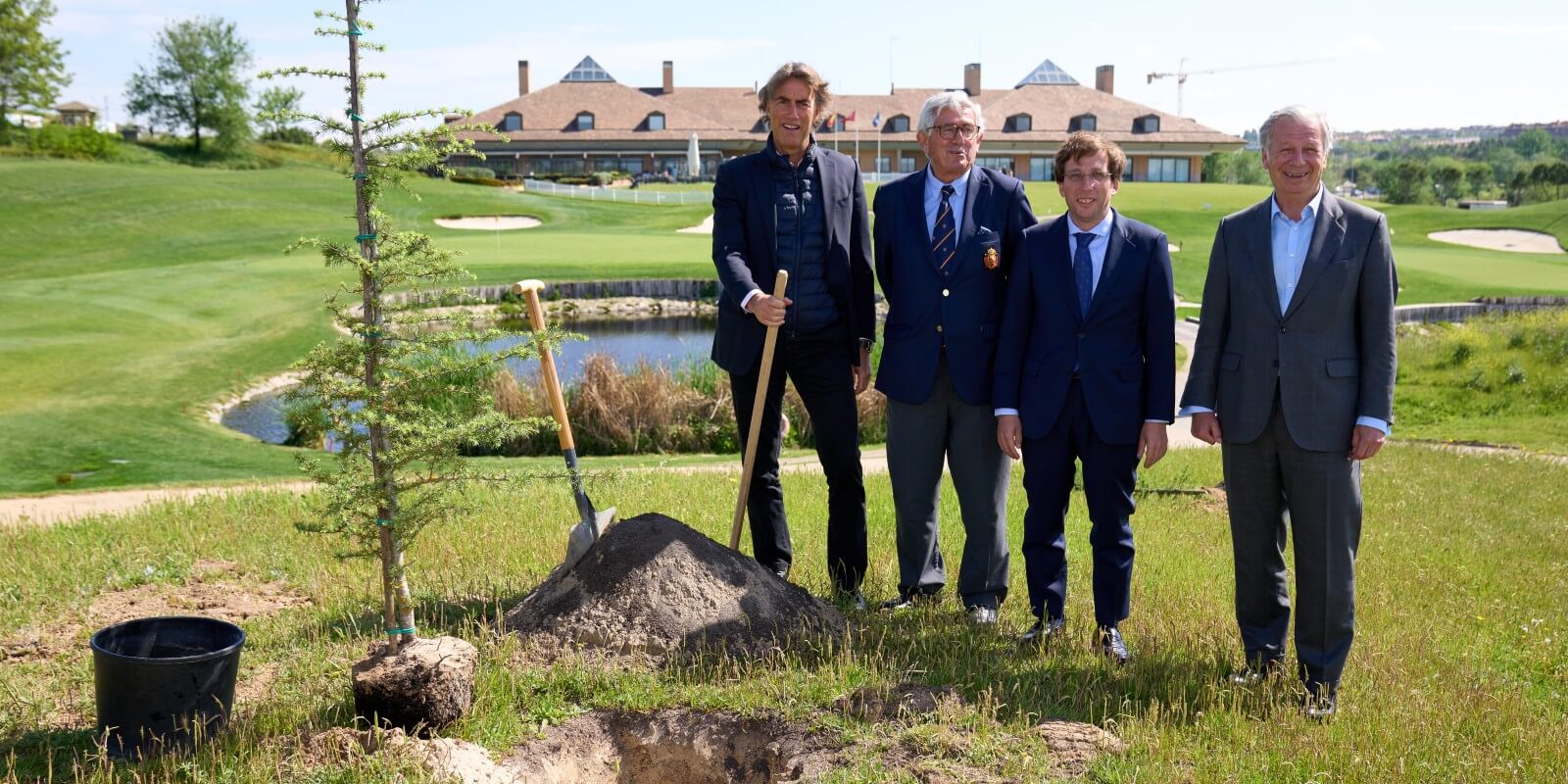 Today, ACCIONA completed the planting of almost 1,000 trees at the headquarters of the Royal Spanish Golf Federation (RFEG) in Madrid, thus meeting its commitment to go beyond offsetting the total annual emissions of the top three players in the 2021 ACCIONA Open de España standings.
The planting ceremony, held this morning at the National Golf Center, was attended by the mayor of Madrid, José Luis Martínez-Almeida; the president of the RFEG, Gonzaga Escauriaza; the chairman and CEO of Madrid Trophy Promotion, Gérard Tsobanian; and ACCIONA's managing director of Institutional Relations, Communications and Branding, Joaquín Mollinedo.
To highlight the commitment of sport in general and golf in particular to the active decarbonization of the planet, the company established the ACCIONA 'Emissions Under Par' Award at last year's edition of the golf tournament, of which it was the main sponsor.
The award entails that ACCIONA has largely offset the carbon footprint of the top three players and their caddies by planting trees during a full sports season.
Therefore, the footprint of the winner, Rafa Cabrera, has been offset ten times and that of the second-ranked player, Adri Arnaus, has been offset six times. The players tied in third place (Shubhankar Sharma, Julien Guerrier and Grant Forrest) shared the third prize, which offsets their carbon footprint four times over a year.
The new forest will absorb around 1,000 tonnes of CO2. The tree planting was carried out in collaboration with the Madrid City Council, as part of the Compensa Madrid program, which aims to decarbonize the city by reforesting urban spaces and converting them into carbon sinks.
SUSTAINABLE SPORT
As a sponsor, ACCIONA deployed a wide range of sustainable solutions during last year's tournament to neutralize any harmful effects on the environment and on the citizens of Madrid, ensuring a positive net impact that will remain a legacy for the city.
The 2021 ACCIONA Open de España was CO2 neutral, as various measures of all kinds were taken to minimize emissions, and any emissions it produced were offset with Certified Emission Reductions (CERs), granted by the United Nations Framework Convention on Climate Change, from the Oaxaca wind farm complex in Mexico. 
In addition, to guarantee its positive impact, ACCIONA went a step further and planted another 4,000 trees in the Dehesa de la Villa area of Madrid last November.