The Annual General Meeting approves a dividend of €2 per share which will be paid on July 2nd.
The board of directors is reduced to 11 members, a majority of which are independents.

The executive chairman of ACCIONA, José Manuel Entrecanales, told shareholders that the Group had finally put an end to one of the  toughest periods of its long history and that he was optimistic about the outlook for 2015 and beyond.
Mr Entrecanales said that ACCIONA's business had been hit by Spain's energy reforms, the country's economic and financial crisis and an unprecedented contraction of public infrastructure investment. This, he said, had created "a perfect storm, or what economists call a black swan – an unforeseen chain of negative events such as those we have suffered in the past years."
"Fortunately, ACCIONA has been able to overcome these difficulties with a series of audacious, agile and committed initiatives, and with the implementation of an ambitious Action Plan launched more than two years ago, the results of which are evident in the positive evolution of the Group last year and in the favourable outlook for the future," Mr Entrecanales said.
In particular, the chairman highlighted the following achievements:
A 67% reduction in gross capital expenditures compared with pre-regulatory reform levels.
Asset sales and new investment partners netting more than €1 billion
Annual savings of €70 million in operating costs
A 32% cut in senior management compensation last year, and an average cut of 27% over the past three years.
A transformation of the sources of corporate finance, from bank lending to capital markets
The elimination of the dividend in 2013.
As to the future, Mr Entrecanales said he was confident that significant progress would be made in the negotiations for a new climate agreement at the COP 21 that will be held in Paris at the end of the year. Firm commitments on emissions cuts are inextricably linked to the greater deployment of renewable energy, and thus to ACCIONA's business prospects. The Company, he said, was already firmly established in "regions with stable regulatory frameworks, with access to long-term finance and with great energy needs."
"Mexico, Chile, India, South Africa, Brazil, Turkey and Morocco are markets where we will grow strongly in the next few years, either with our own projects or by undertaking projects for clients with our ACCIONA Windpower turbines. In more mature markets, such as the US, Canada, Poland and Australia, we are working on selected low-risk projects in order to maintain a balanced portfolio of assets between emerging and developed countries," Mr Entrecanales said.
The chairman underscored the excellent evolution of the Group's wind turbine manufacturing subsidiary, ACCIONA Windpower, which had "cut manufacturing costs and improved the efficiency of its star product, the 3MW turbine, to achieve a 28% reduction in the cost of energy production." The result was a "resounding global commercial success that was making a significant contribution to the cash flow of the Group."
In the Infrastructure business, the chairman said he saw "positive tendencies in market segments such as urbanisation, transport, social infrastructure, and of course, water infrastructure". Scandinavia, central Europe, the Middle East, Canada, Mexico, Brazil, Chile, Peru and Australia all offered significant opportunities for ACCIONA, he said.
OPPORTUNITIES IN CAPITAL MARKETS
Lastly, Mr Entrecanales noted that "an improvement in financial markets and a reduction in the cost of capital could give rise to opportunities for our business divisions to be financed independently". Access to capital at very competitive costs might allow them to consolidate investment opportunities and growth, and crystallise intrinsic value, the chairman said. "Both the real estate and energy businesses could be candidates for independent listing in the equity capital markets, although this is a process that is currently subject to internal analysis and it would therefore be premature to draw any conclusions."
The AGM approved the Group accounts and the decision to restore a dividend of €2 per share, payable on July 2nd, having considered that the objectives of the 2013-14 Action Plan, put into place to mitigate the impact of Spain's energy reforms, had been fully met.
Shareholders seconded a proposal to name Ana Sainz de Vicuña as an independent director, while Valentín Montoya, Carlos Espinosa de los Monteros and Sol Daurella stepped down from the board. Six board members were reelected. With these changes, the board of directors will now be composed of 11 members, a majority (six) of which are independents.
Sustainability Report
The AGM approved the 2014 Sustainability Report in which ACCIONA measures its economic, environmental and social progress.
In 2014, ACCIONA avoided 28 times the level of CO² emissions generated from its productive activities, an 8% improvement over 2013. The Group's emissions fell 8.9% compared to the previous year, and by nearly 30% compared with 2012. This was achieved as a result of ACCIONA's continual efforts to minimise its energy consumption in its productive processes – and effort that has brought about a 70% reduction in the ratio energy consumption/revenues in the past 10 years.
In 2014, ACCIONA also extended the accounting of greenhouse gas emissions to its entire its supply chain – that is, it identified and calculated the emissions from the activities of its 28,000 supplies. This task has allowed ACCIONA to identify the 500 suppliers responsible for 70% of these emissions, and will lead to a joint working plan to reduce their carbon footprint.
With respect to its water footprint, ACCIONA generated a positive result of 532 hm³ thanks to its water treatment plants. In addition, the Group cut its consumption by 10.3% as a result of the use of recycled and reused water and networks that capture rainfall, which together accounted for 17% of ACCIONA's total water consumption.
The Dow Jones Sustainability Index World distinguished ACCIONA as a leader in climate strategy in 2014, with the top score in Environmental and Biodiversity Policies and Management Systems.
ACCIONA invested €174.9 million in innovation in 2014, 1% more than the previous year, which situates the Group at the forefront of European companies in terms of R&D intensity and underscores the Group's commitment to a competitiveness model based on innovation.
ACCIONA centres its innovation efforts on improving the efficiency, value added and cost reduction of its projects, efforts that brought about €34.4 million in savings through process improvements last year.
ACCIONA is a pioneer in methodologies to evaluate and manage the social impact of its projects, and it also develops an extensive programme of social initiatives. In 2014, there were 20 projects in 12 countries, with detailed plans for each community designed to accentuate the positive impact of ACCIONA's presence and mitigate any negative effects.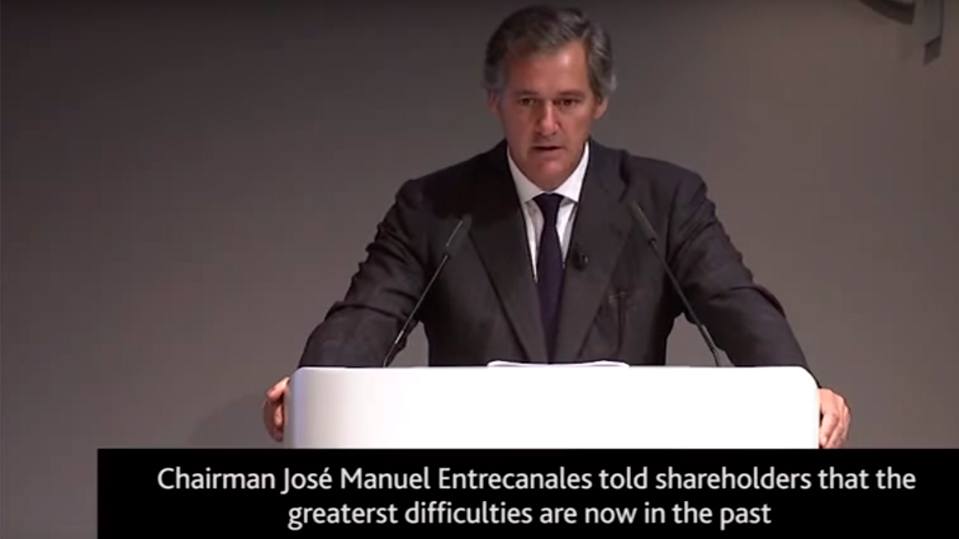 watch video