Success: 80,000 people have already visited the exhibition, located in Madrid's Teatro Instante (C/ Palos de la Frontera 20)
International Tour: The exhibition will open in the Netherlands and Puerto Rico in the coming months. It is also set to reach Mexico, New Zealand, Singapore, Japan and Australia throughout 2023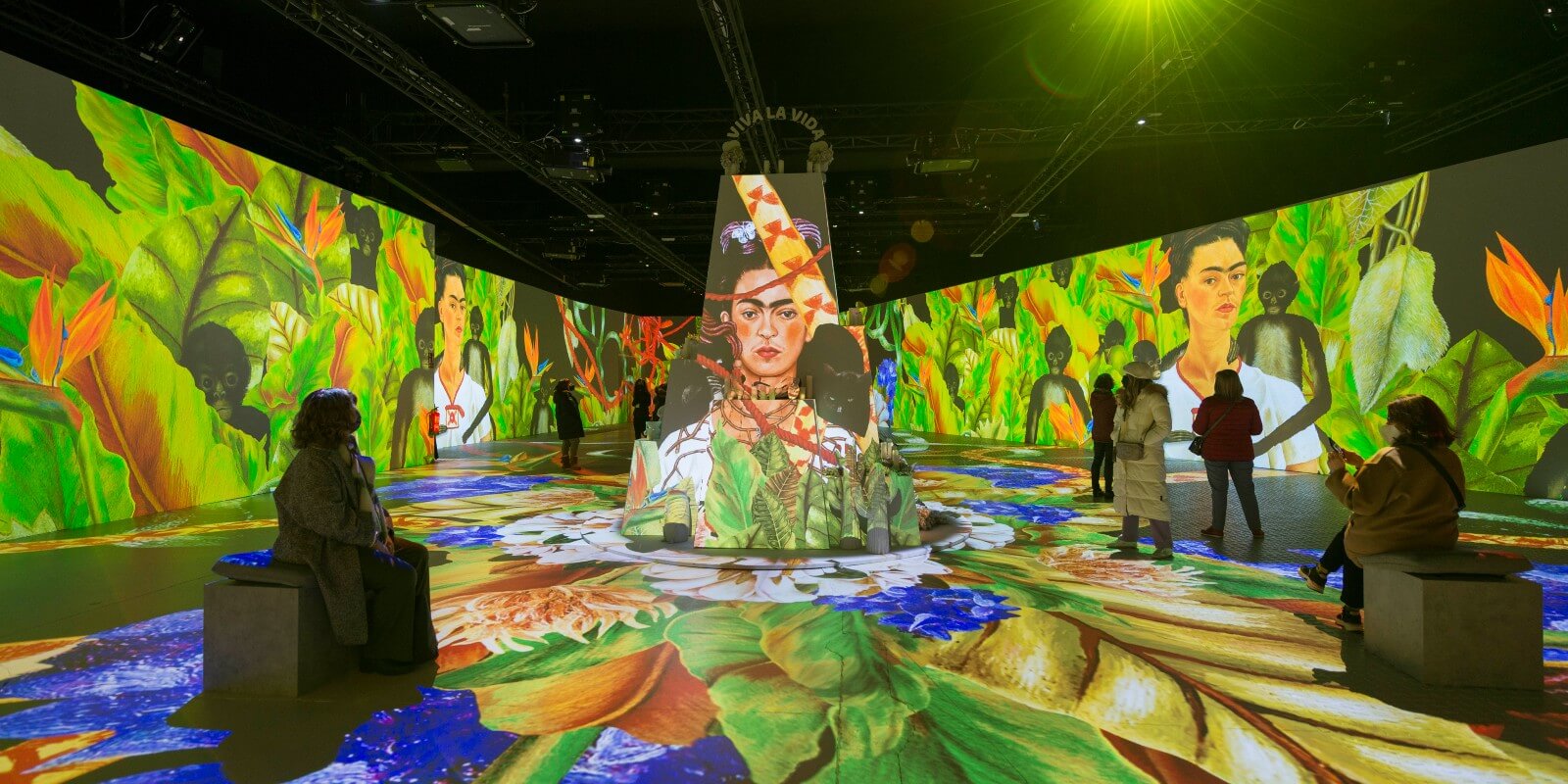 The Life and Work of Frida Kahlo exhibition has been extended until May 31st, one month longer than initially planned, due to the success of this immersive experience, designed and promoted by ACCIONA, which more than 80,000 visitors have already enjoyed since its inauguration in December 2021.
Once it finishes its run at Madrid's Teatro Instante (C/ Palos de la Frontera 20), the exhibition will embark on an international tour that will take it to the Netherlands and Puerto Rico during the remainder of 2022.
Afterwards, it will be exhibited in Mexico (Frida Kahlo's native country), in several Asian countries such as Singapore and Japan, in Australia and in New Zealand.
Life and Work of Frida Kahlo has become one of the benchmark exhibitions in Madrid's cultural and leisure scene, as it offers visitors an innovative experience halfway between cinema, large-scale audiovisual shows and traditional museums.
To this end, ACCIONA Cultura has converted the Teatro Instante – a former garage in Madrid's Delicias neighborhood – into a unique exhibition space with 1,129m2 of HD projection surfaces (including walls and floors) and 38 state-of-the-art projectors that bring to life more than 100 of Frida's pictorial, literary and photographic works.
The experience is completed with an original soundtrack created by composer and pianist Arturo Cardelús, a Goya award nominee, which has recently been uploaded to Spotify under the title Life and Work of Frida Kahlo and already has more than 25,000 plays.
The exhibition has been curated by Roxana Velásquez, the executive director of the San Diego Museum of Art, and Deidré Guevara, curator of the Frida and I exhibition at the Georges Pompidou Museum in Paris.
In the heat of the exhibition, a series of parallel activities have also taken place, both in the Teatro Instante itself and in cultural and educational centers in the capital. These initiatives, in the form of workshops, roundtables and/or conferences, aimed to show different artistic aspects of Frida and her ascendancy in current art.
Therefore, at the Casa del Lector in the Matadero Madrid exhibition space, two workshops for families were held on the work of the Mexican artist (Frida Kahlo. The Queen of the Selfie, and Explorers of Art: Frida Kahlo). In collaboration with Madrid's University of Design, Innovation and Technology (ESNE), a roundtable discussion was also held regarding immersive experiences in contemporary art environments, with the participation of experts from the cultural sector.
In addition, the exhibition was visited by high schools, for which a Diary of Exercises for High Schools has been designed as an educational roadmap to be implemented in the classroom after the visit, as well as by neighborhood associations such as that of Arganzuela.
Life and Work of Frida Kahlo has an estimated duration of one hour and a maximum capacity of 230 people per show. It is open from 11:00 am to 8:00 pm every day of the week and tickets can be purchased in advance on the following website: https://www.accionaexhibitions.com/   
The exhibition is suitable for all audiences (with special discounts for groups and families).
POSITIVE IMPACT
Another innovative aspect of this exhibition is its commitment to creating a positive social and environmental impact both in Madrid, where it premiered, and in Mexico, in honor of Frida Kahlo's native country.
This goal has been taken into account since the conception of the exhibition, for which a regenerative design was carried out, including an analysis of the entire life cycle of the used materials, as well as an exhaustive evaluation of energy efficiency. 
The Life and Work of Frida Kahlo exhibition will be carbon neutral, like all of ACCIONA Cultura's exhibitions. To this end, CO2 emissions are minimized and any unavoidable emissions are calculated and offset through the acquisition of Certified Emission Reductions (CER), granted by the United Nations Framework Convention on Climate Change. In line with its Sustainability Master Plan, ACCIONA goes one step further and is committed to leaving a permanent positive footprint with its projects. In this case, it will plant trees both in Mexico and in Madrid, in collaboration with local authorities and within the framework of renaturalization projects that, apart from their environmental benefit, create a positive social impact.
The entire process is endorsed by the UNE EN ISO 20121:2013 certificate, which certifies that all the tasks involved in the design, execution, assembly and disassembly of the exhibition are in line with the strictest sustainability criteria.