High impact: Its goal is to carry out the urban rehabilitation of six European cities under the most demanding sustainability standards included in the European Green Deal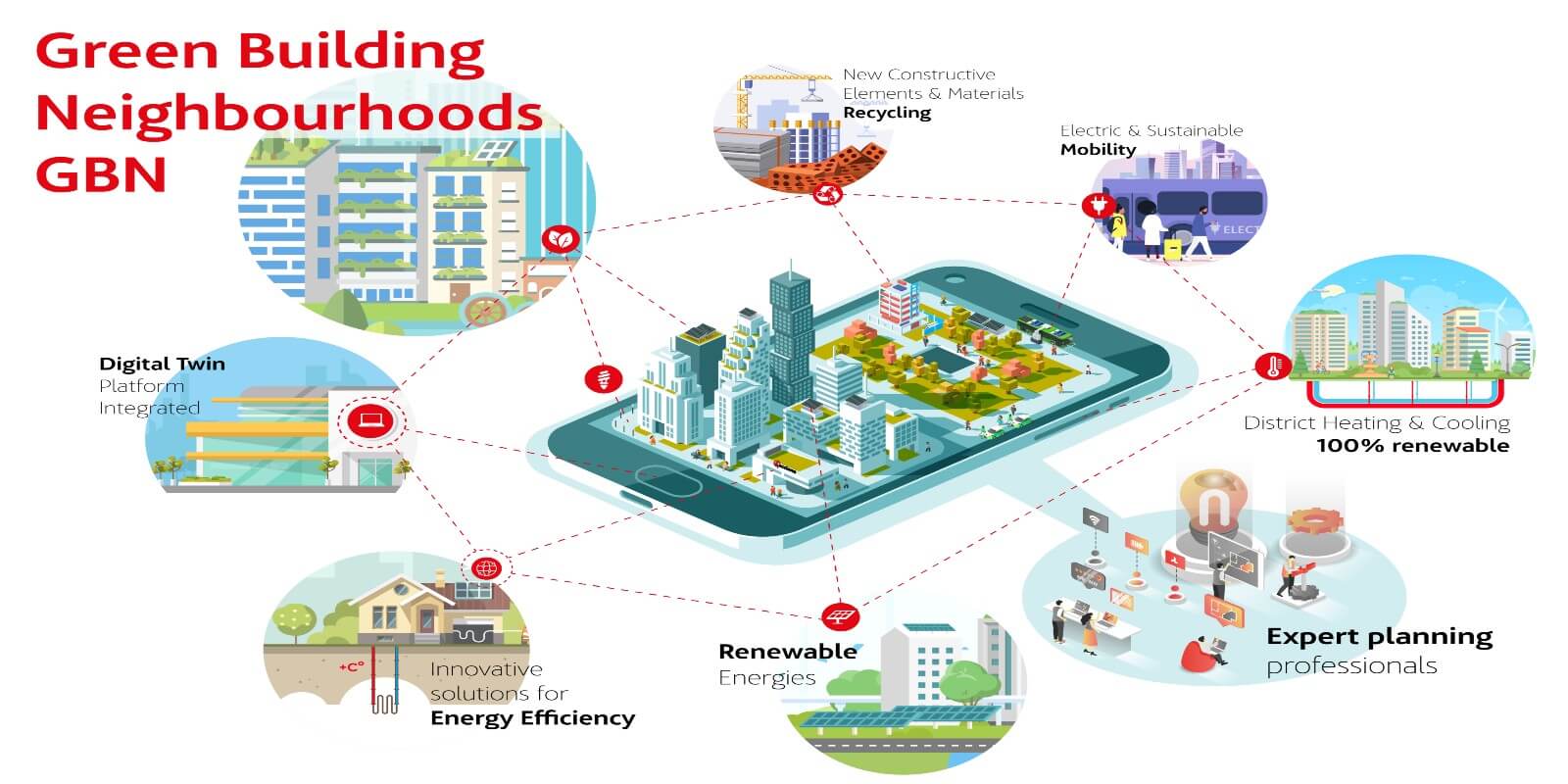 The ACCIONA-led PROBONO innovation project, involving 47 partners from 13 countries, has been selected by the European Commission to receive €20 million in funding from the Horizon 2020 program.
The partners involved include various technology companies, engineering firms, construction companies and local administrations, such as the Madrid City Council.
The initiative aims to design and implement scalable solutions for urban regeneration that meet the sustainability standards set by the European Green Deal.
The project also seeks to develop innovative methodologies and solutions to implement in individual buildings and for creating green districts, which are not only neutral in CO2 emissions, but also have a positive energy balance (generating more power than they consume). 
Its social aspect prioritizes the co-creation of solutions along with various social agents.
The project has a comprehensive vision, meaning it integrates various sustainability factors for urban areas:
Construction: sustainable and intelligent materials for rehabilitation and construction purposes will be evaluated and proposed within the initiative. When validating the sustainability of these materials, an analysis of their entire life cycle is required (from extraction to reuse at the end of their useful life).
Energy efficiency: energy savings will be prioritized in construction and design decisions as one of the key aspects to contribute to decarbonization and to improve the interior comfort of buildings.
Energy supply: the goal is to use 100% renewable energy, including district energy storage systems, the creation of energy communities and "smart grids", among others.
Use of New Information Technologies: an integrated digital platform (Digital Twin) will be developed to support decision making processes from design to operation and maintenance.
Public-private collaboration: the creation of regulatory frameworks promoting urban planning with zero-emissions districts will be carried out together with local administrations, such as the Madrid City Council.
Social impact: neighborhood participation will be encouraged in urban regeneration processes through open and collaborative innovation groups.
MADRID NUEVO NORTE
To test the feasibility of the PROBONO project, six districts of European cities have been selected: Madrid (Spain), Dublin (Ireland), Porto (Portugal), Brussels (Belgium), Aarhus (Denmark) and Prague (Czech Republic). The six districts, called Living LABs, will become energy-positive zones with zero-carbon buildings.
In Madrid, the project will be tested in the area known as Madrid Nuevo Norte, where renewables-based district heating and cooling networks will be implemented, with small urban installations that respect the coexistence of residential and office buildings.
In addition, as part of the proposal submitted by ACCIONA and its partners, the project includes the design and construction of a pilot (30,000m2) that will envision the future energy system of Madrid Nuevo Norte, using District Heating technologies based on geothermal energy, as well as technologies based on circular economy and renewables. All these technologies will be controlled and managed under a digital model that will allow maximum performance, stakeholder involvement, scaling and replication.
The total duration of the PROBONO project will be approximately five years, ending in the last quarter of 2026.
With this contract, ACCIONA positions itself as a leading company in sustainable urban design, planning and rehabilitation in Europe, joining the likes of leading urban design groups Cowi, Mott MacDonald, Idom and the Green Building Council.