Leadership: ACCIONA Energía has tripled its assets in Chile in two and a half years to reach 922 MW
Clean energy: Malgarida I and II supply the electric power system with 238 MWp and the Almeyda photovoltaic plant 62 MWp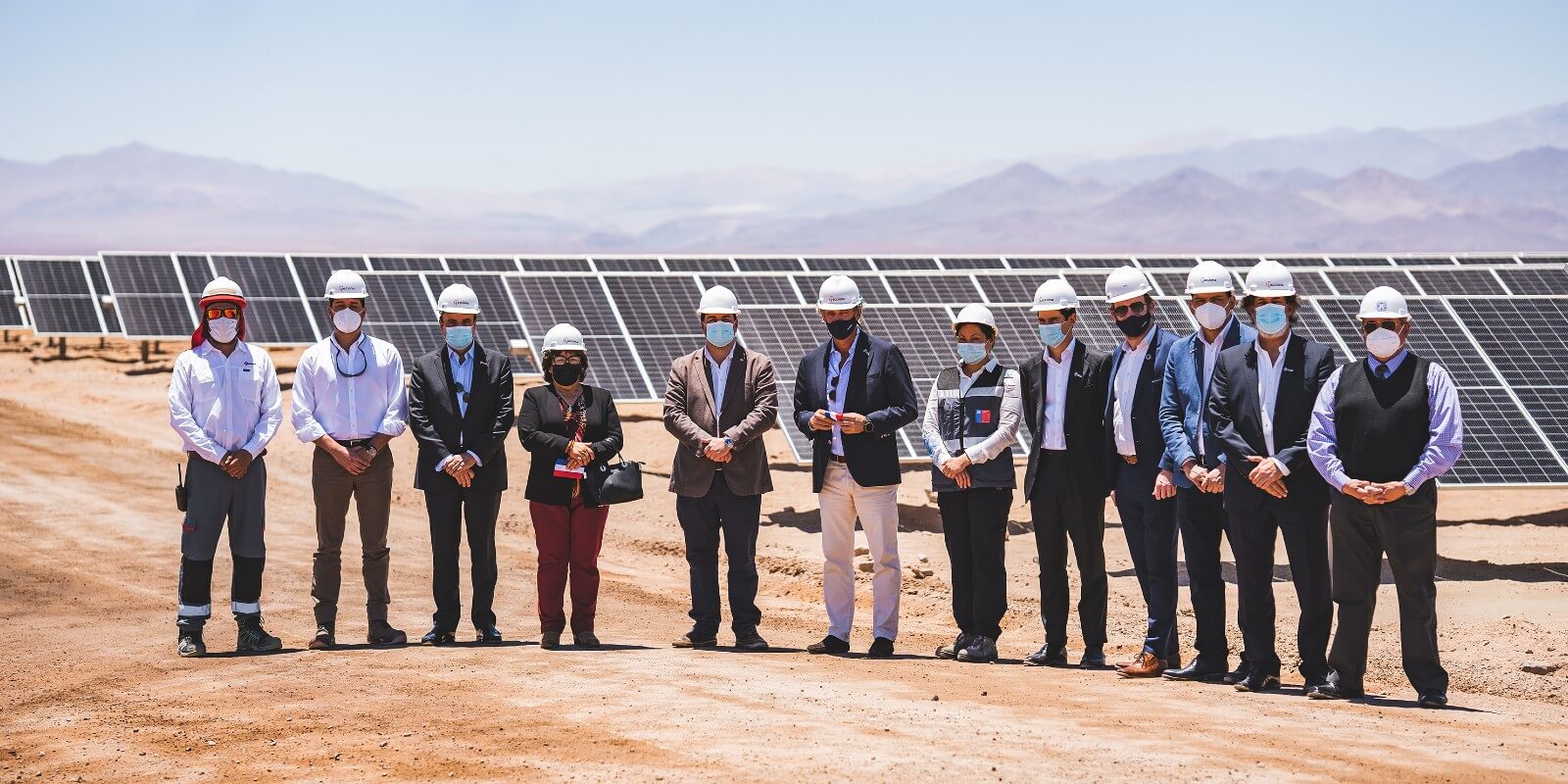 Chilean Energy Under-Secretary Francisco López and ACCIONA President José Manuel Entrecanales today inaugurated three photovoltaic plants entered into service by ACCIONA Energía at Diego de Almagro (Region of Atacama): the photovoltaic complex consisting of the Malgarida I and II plants and the Almeyda photovoltaic plant. The new installations contribute 300 MWp of emission-free energy to the country.
The ceremony, held under the Covid-19 protocol in force in Diego de Almagro, was attended by the Regional Secretary of the Chilean Energy Ministry, Kim Fa Bondi; the Director for the Environment of Diego de Almagro, Jorge Aguilera, and the Mayoress of Chañaral, Margarita Flores. ACCIONA Energía was represented by its CEO, Rafael Mateo and the company's Director-General for South America, Jose Ignacio Escobar.
In the inauguration of the three photovoltaic plants Mr López stated that "in Chile we have set ourselves the target of being carbon neutral in 2050, and clean energies play a key role in achieving this. We are taking giant strides in that direction; in 2021 alone non-conventional renewable energies will account for at least 35% of the country's energy mix, with the entry into service of wind and solar power plants with equivalent capacity to everything we have built to date".
"In the last few years, Chile has been ACCIONA Energía's launching pad in South America. In a short time we have reached operating capacity of 922 MW, making us the leading exclusively renewable electricity generator in the country", highlighted ACCIONA President José Manuel Entrecanales. "We are aiming at 20 GW of installed capacity worldwide by 2025. With that aim in mind, we will grow in countries such as Brazil, Peru or Colombia based on our Chilean platform. We are convinced that South America will contribute 2.5 GW to that effort over five years", he added.
Malgarida I and Malgarida II entered service in July this year and will generate 654 Gigawatt-hours (GWh) of clean electricity per year, equivalent to the demand of around 280,000 Chilean households, avoiding the emission of around 512,000 tonnes of CO2 per year. For its part, the Almeyda photovoltaic plant was grid connected in December 2019 and now generates 167.5 GWh, equivalent to the demand of around 80,000 households in the country and avoiding the emission of 162,000 tonnes of CO2 per year.