"Global leader": The award acknowledges the company's excellent performance in international markets and its contribution to promoting the Spanish economy over the years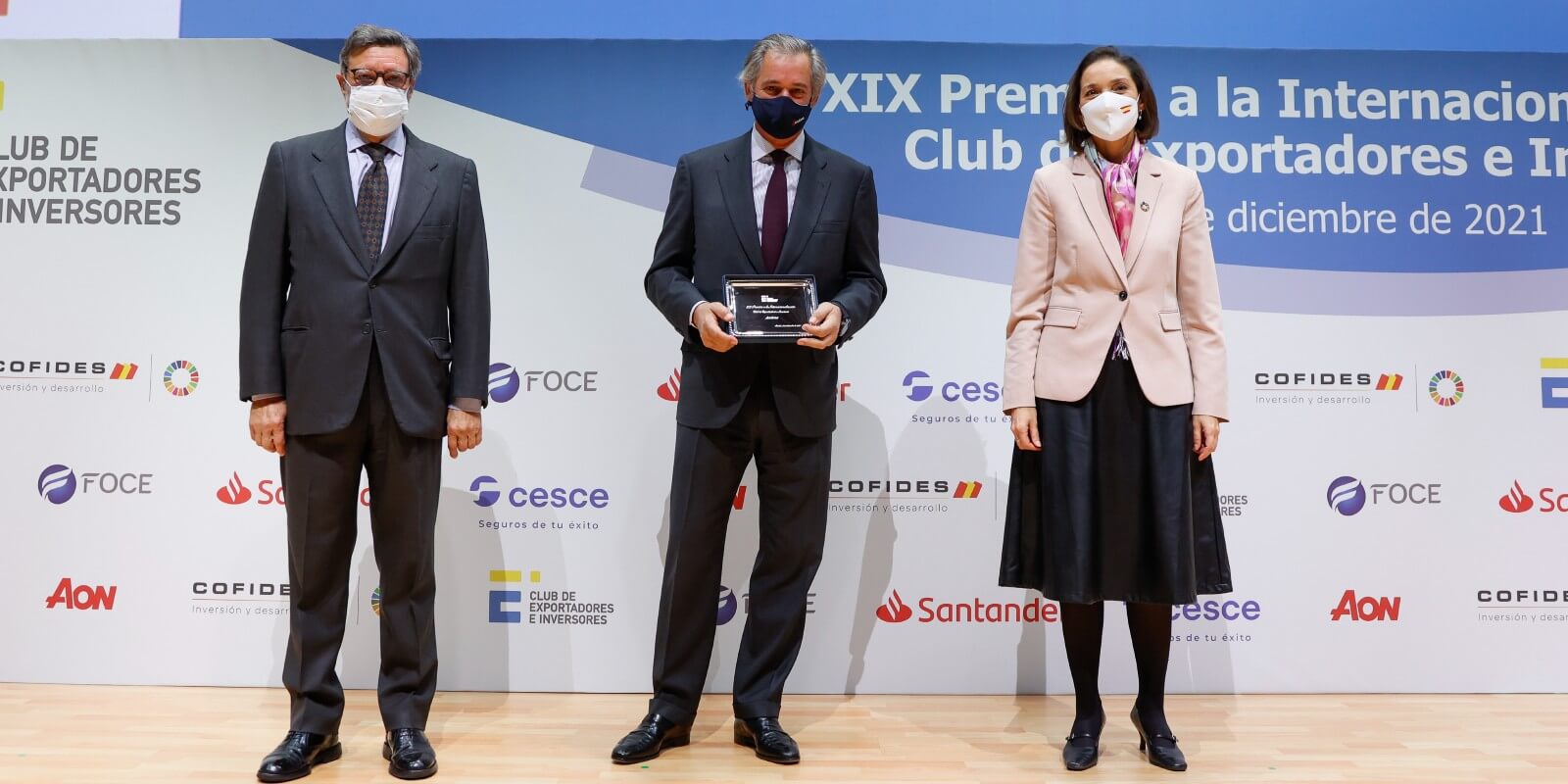 The Spanish Exporters and Investors Club has awarded ACCIONA with the 2021 Internationalization Award in the large company category.
José Manuel Entrecanales, chairman and CEO of ACCIONA, received the award at a ceremony officiated by Reyes Maroto, Spanish minister of Industry, Trade and Tourism.
The jury of the Internationalization Awards 2021 honored ACCIONA for "its excellent performance in international markets over the years and its contribution to promoting Spain's image within and beyond our borders," as well as for being a world leader in sustainable infrastructure projects.
ACCIONA operates in more than 60 countries and over 58% of the company's revenue in 2020 was obtained in international markets. The group's total Infrastructure backlog increased by 19.8% to hit €17.83 billion up to September 30th, 2021 compared to December 31st, 2020. Of the total backlog, 82% was in international markets.
The company has become a key player in major international infrastructure projects around the world. In Construction, the group's activity is growing particularly in Australia, which already accounts for 40% of the Group's turnover in this business division. ACCIONA is also involved in major international projects such as the construction of Line 6 of the São Paulo metro (Brazil) and the Fargo-Moorhead river diversion project (US). In the water sector, the company continues to consolidate its leading position worldwide, with recent projects like the Veracruz water management contract (Mexico) and the construction of the Jubail 3B desalination plant (Saudi Arabia) in its portfolio.
ACCIONA Energía has a strong international presence, with 47% of its total 10,694MW of installed capacity located abroad. In the first nine months of this year, ACCIONA Energía installed a total of 508MW, almost all in international markets: 158MW of wind power in Australia (Mortlake South), 91MW of wind in the US (Chalupa), 195MW of wind in Mexico (San Carlos and Santa Cruz) and 238MW of PV in Chile (Malgarida). At the end of September 2021, ACCIONA Energía had 507MW of renewable capacity under construction and expects to have at least 1.5GW under construction early next year, pending completion of the MacIntyre wind project (923MW) in Australia.
TWO DECADES
The Spanish Exporters and Investors Club has been recognizing companies, institutions and individuals' internationalization efforts for the past 19 years. The awards are given out in three categories: large company with an outstanding international projection, small or medium sized enterprise (SME) with an outstanding international projection and high official or institution of special relevance for the internationalization of the Spanish company.
In addition to ACCIONA, this year's winners are the Premo Group in the category of small and medium-sized companies, and the Network of Spanish Economic and Commercial Offices Abroad in the category for institutions of special relevance for the internationalization of Spanish companies.