This year, more than 860 ACCIONA employees participated in Volunteer Day, teaching workshops on sustainability to students aged 6 to 10 in 18 different countries.

More than 860 ACCIONA employees participated this year in the volunteer activity that the company organises every year, which consists of workshops taught by company employees to students aged 6 to 10  with the aim of making them aware of the importance of sustainable development.  
In the seven editions of this program that have taken place since 2012, more than 3,400 volunteers have taught sustainability workshops to more than 65,000 students in over 24 countries.
This year, ACCIONA volunteers taught about 14,000 students in 18 countries (Spain, Brazil, Mexico, Ecuador, Chile, Panama, India, Poland, Australia, South Africa, Portugal, Costa Rica, Colombia, Canada, Qatar, Peru, United Arab Emirates and Philippines).
Through Volunteer Day and the 'Guardians of the Earth' characters that were created by the company, ACCIONA seeks to raise awareness among schoolchildren of the active role they can play in achieving sustainable development, and also to encourage its own employees to take on board the company's philosophy, which is focused on low-carbon business models, developing activities that reduce CO2 emissions, reducing greenhouse emissions and optimising energy and water consumption.
Issues such as gender equality and the fight against hunger, in line with issues raised by the UN Sustainable Development Goals (SDG), were incorporated into the programme this year.
It's #ACCIONAVolunteers' day! Our volunteers are teaching sustainability workshops across the world 🌎

Follow this thread to find out more about this initiative 👇 pic.twitter.com/Xhjx8KMUGk

— ACCIONA (English) (@ACCIONA_EN) 8 de junio de 2018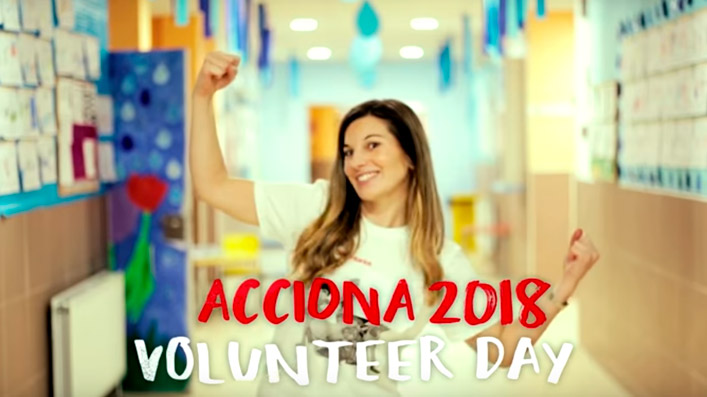 watch video