The replacement of the bridge's 88 stay cables will enhance its overall structure safety
The project will widen the highway crossing the bridge from five to six lanes, easing traffic congestion in the area
ACCIONA has executed the construction of over 600 complex bridges around the world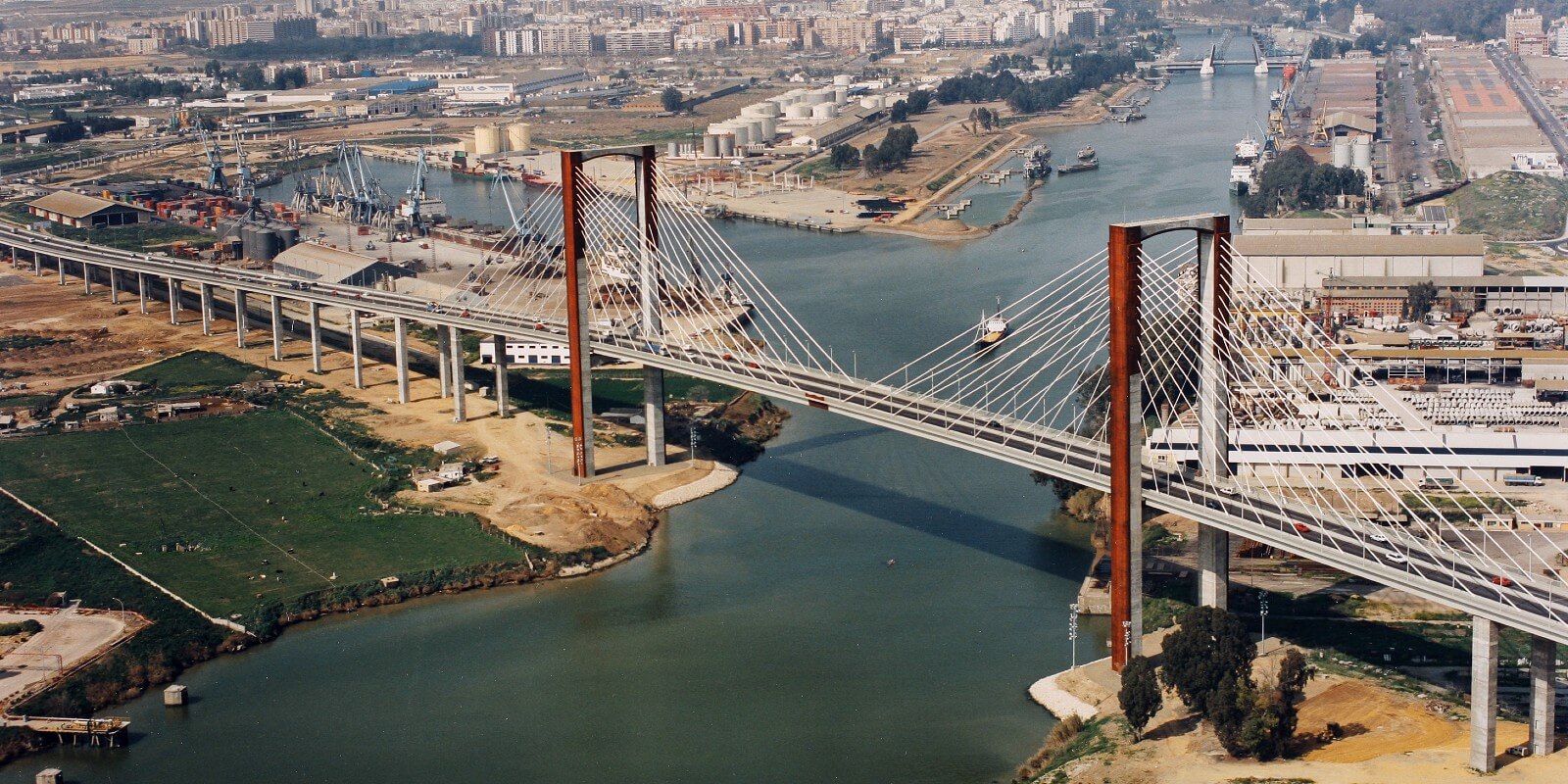 Spain's Ministry of Transport, Mobility and Urban Agenda has backed ACCIONA as the winning bidder for the expansion and renovation project on the Centenario Bridge in Seville. The joint venture formed by ACCIONA, Tecade and Freyssinet obtained the highest score in the project tender, offering a bid amounting to €71.4 million.
The works will serve to upgrade the bridge, mainly by replacing the existing 88 stay cables with newer and more modern ones, which will reinforce its structural safety.
The contract also contemplates widening works on the SE-30 highway section that crosses the bridge, which will include one additional lane. Currently, the section boasts five lanes (two in each direction and a central reversible lane), compared to the rest of the SE-30 and the access viaducts, which all include six lanes. Once the works are completed, this bridge section of the SE-30 will also have three lanes in each direction, alleviating the traffic congestion issue in the area.
Road safety for drivers will also be improved through the installation of a separation barrier in the highway median strip, as well as the improvement of containment systems.
EMBLEMATIC PROJECTS
The Centenario Bridge was built between 1989 and 1991 by ACCIONA, in a joint venture, as part of the infrastructure works undertaken in Seville for the city's 1992 Universal Exposition.
The infrastructure consists of two access viaducts (ordinary structures made of precast concrete) and a structure crossing the river basin by means of a 564-meter-long cable-stayed bridge. It currently has an average traffic intensity of more than 100,000 vehicles per day. 
In addition to the Centenario Bridge, ACCIONA has built more than 600 bridges of great technical complexity worldwide, including emblematic bridges such as the Ting-Kau cable-stayed bridge in Hong Kong, the Beauharnois Bridge in Canada, the bridge over the Clarence River in Harwood (Australia), the bridge over the Roskilde Fjord in Denmark and the Sant Boi bridge on the Madrid-Barcelona high-speed railway line in Spain.