The company will triple the number of available motorcycles from 500 to 1,700 units starting September 9th. All of the scooters function on 100% renewable energy
ACCIONA now offers over 10,000 shared electric motorcycles, making it the largest motosharing operator worldwide. The company has so far deployed its service in the Spanish cities of Madrid, Barcelona, Valencia, Sevilla and Zaragoza, as well as Milan and Rome in Italy.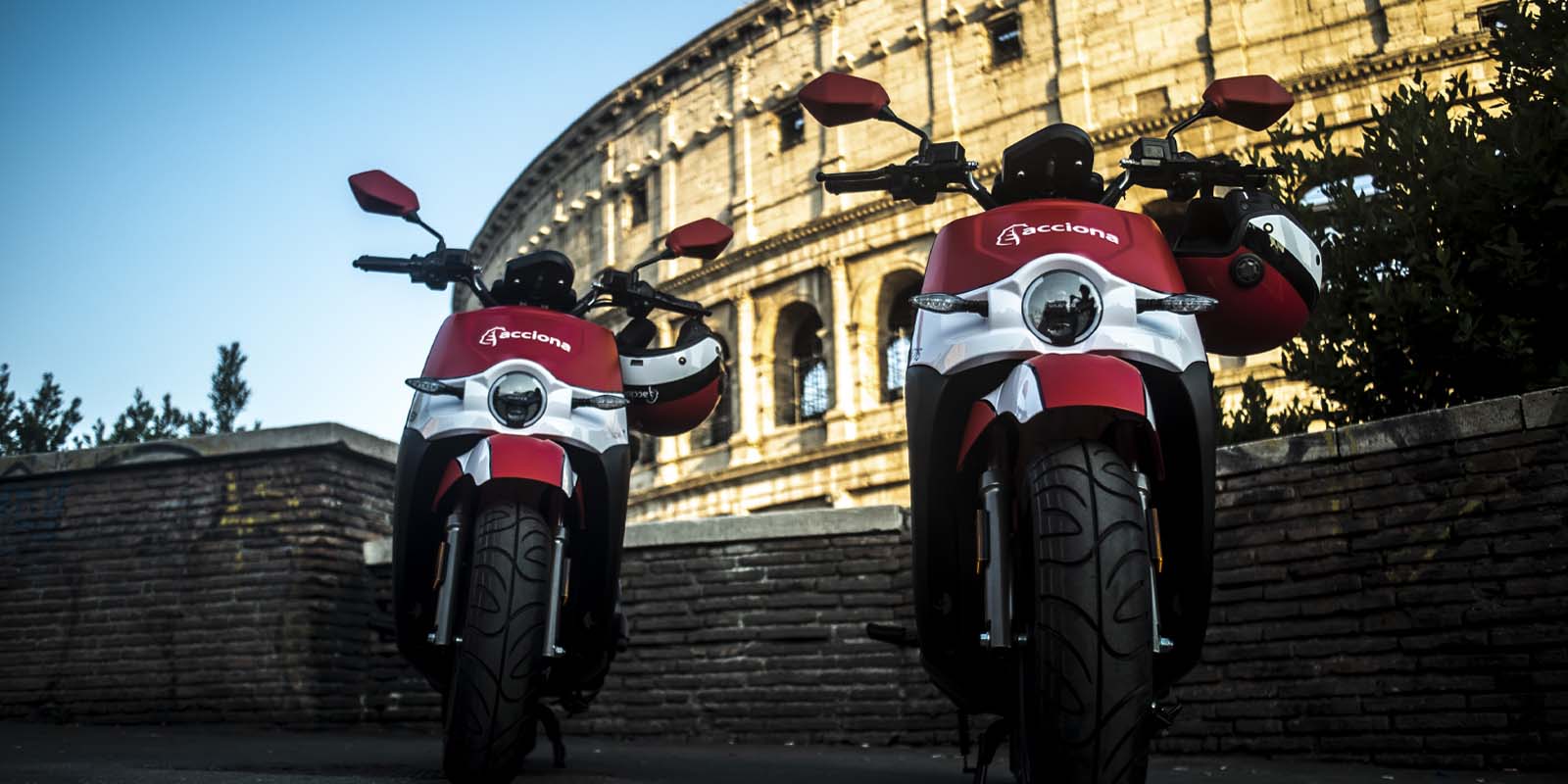 ACCIONA will increase the number of its electric motorcycle units in Rome. The fleet will triple from 500 motorbikes to 1,700, all of which are charged with 100% renewable power.
This move consolidates the company's shared mobility service in the country, where it also operates 300 scooters in Milan. To celebrate this new service expansion, ACCIONA will be offering 40 free minutes to all new users in Rome from September 7th.
With the new vehicles being introduced into the Italian capital, ACCIONA now exceeds 10,000 motorcycle units worldwide and maintains its position as the largest global motosharing operator. The service is available in five Spanish cities (Madrid, Barcelona, Valencia, Seville and Zaragoza), and also in Milan and Rome, in Italy.
In line with ACCIONA's decarbonization commitments, The ACCIONA Mobility APP offers users all kinds of information on the CO2 emissions that they can avoid when choosing to use this service over other conventional modes of transport.
The company has also expanded its perimeter of service area in Rome. The scooters can be used throughout the capital's urban center and metropolitan area, including the adjacent tourist municipalities. All journeys must start and end in the designated areas, which cover the entire historical center, as well as other key areas of the city such as Termini Station, Prati, Garbatella, Ostiense, Pigneto, Monte Sacro and Flaminio.
ACCIONA has established a strict hygiene protocol in accordance with all requirements and indications put forward by international health authorities, in order to avoid any risk associated with Covid-19. All ACCIONA's units are regularly disinfected and equipped with a ready-to-use hygiene kit. This kit contains wet wipes for cleaning contact areas, a hydro-alcoholic hand gel, and disposable inner helmet nets.
Operation and service
ACCIONA's scooters are powered by rechargeable batteries, which provide a performance equivalent of a 125cc engine. The units have three different driving modes: the standard ("S") mode, allowing speeds of up to 50 km/h for city travel; a custom ("C") mode and an Xtra ("X") mode, which can reach up to 80 and 100 km/h respectively, and are designed for faster roads. Users can alternate between driving modes throughout their journey. The motosharing service is available to anyone who has a valid car or motorcycle license.
The service's costs vary between €0.29 and €0.40 per minute, depending on the selected driving mode (S, C or X). The final price includes the costs of maintenance, refueling (electricity), vehicle insurance, VAT and customer service availability.
ACCIONA's mobility service in Rome will also offer driving packages, ranging from 50 and 150 to 300 or 500 minutes. These packages work out cheaper than paying the regular price per minute. Users will be permitted to pause the service in-use for a maximum of 6 hours, during which time the price will be reduced to 0.06 euros per minute for maintaining the reservation. The pause mode can be activated both inside and outside the service's permitted operating area. However, it will be necessary to be located within the APP's designated area to finalize each trip.