Goal achieved: The ACCIONA team completed the Island X Prix with two second place finishes that put it at the top of the standings with a total of 109 points
WARM-UP: The Sardinia awards have brought the impact of high temperatures on Mediterranean ecosystems aggravated by global warming closer to the spectator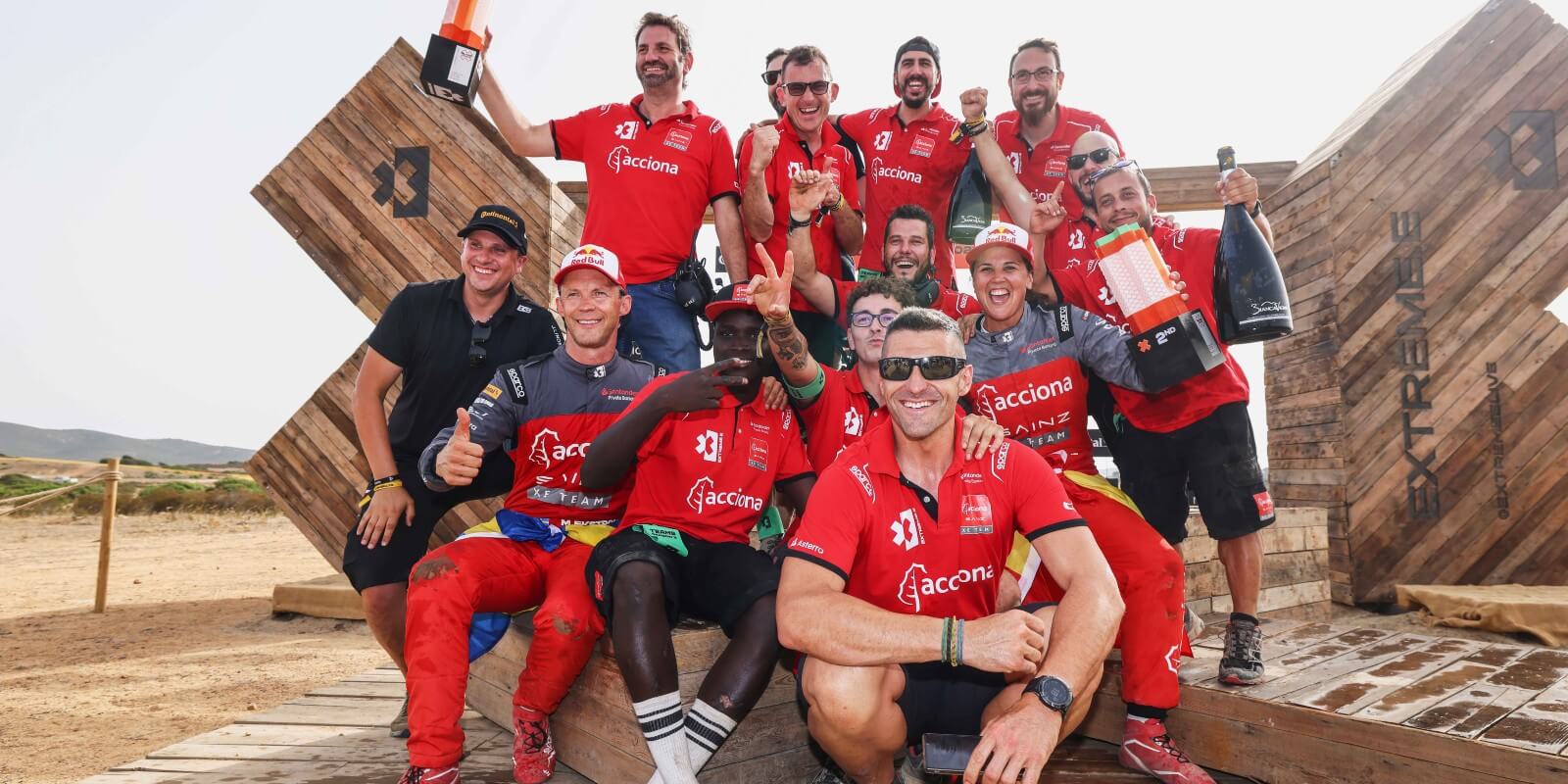 ACCIONA | SAINZ XE Team has achieved its goal of reaching the Extreme E leadership in the X Prix of Sardinia. The ACCIONA team has signed two second places after a weekend in which it has been competitive in each of the rounds.
Laia Sanz and Mattias Ekström passed the halfway point of the competition with 109 points, which puts them in first place overall, four points ahead of their direct pursuer.
The ACCIONA team has four podiums so far this season in what is proving to be its best season so far.  ACCIONA | SAINZ XE Team faces the remaining four races, in the last two destinations, with options to fight for its first Extreme E title.
The Island X Prix sought to raise awareness of the increasingly visible impact of global warming. The high temperatures recorded during the race, close to 40ºC, highlighted the risk of fires that frequently plague the Mediterranean basin.
With this foray into high-level motor racing, ACCIONA seeks to support Extreme E's goal of raising awareness of the threat of climate change in different parts of the planet and the resulting need to counter it by accelerating the transition to a low-carbon economy.
ACCIONA thus strengthens its commitment to electric mobility, demonstrating its reliability and competitiveness in one of the most demanding motorsport competitions on the planet. The company also reinforces its social commitment to sustainable development, gender equality and the fight against climate change through mass sport events.
HALFWAY POINT
Extreme E returns to action in September (16 and 17) in the final stretch of the championship while waiting to reveal their next destination. The final race will be a return to Chile, in a new edition of the Copper X Prix.
The race will focus on the urgency of developing a more sustainable mining industry with the planet, key in the transition of the engine to the electric vehicle. For this reason, the race circuit will be set in an environment located in the vicinity of three of the largest copper mines on the planet.
If you want to now more about our team, visit ACCIONA | SAINZ XE TEAM