Competitiveness: ACCIONA's team opened the new Extreme E season with its best Extreme E result: podium and first victory in the inaugural race in Saudi Arabia
Transition: The Hydro X Prix will be held in an old coal mine undergoing a renewable transformation to reflect the urgency of decarbonization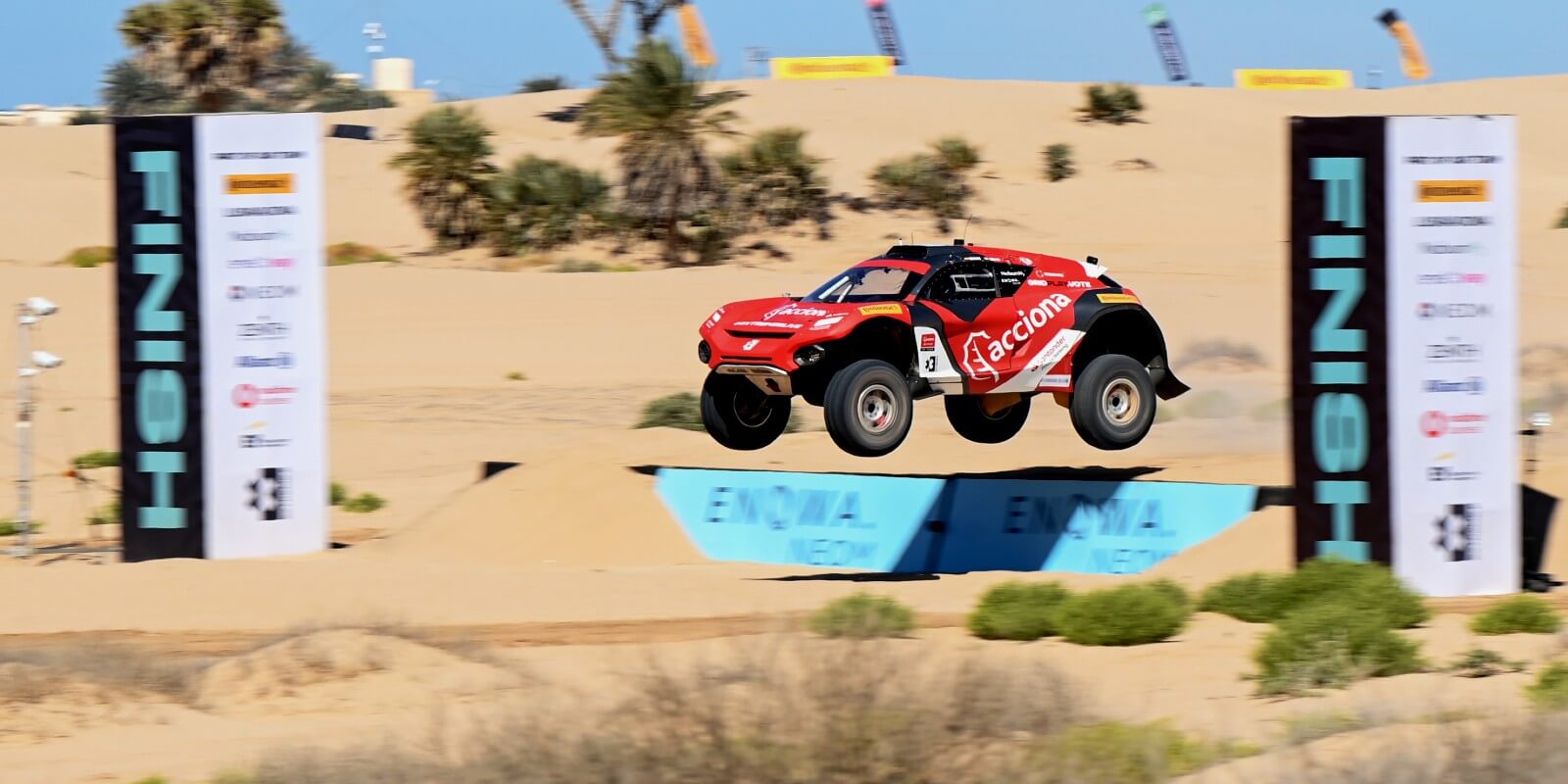 ACCIONA | SAINZ XE Team returns to the Extreme E competition in the Hydro X Prix in Scotland (13th-14th of May) with the aim of confirming the high competitive level shown in the inaugural race.
The ACCIONA team starts as co-leader after an event in NEOM, Saudi Arabia, in which it claimed its first victory and a second-place finish that leaves the team with a total of 46 points in the table. It is the best start to a season to date for the Spanish team.
Two months after its debut, ACCIONA | SAINZ XE Team will once again have the partnership between Laia Sanz and Mattias Ekström at the wheel, under the management of Carlos Sainz.
ACCIONA, which already led the first team capable of completing the Dakar Rally with an 100% electric vehicle in 2017, consolidates its commitment to a new system of motor racing that demonstrates the reliability of electric mobility and the competitiveness of renewable energy in one of the most demanding races on the planet.
TRANSITION STAGE
The Extreme E series adds Scotland as a new destination. With the aim of raising awareness of the need to advance the energy transition and decarbonization, key in the climate challenge, the Hydro X Prix will be raced inside the former Glenmuckloch open-pit coal mine, in the southern Scottish council area of Dumfries and Galloway.
The mine is in the process of being converted into a pumped storage hydroelectric power plant (400MW) and a wind farm (150MW). These renewable facilities will have the capacity to supply around 300,000 homes.
The project will contribute to Scotland's goal of obtaining half of the national electricity consumption from renewable sources by 2030. Currently, 97% of the country's electricity production comes from clean sources. This also covers mobility, where its ambition is to end the marketing of combustion-engine cars from 2032.
LEGACY PROGRAM
As in each of the championship tests, the Hydro X Prix will develop a series of activities with the purpose of leaving a positive impact in the area where it is held.
The event's Legacy Program will focus on the revitalization of the wildlife of the Nith River, especially eroded by the effect of the mining industry in the area.
Extreme E drivers will help plant 1,200 trees as part of an environmental conservation program of the Nith Catchment Fishery Trust. The action aims to restore soil quality and moderate water temperatures.
The population of Atlantic salmon, one of the country's most iconic species, will be the greatest beneficiary, as their increasingly irregular migrations in the Nith basin are a clear indicator of the ecosystem's poor water health.
If you want to now more about our team, visit ACCIONA | SAINZ XE TEAM