Candidates: ACCIONA's team has its best result in Extreme E, scoring 18 points, and is one of the main candidates for the title
Sustainable message: The Desert X Prix highlighted the consequences of climate change in a desert ecosystem that has reflected the progressive loss of biodiversity
ISLAND X PRIX: The second Extreme E race will take place on the weekend of May 7th to 8th in the Italian island of Sardinia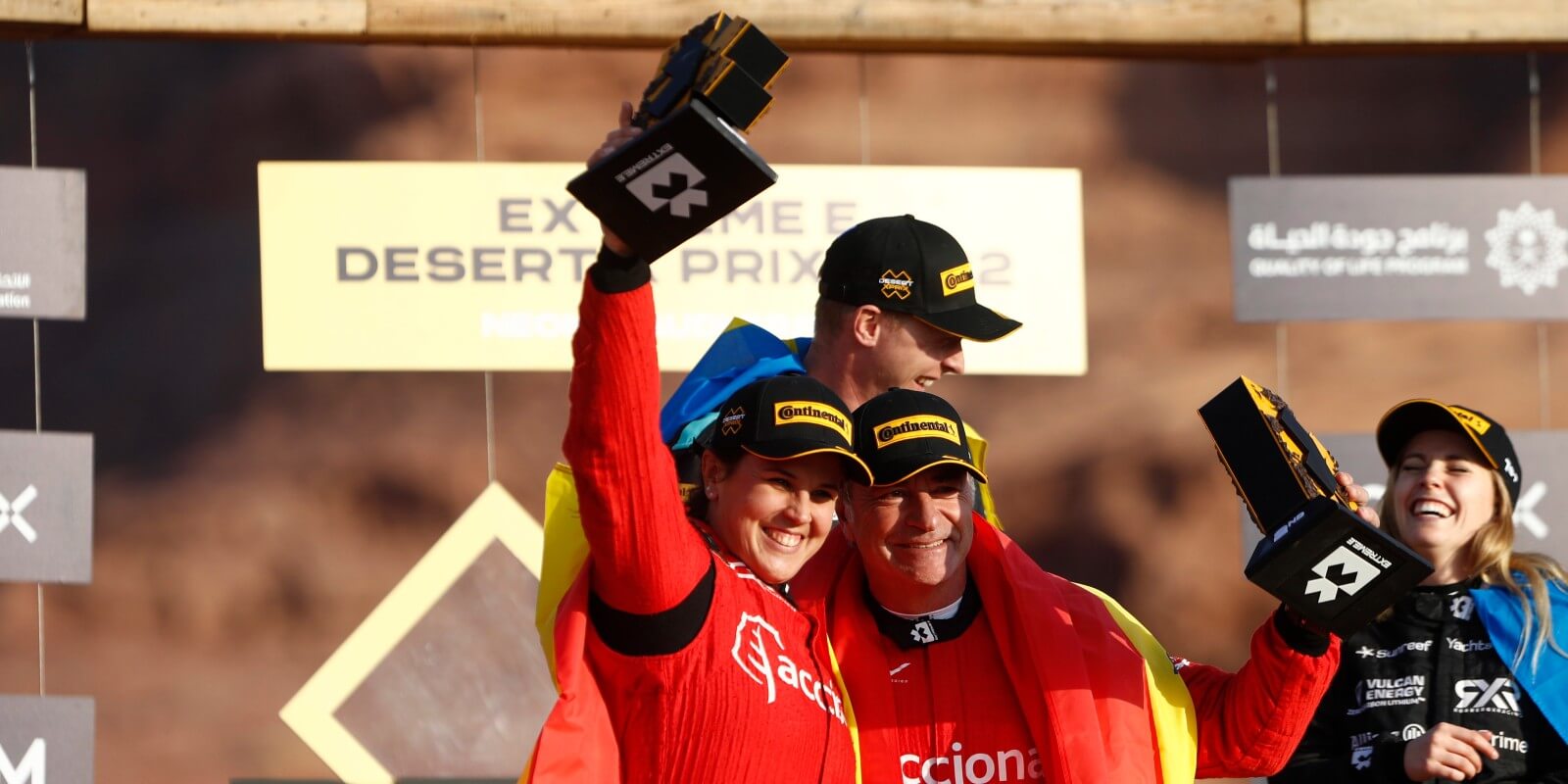 The ACCIONA | SAINZ XE Team took second place in the inaugural race of the new Extreme E season. The team led by Carlos Sainz and Laia Sanz has achieved its best participation in Extreme E and confirms its position as one of the main candidates for the final title.
Carlos Sainz led the entire first lap of the Final, while Laia Sanz kept the ACCIONA team in the lead until the second to last corner, when she was finally overtaken by current champion team Rosberg X Racing.
The ACCIONA team thus maintains its line of progress and confirms the competitive leap expected after the experience of last year's inaugural series.
SPORT AND MESSAGE
The first race of this new Extreme E season has brought spectators closer to the direct consequences of climate change in the desert ecosystem of Neom, one of the most water-scarce areas of the planet.
The ACCIONA | SAINZ XE Team and the other nine teams have competed in a race track that gives visibility to the impact of rising temperatures and the consequent loss of biodiversity in the region.
With this new foray into the world of motorsport, ACCIONA reinforces its social commitment to sustainable development, gender equality and the fight against climate change, using top-level competition as a platform. ACCIONA, through Extreme E, seeks to highlight the competitiveness of electric mobility in one of the most demanding races on the planet as well as the need to accelerate the decarbonization process.
ISLAND X PRIX
Extreme E will return to Sardinia (Italy) for the second round of the championship on the weekend of May 7th to 8th. The championship returns to one of the sites of the inaugural season to highlight the impact of climate change on the Mediterranean coast, where droughts, fires and heat waves are becoming increasingly common.
According to the European Forest Fire Information System (EFFIS), the average number of hectares burned in the summer of 2021 was 329,797, double the area recorded in 2020. Spain, Italy, Greece and Turkey were the worst-hit countries.
ACCIONA carries out part of its activities in Italy, where it has several water and energy projects. Precisely in Sardinia it has plants for water purification, wastewater treatment and desalination, which help improve the efficiency of water management on the island.