800TH Anniversary: The 'Alfonso X. El Rey precursor' spectacle is part of Toledo's commemorative events program to celebrate the 800th anniversary of the monarch's birth
Immersive projection: The façade of Toledo Cathedral will be transformed into a large-scale screen, featuring projections of images, 3D recreations and special effects
Show for children: ACCIONA Cultural Engineering will also offer a separate spectacle for children, combining video mapping and theater play. It will take place in the Bisagra Gate's Patio de armas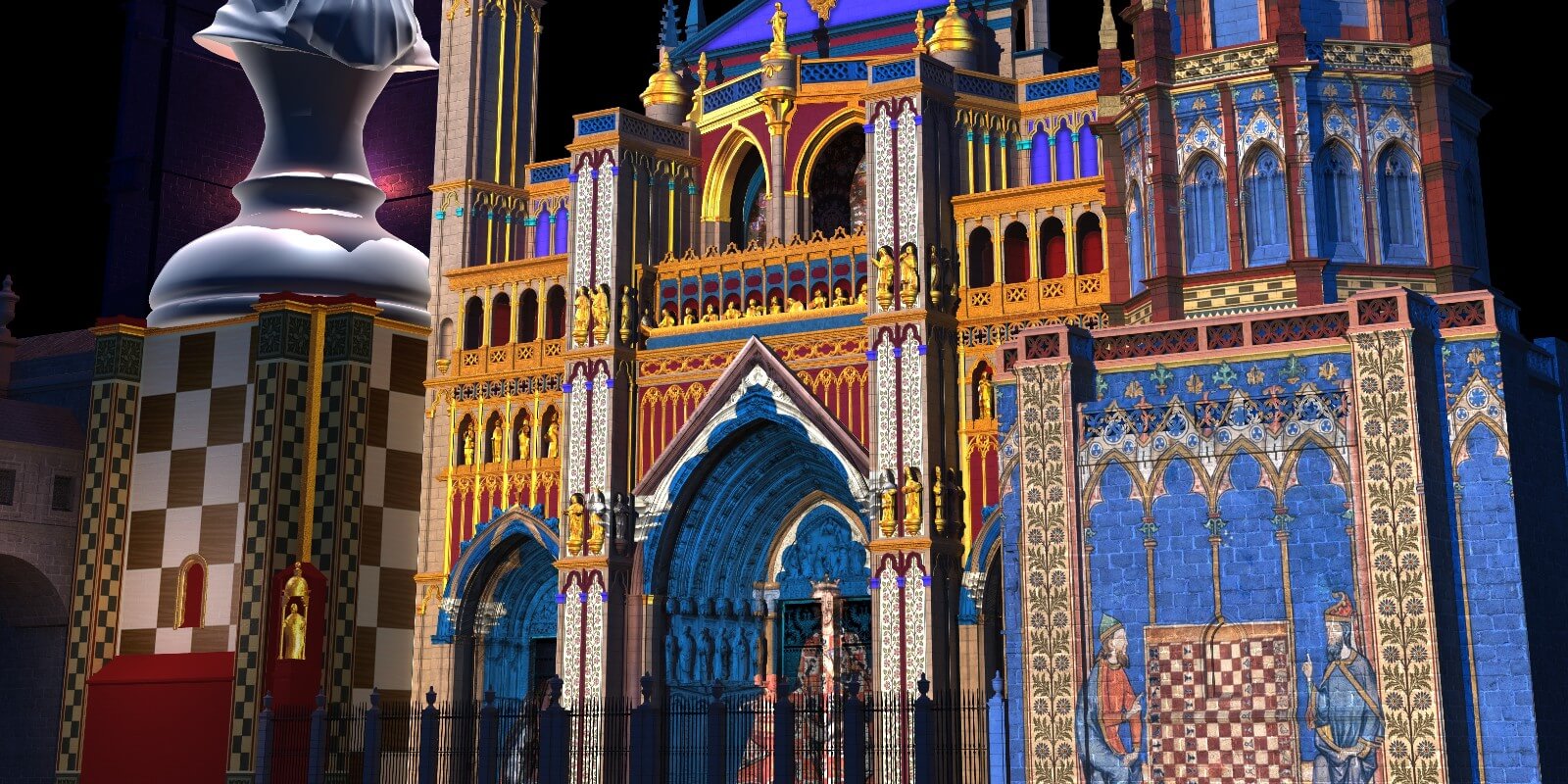 The Toledo City Council, together with ACCIONA Cultural Engineering, will be showing the Alfonso X. El Rey precursor audiovisual spectacle on the 30th of September and the 1st and 2nd of October. The production is dedicated to the Spanish monarch Alfonso X the Wise and his legacy.
The video mapping display will be screened on the façade of the Toledo's Primada Cathedral, combining image projections, light effects, 3D recreations and a soundtrack created specifically for this event.
The first screening will take place on Thursday, September 30th at 10:00 pm, with three other screenings following 30 minutes apart. The last projection will start at 11:30 pm.
On both Friday and Saturday (October 1st and 2nd) the spectacle will be shown a total of eight times, starting at 9:30 pm and ending at 1:00 am.
Alfonso X. El Rey precursor is an audiovisual show that will display the figure of the "Wise King" to audiences of all ages, with the aim of educating spectators on the monarch's legacy, 800 years after his birth.
The show features a narrator that guides the audience through puzzles and enigmas to explain why Alfonso X's legacy is so important in Toledo and to Humanity as a whole.
ACCIONA Cultural Engineering will communicate knowledge, history and culture through audiovisual language and the most advanced multimedia technology.
The show's visual elements will adapt to the architecture of Toledo's Cathedral. The event's 20 video projectors, each with 22,000 lumens, and the robotic equipment used for aerial laser effects, will showcase the spectacular morphology of the Cathedral while creating a sensory experience to go along with the story.
FOR CHILDREN
As part of the cultural program dedicated to the 800th Anniversary of the birth of Alfonso X, ACCIONA Cultural Engineering will offer a second video mapping experience, this time for children. This activity will take place inside Toledo's Bisagra Gate's Patio de Armas and will revisit the life of King Alfonso X from a playful and educational approach, specifically designed for younger audiences.
The show, entitled Once upon a time there was a King (Había una vez un Rey) will transform the interior walls of the Patio de Armas into different scenographies, projected through video mapping. These will become visual backgrounds that set the scene for the story of King Alfonso X, narrated by three real-life actors in period costumes.
The overall celebratory cultural program aims to be an ongoing and popular celebration in the city. Toledo's City Council will commemorate Alfonso X as a symbol for cultural, recreational and educational activity in the city the coming months. Toledo will organize events for music, dance, astronomy, science, cinema, painting, cuisine and literature, as well as sporting activities.
SUSTAINABILITY
As with all ACCIONA Cultural Engineering events, both Alfonso X. El Rey precursor and Once Upon a time there was a King will be neutral in greenhouse gas emissions, as the company will offset any CO2 generated through clean energy projects. The spectacle will also be 100% accessible to all audiences, guaranteeing access for people with reduced mobility.
ACCIONA Cultural Engineering has the ISO 20121 certificate that guarantees that all processes of the event, from planning to dismantling, are carried out based on sustainability criteria.
ACCIONA Cultural Engineering is a leading company in developing large-scale projects with a high technological and interactive component in museums, exhibitions, events, brand experiences, multimedia shows and other interior venues. Founded in 1990, the company today has a team of 200 employees in Europe, America, Africa and the Middle East.
The company is committed to the concept of "Cultural Engineering", which applies visual and sensory technology to convey the history, tradition and values of a certain place, and brings many cultural mega-projects to life. The group has a portfolio that includes projects in 40 countries across five continents and has been given 130 awards for creativity, innovation and sustainability.