The joint-venture aims for a 20% market share in Spain and Portugal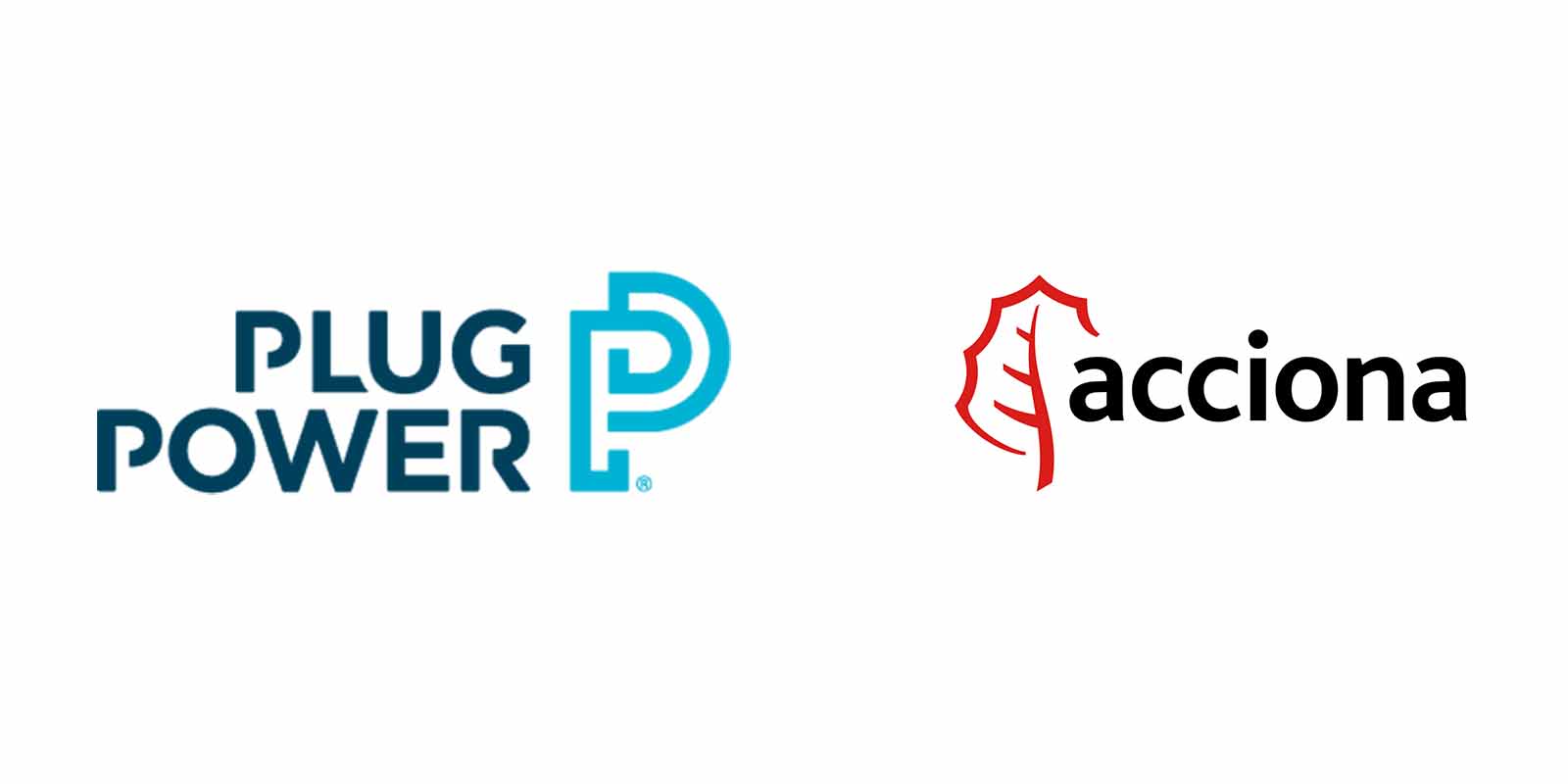 ACCIONA and Plug Power Inc., a global leader in hydrogen fuel cell systems and fueling solutions, announced today the signing of a memorandum of understanding (MOU) to launch a 50-50 joint-venture (JV) headquartered in Madrid. The JV will be a leading green hydrogen platform serving clients in Spain and Portugal, providing cost-efficient and competitive green hydrogen to multiple end markets.
The parties expect the JV will develop, operate, and maintain green hydrogen projects, serving the growing demand in the Iberian Peninsula. The new company also plans to provide storage, transportation, and delivery services to its customers, initially targeting the industrial and the mobility business segments. The goal is to reach a 20% market share of the green hydrogen business in Spain and Portugal by 2030, which will entail an initially planned investment of over €2 billion.
Plug Power will serve as the preferred supplier of electrolyzer technology to the JV, with ACCIONA as the preferred clean electricity provider. The JV will also use ACCIONA's GreenH2Chain® blockchain platform to provide guarantees of renewable origin for the hydrogen supplied. ACCIONA and Plug Power have complementary strengths to create the leading green hydrogen platform in the Iberian Peninsula. The joint venture company is subject to definitive documentation and is expected to be launched by the end of the first half of 2021. The initial projects to be selected are already under development.
The joint venture combines Plug Power's best in class technology and ACCIONA's status as the largest 100% renewable power retailer in Spain. Plug Power is an innovator and a leader in the green hydrogen economy, with over 40,000 fuel cell systems, 150 fueling stations deployed globally, and dispensing more than 40 tons of hydrogen daily. The company also has a comprehensive solution for generating green hydrogen including its leading electrolyzer technology and liquefaction capabilities. ACCIONA is a global group that develops and manages regenerative infrastructure solutions, especially in renewable energy. With 10.5GW in sixteen countries, the company's clean energy output is plenty to power more than seven million households worldwide.
"This joint venture marks another important milestone and continued execution on its strategic properties to establish Plug Power's strong presence in the fast-growing European hydrogen economy," said Andy Marsh, CEO of Plug Power. "As we pursue our goal to produce 1,000 tons of green hydrogen on a global basis by 2028, we are thrilled to partner with ACCIONA to build the robust, cost-efficient green hydrogen ecosystem chain envisioned by the EU's hydrogen roadmap."
"ACCIONA is committed to driving the creation of a green hydrogen ecosystem to meet European decarbonization goals and deliver economic growth," said José Manuel Entrecanales, chairman & CEO of ACCIONA. "We're proud to partner with Plug Power to position Spain and Portugal as global leading green hydrogen hubs."
The EU and member state governments are prioritizing the green hydrogen economy in their climate and economy recovery strategies. Announced in July 2020, the European Union's Hydrogen Strategy supports installing at least 6GW of renewable hydrogen electrolyzers in the EU and producing one million tons of renewable hydrogen by 2024.  Spain, notably, is set to play a leading role in the European economy pathway to decarbonization, benefiting from the highest levels of renewable resources. The Spanish government put forward its own hydrogen roadmap in October 2020 as part of the country's efforts to achieve climate neutrality and a 100% renewable electricity system by 2030.
Santander Corporate & Investment Banking is acting as sole Financial Advisor to Plug Power.