Located in El Romero Solar plant, it will analyze the mechanical and energy performance of different types of solar modules and trackers.
The facility will have a generation capacity of 492 kWp and will incorporate double-sided, split-cell and thin-film modules.

ACCIONA has created a hub (innovation center) in its El Romero Solar plant (Atacama, Chile) to test new photovoltaic technologies that will improve the efficiency and performance of solar energy facilities.
The hub will focus on the mechanical and energy capacity of double-sided crystalline, split-cell and thin-film cadmium telluride (CdTe) technologies, all of them in the development phase, with the intention of shaping photovoltaic energy's evolution. The solar modules have been produced by JA Solar and First Solar, and a variety of solar trackers will be used, manufactured by STI Nordland and Soltec.
The innovation center, in which two of the three tracker zones have already been installed, will have a power generation facility with a total capacity of 492 kWp (540 kW rated) consisting of 1,280 modules in three series of trackers connected to nine inverters. These will be assisted by other equipment to measure and monitor parameters such as incident and reflected solar radiation, ambient temperature or the production temperature of each kind of module, among others.
"Our innovation activity is mainly aimed at improving the performance and work life of our renewable plants", says Belén Linares, Innovation Director of the Energy Division of ACCIONA. "The results obtained at El Romero hub are going to be very useful in order to build increasingly efficient photovoltaic installations at a lower cost".
Unlike conventional solar modules, which only have photovoltaic cells on one side, the double-sided modules have cells on both sides of the panel to capture reflected solar radiation and increase output per surface unit occupied.
In split-cell modules each cell is divided into two parts. This reduces energy losses and improves the durability of the panel.
Finally, the thin-film modules are made from semi-conductive materials as alternatives to conventional crystalline silicon –such as cadmium telluride- that reduce both manufacturing costs and their carbon footprint during their working life.
Advanced technologies
Advanced technologies in photovoltaic solar are one of the main strategic approaches that guide ACCIONA's innovation activities in the field of clean energies. One of the most innovative projects to date is the hybridization of organic photovoltaic panels in a wind turbine tower to power a turbine in the Breña wind farm (Albacete, Spain).
Thanks to its lower costs, modular design and ease of installation, photovoltaic energy is playing a growing role in ACCIONA's renewables portfolio. At the end of the first semester of 2019, the photovoltaic plants owned by the group -either in service or under construction- totaled 1,207 MWp, i.e. 11% of all the company's renewable assets, making it the second technology in terms of capacity after wind power.
El Romero Solar is one of the biggest photovoltaic plants owned and operated by ACCIONA, with a capacity of 246 MWp. Located in the Atacama Desert in Chile, an area with some of the highest levels of solar radiation in the world, it produces energy equivalent to the consumption of around 240,000 Chilean households. Part of its capacity will be used to supply Google's data center in the country.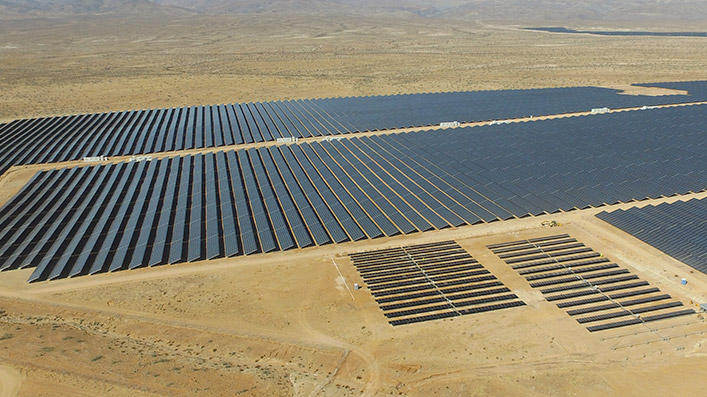 watch video