The company has been awarded the financing, construction and 25-year operation of the Madinah-3, Buraydah-2 and Tabuk-2 projects
With a total capacity of 440,000 m3/day, they will serve a total population of 2.1 million inhabitants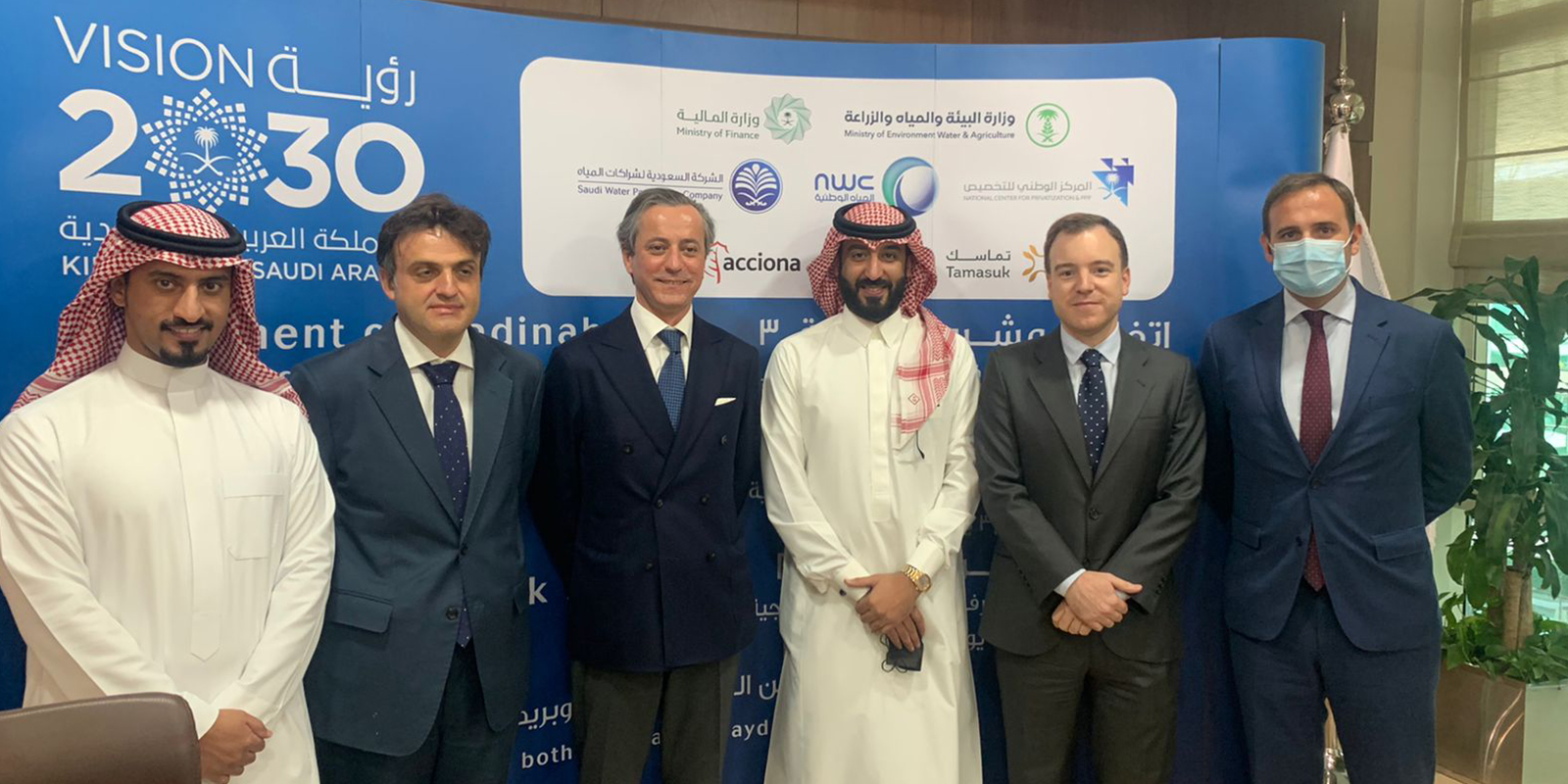 ACCIONA, along with its local partners Tawzea and Tamasuk, has been awarded the financing, construction and 25-year operation of the Madinah-3, Buraydah-2 and Tabuk-2 sewage treatment plants in Saudi Arabia.
These new contracts, awarded by the state-owned Saudi Water Partnership Company (SWPC), are worth a combined US$1 billion (€855 million).
These are the first BOOT/EPC (Build, Own, Operate and Transfer / Engineering, Procurement and Construction) contracts that ACCIONA has signed in the area of wastewater treatment in the Middle East.
The Madinah-3 wastewater treatment plant (WWTP) will be located in Medina, the fourth most populated city in Saudi Arabia with more than 1.1 million inhabitants, and will have a capacity of 200,000 m3/day (expandable to 375,000 m3/day) to treat urban wastewater. ACCIONA will be responsible for the facility's development, design, financing, construction, operation and maintenance for 25 years.
The group will also build 23 kilometers of recycled water collectors for irrigation, three storage tanks and the respective pumping stations.
The Buraydah-2 (150,000 m3/day) and Tabuk-2 (90,000 m3/day) sewage treatment plants are located in rural areas in the central and northern regions of the country, respectively, and will serve one million inhabitants.
ACCIONA will develop, design, finance, construct and operate these two facilities for 25 years and will also build 34 kilometers of recycled water collectors for Buraydah-2 and another 28 kilometers of collectors for Tabuk-2.
The three plants will each have a collection well and pumping station, pretreatment installation, biological reactor, sludge line, and recycled water pumping station.
KEY COMPANY
With these new contracts, ACCIONA strengthens its position as a key company in Saudi Arabia's water sector, where the group has developed important desalination projects.
Last year, ACCIONA was awarded the construction of the Al Khobar 2 desalination plant, on the east coast of Saudi Arabia, 400 kilometers from Riyadh. In the same area, the group also completed the commissioning of the 210,000 m3/day Al Khobar 1 desalination plant last year, which can currently serve a population of 350,000 inhabitants.
In the southwest of the country, on the Red Sea coast, ACCIONA is currently developing the Shuqaiq1 and Shuqaiq3 desalination plants, which will have a treatment capacity of 400,000 m3/day and 450,000 m3/day, respectively.
At the beginning of this year, ACCIONA was appointed main turnkey contractor for the Jubail 3B desalination plant, a project to be developed and financed by a consortium formed by Engie, Nesma and Ajlan for SWCP, which will have a capacity of 570,000 m3/day to supply 2 million people in the cities of Riyadh and Qassim.
In the same region, ACCIONA designed and built the 100,000 m3/day Al Jubail RO4 seawater desalination plant for Marafiq, which serves both the city and the adjacent industrial complex in the east of the country.