José Manuel Entrecanales. "Many companies are working towards decarbonization out of conviction and because we are able to see the opportunities ahead of us"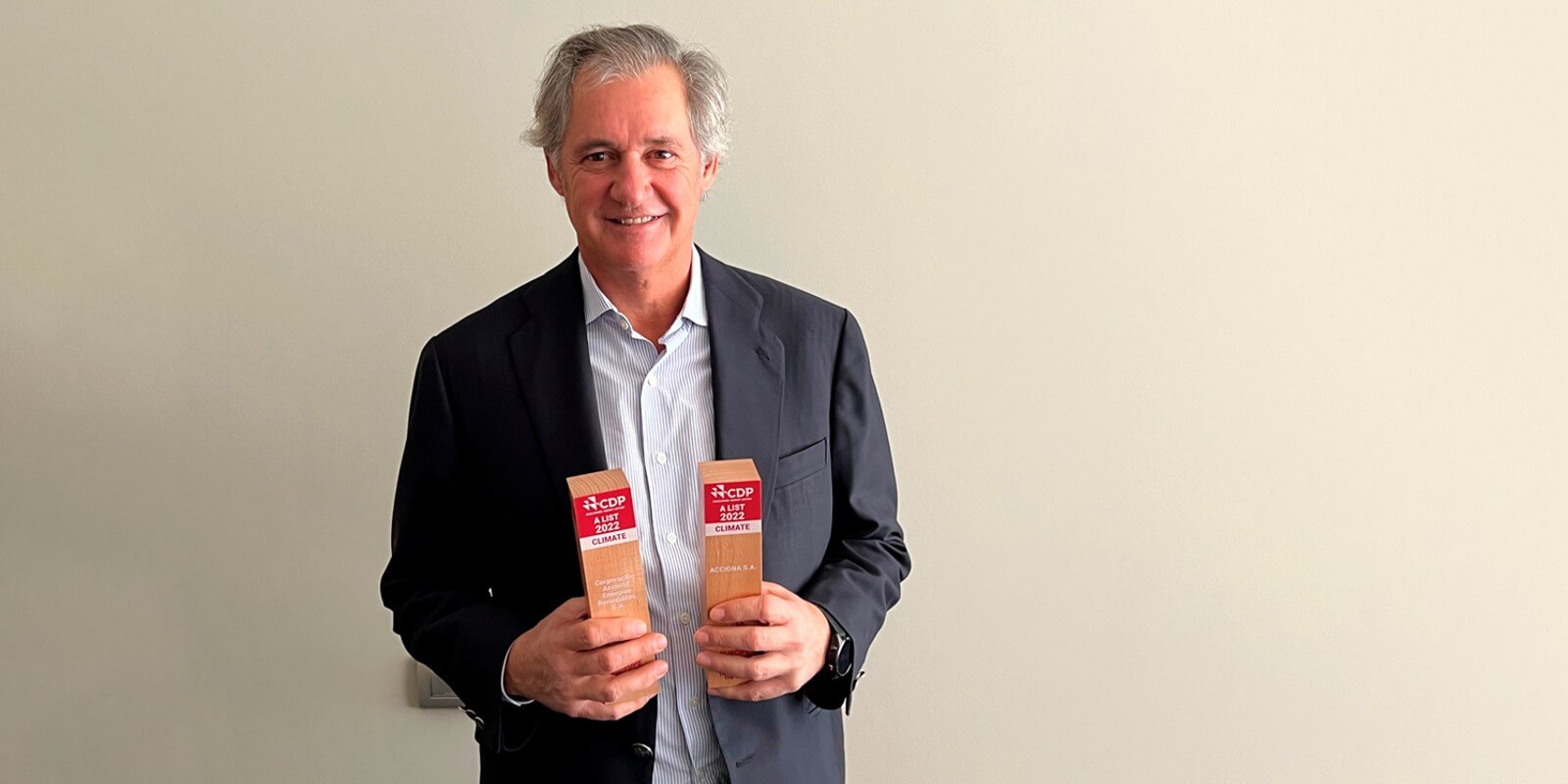 ACCIONA and ACCIONA Energy have been distinguished by CDP –the leading global organization in the dissemination of climate information for the investment community– with awards to both companies in recognition of their strategy and decisive action in the fight against climate change over the past year.
The ceremony will take place tonight in Paris as part of the annual meeting organized by CDP with political leaders, businessmen and scientists from around the world to discuss the measures needed to urgently decarbonize the economy.
José Manuel Entrecanales participated during the afternoon in a panel discussion titled "Transforming the climate norm: what real 1.5°C transition plans should look like", in which he was joined by Eric Rondolat, CEO of Signify; Magali Anderson, Chief Sustainability and Innovation Officer at LafargeHolcim; Rui Moreira, mayor of Porto; and Venera Ross, chair of the European Securities and Markets Authority.
In his speech, ACCIONA's chairman expressed optimism about the evolution of the global decarbonization process. "I believe that, after years of little progress, we are at the beginning of a big change," he said. "Many companies are working towards decarbonization out of conviction and because we are able to see the opportunities ahead of us, but there will remain some that will need the push of regulation," he added.
TOP DISTINCTION
ACCIONA and ACCIONA Energía are part of CDP's so-called 2022 'A' List for Climate Change, along with 292 other companies, out of a total of almost 19,000 participating companies, which together represent half of the world's stock market capitalization. Following its IPO, ACCIONA Energía was evaluated for the first time by CDP last year as an independent company, obtaining the highest distinction.
CDP's Climate Change 'A' List recognizes the consistency and scope of companies' strategy in their fight against climate change. CDP evaluates transparency, certification of decarbonization achievements, implementation of best practices and risk assessment.
ACCIONA and ACCIONA Energía's climate strategies are detailed in their respective 2025 Sustainability Master Plans, which reflect the commitment of both companies to the regeneration of the environment and the positive impact of their activities on both ecosystems and society.
CDP's specific recognition of strategy and action in the fight against climate change adds to the distinctions received by ACCIONA and ACCIONA Energía for their ESG credentials, including their inclusion in the S&P Sustainability Yearbook in the "top 5%" of the ranking. ACCIONA is also part of the Dow Jones Sustainability World Index (DJSWI).
CDP is a non-profit organization whose goal is to encourage institutions, companies and citizens to promote a low-carbon and environmentally friendly economy. Through its reports, CDP proposes to channel investment and consumption into solutions to climate change and the deterioration of natural resources.