In its first year, this "smart network" implemented by ACCIONA Agua has enabled the early detection – and resolution – of alarms for unusually high consumption of water, leaks and faults, has improved the quality control of the city's water and introduced remote meter readings
This "smart network" is part of the European innovation project SmartWater4Europe that brings together the most prestigious companies in the Water Sector, Universities and Technology Centres to design the water networks of the future

In its first year of operation, the European innovation project SmartWater4Europe set up by ACCIONA Agua in Burgos has made the city a pioneer in the world with a "smart water supply network". To date, more than 10,500 people and around one hundred companies (industries and retailers) have benefited from this pilot program of sensors and data analysis that allows the early detection and repair of faults, improves quality control of the water and enables remote water meter reading, facilitating the detection of unusual levels of consumption and leaks.
This "smart network" of water distribution monitors 56 kilometres of piping and has enabled the detection of alarms for anomalous consumption levels, leaks or faults… To do this, 1,500 'smart' meters have been installed, state-of-the-art sensors that check the quality of the water at strategic points in the distribution network and issue alerts on any unusual changes. There are also 129 concentrators that transmit the signals to the control centre.  
A software platform has also been designed and implemented to incorporate the data provided by these devices (remote meter readings by users, a GIS, remote-control data, sensors that monitor the water quality …) and analyses them through algorithms and mathematical models that include variables such as forecast demand. The management system is controlled by a "Business Intelligence" system that detects any fault, blockage or leak in real time, as well as the point at which it occurs. This reduces the time needed to locate a fault and repair it, and has an impact on reducing incidents that cause disruption to citizens (cuts in water supply, pressure drops, traffic delays due to the repair of faults…).
This "smart water network" also provides environmental benefits because the early detection of leaks reduces the amount of drinking water that cannot be used.
From the economic point of view, these smart networks offer the opportunity to improve the management of the service and optimize investment programs based on real needs.
The smart water network of Burgos comes under the European project SmartWater4Europe, in which 21 entities participate. Among them are leading water companies in the water sector in Europa (ACCIONA [Spain], Vitens [Holland] and Thames Water [UK]), universities such as Lille University and technology centres. The budget for the project is over 10 million euros, the sum being allocated to Burgos being €1.1M between equipment, engineering work and labour.
SmartWater4Europe runs for four years, and after the completion of the deployment and technology implementation phase – carried out by the Automation and Control and R&D+I departments of ACCIONA Agua together with Aguas de Burgos – the three other years will be dedicated to the analysis and quantification of the data obtained with the system. The system will be evaluated and improved with the aim of generating profitable models that allow the extrapolation of the experience to other localities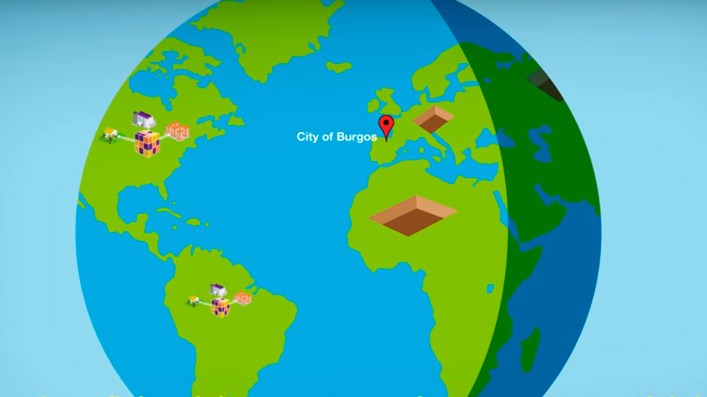 watch video