The six caissons will undertake a sea voyage of more than 9,000 nautical miles to their destination in south-east Asia on board this semi-submersible ship.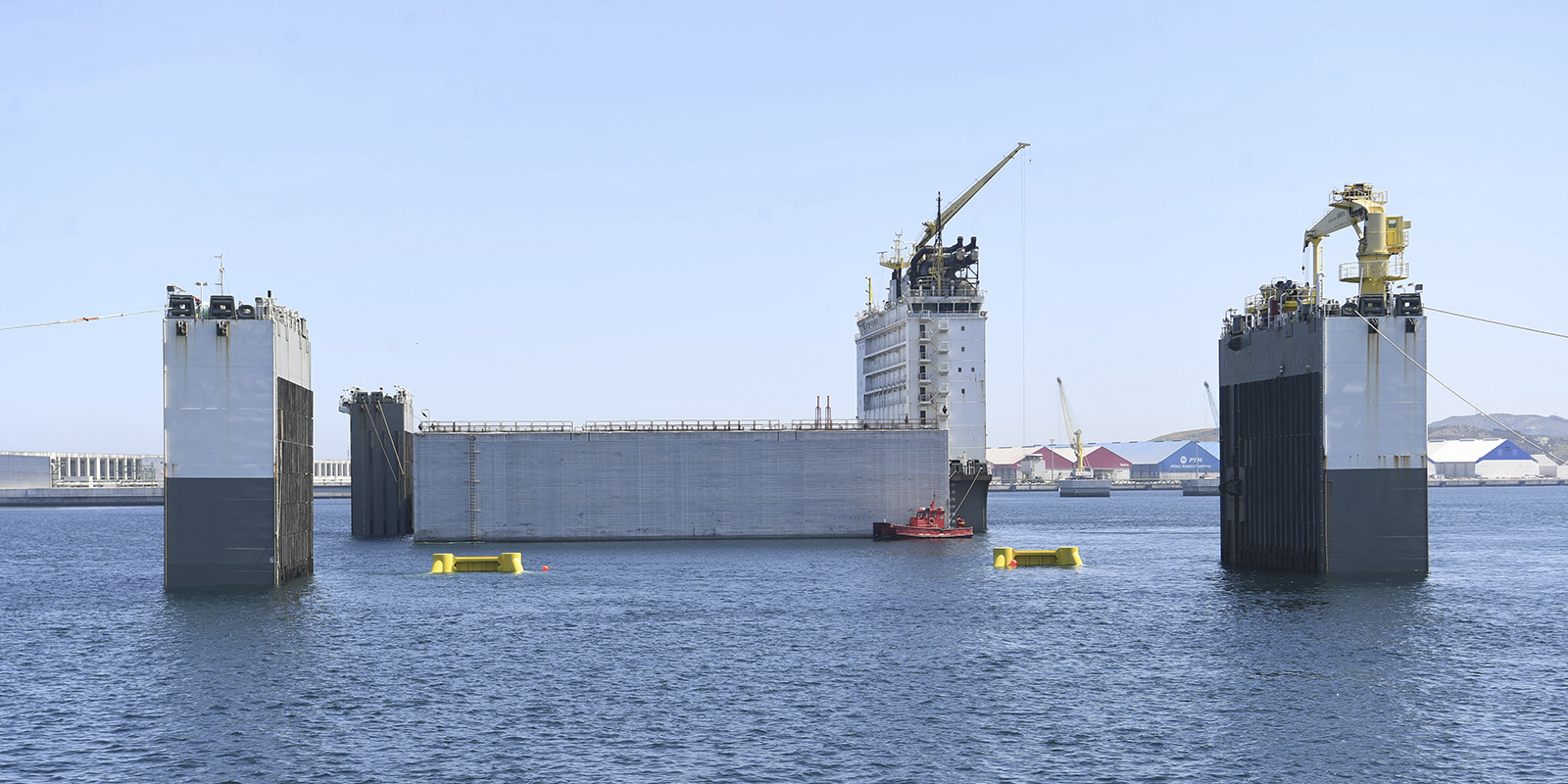 On Sunday 8 May the biggest semisubmersible heavy-lift cargo ship in the world, the Boka-Vanguard, carried out the manoeuvre to load the six concrete caissons that ACCIONA has built in Corunna for a project in the Philippines.
The manoeuvre is one of the most spectacular in the shipping industry. The caissons were loaded onto the Boka-Vanguard, a vessel capable of transporting loads of up to 110,000 tonnes, and are now undertaking a voyage of more than 9,000 nautical miles to their destination in south-east Asia.
After the ship arrived at the place where it carried out the manoeuvre, it submerged itself to the level required to load the caissons underwater. Once submerged, the caissons were transported one by one to the deck of the Boka-Vanguard. The ship was then re-floated and moved to the Ares Estuary, where preparations were made to secure the caissons before departing for the Philippines.
The concrete caissons, 60 metres long and 24 metres wide, weigh 15,000 tonnes each. Until the arrival of the Boka-Vanguard, they remained submerged in the Outer Harbour of the Port of Corunna.
The Kugira caisson dock, owned by ACCIONA, started work on the construction of these concrete caissons in October 2021, and after completion left the port at the end of March this year towed by the tug Hispania as far as Cádiz. Overall, 300 direct and indirect jobs were created by the project.
ACCIONA chose the Outer Harbour of the Port of Corunna to carry out this manoeuvre as it is one of the few ports in Spain where the loading of caissons of this size – an operation that requires 30 metres' draft – can be done. The Punta Langosteira dock is ideal for this kind of off-shore and cargo operations thanks to its deep draft, a large surface area on land and local business expertise.
The Chairman of the Port Authority, Martín Fernández Prado, congratulated ACCIONA for the success of the operation, together with the other companies that took part in the process, the port services (pilot, tugs and mooring) and the technical team of the Port Authority for the loading and coordination of the caissons. Fernández Prado highlighted the capability and flexibility of the Outer Harbour to handle complex port operations and its contribution to the industrial development of the metropolitan area of Corunna.