On World Toilet Day, ACCIONA joins the effort to guarantee access to decent, safe and sustainable sanitation systems.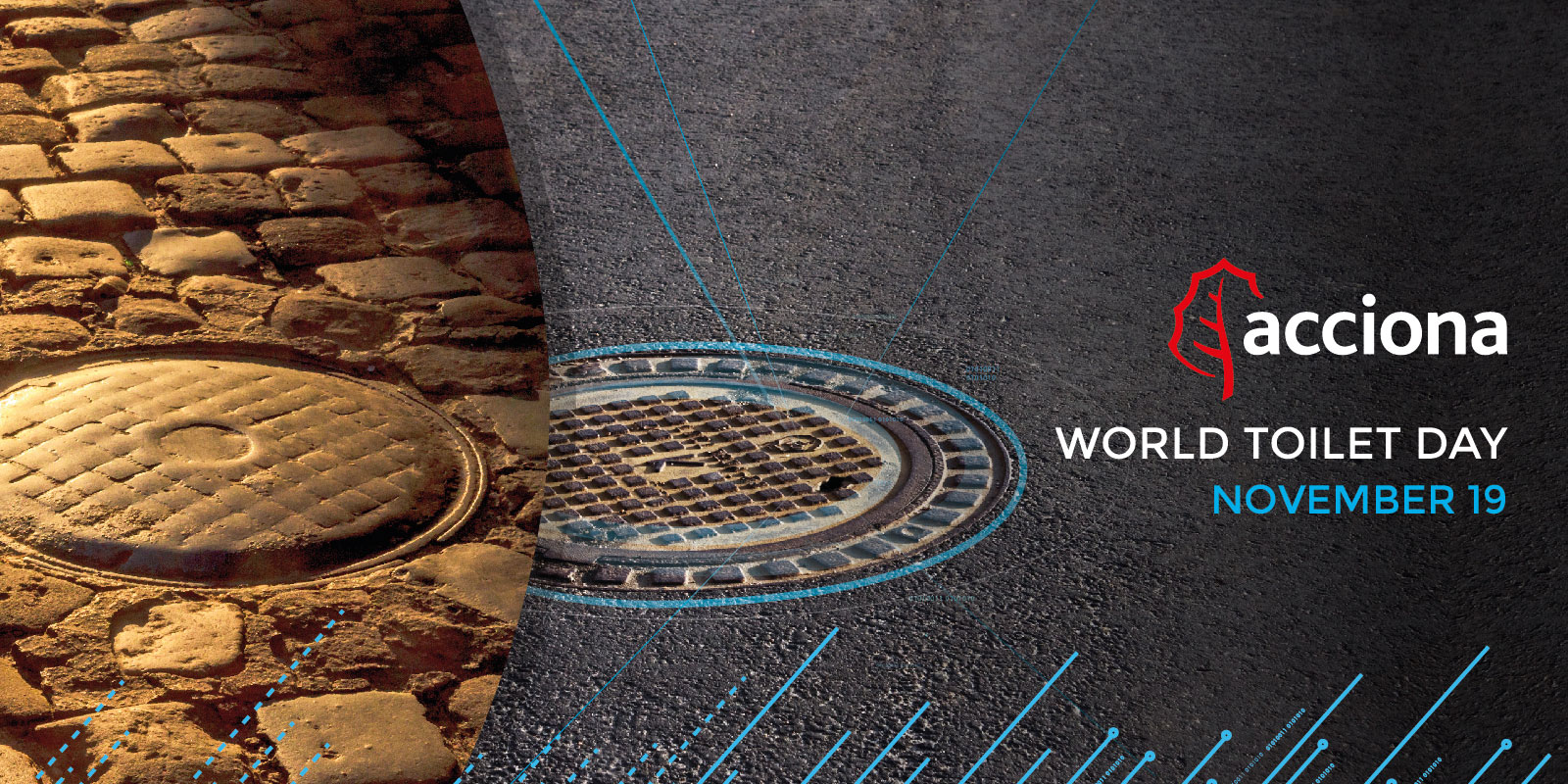 Having a good system for discharging wastewater is as important as access to drinking water to quench your thirst. Sanitation is essential for good health; it helps to prevent illnesses/diseases and improves people's quality of life. However, 4.2 billion people in the world still do not have access to it.
On World Toilet Day, ACCIONA joins the effort to guarantee access to decent, safe and sustainable sanitation systems. Tecnologies like Big Data, IoT or Machine Learning help to improve the performance of networks and optimize the service the company provides in countries such as Spain, Italy, Portugal, Peru and Mexico.
From Ancient Rome to Industry 4.0
The history of sanitation goes back to Ancient Rome. The city had with a pipe network that discharged waste into the River Tiber, but it was not until the advent of industrialization in the 19th century that the first sanitation networks as we know them now started to appear in Europe.
Although many cities had pipe networks to discharge water at the time, they were only designed to evacuate rainwater. For other types of waste, the most common way of eliminating it was for people to shout "Gardi loo!" (watch out for the water!) before throwing a bucketful out into the street.
As the population of cities grew, this way of doing things started to create health and hygiene hazards. To offset these, drainage systems were dug in buildings and connected to bigger drains, thereby creating the first combined sewerage systems for the collection and transport of wastewater.
Since then, quite a lot of progress has been achieved in terms of construction materials and processes, but very few changes in the way the services are managed, until now.
Industry 4.0 technologies have revolutionized sanitation management and mean that processes and resources can now be optimized in a way never seen before.
Projects such as GOTA Cia, ACCIONA's Work Order Management Platform, allows assets to be mapped to give a comprehensive vision of the operation and maintenance of networks.
This tool manages the reception, allocation and execution of work orders in a more efficient way. It determines the location, materials and run times of each task and sets priorities, sending work orders directly to operators' mobile devices.
All the information in GOTA Cia and other systems is integrated into BIONS, ACCIONA'S Business Intelligence cloud platform that digitizes operations and speeds up the transmission of information.
BIONS detects, analyzes and manages events and incidents in water networks such as leaks, breaks, defective equipment, telemetry problems, operational faults, etc. Raw data are converted into knowledge and preventive actions through the use of artificial intelligence and machine learning processes.
Sustainable sanitation
The final step in the process is the treatment and safe elimination of wastewater. Nowadays, a sewerage system that is not integrated into suitable wastewater treatment processes is inconceivable.
It is estimated that more than 80% of wastewater is discharged untreated into rivers and the sea, which is a threat to people's health, biodiversity and sustainable development.
As a result, ACCIONA has designed and built more than 300 wastewater treatment plants to date to cover the needs of towns and cities of very different sizes.
It also carries out research into innovative solutions in the re-use of water to optimize tertiary treatment processes and respond to the growing demand for water for agricultural or urban purposes, recreational activities and groundwater recharge.
Sanitation for all
The Covid-19 pandemic has highlighted the vital importance of sanitation, hygiene and access to clean water in preventing and containing illnesses and diseases.
Guaranteeing access to sanitation for all is a challenge for society as a whole, and ACCIONA takes on the challenge by contributing technological solutions from a sustainable perspective.