Carlos Sainz and Laia Sanz didn't crack under pressure after a challenging Qualifying 1 and won their race in the second session, thus escaping the Crazy Race.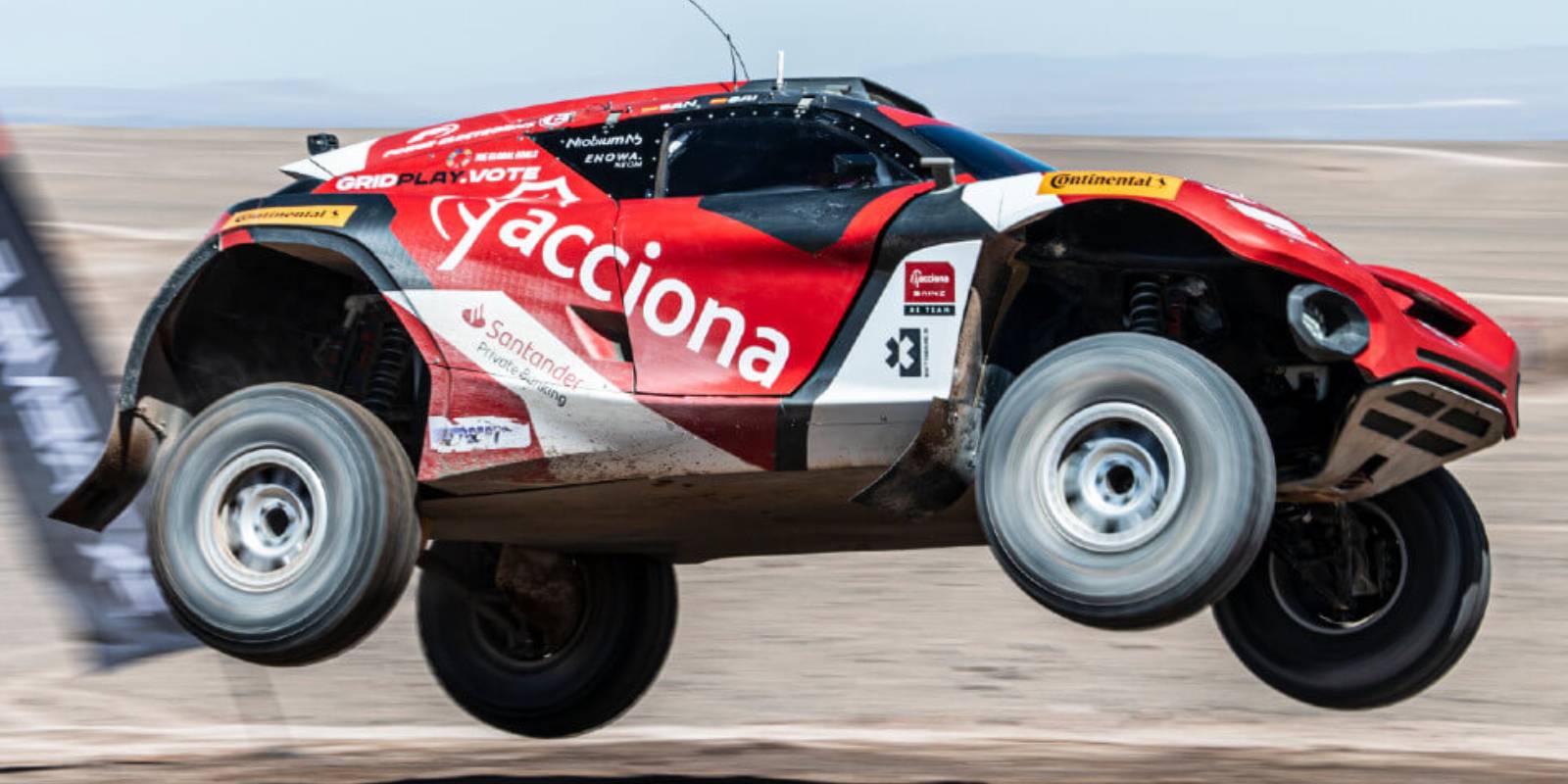 ACCIONA | SAINZ XE Team will be on the starting grid of the first Semi-Final of the Copper X Prix, after today saw Carlos Sainz and Laia Sanz take a crucial victory in their Qualifying race.
The Spanish team needed a good result because in Qualifying 1 a number of setbacks had left it in eighth place.
This result meant three qualifying points for ASXE, meaning that the Crazy Race was a likely scenario all of a sudden. But Carlos and Laia put together a remarkable performance in the second session to turn things around.
With their victory they scored another 10 points and with 13 in total the team was safe in fourth place, meaning tomorrow it will advance to Semi-Final 1.
Carlos made a blistering start and took the lead of the race straightaway. He was only overtaken by Sébastien Loeb, but the Frenchman was penalized for dropping a flag while passing the Spaniard.
With this penalty, Carlos simply kept a safe distance as he held off Nasser Al-Attiyah in third place.
The driver switch was the fastest pit-stop of the weekend and the perfect turnaround after what happened in Qualifying 1, where the team did a mistake while switching from Laia and Carlos and then moments later when the car was restarted.
Laia Sanz attacked the X44 car, especially during her first lap behind the wheel, but ultimately the team asked her to keep positions and play it safe given the fact that the victory was already hers due to the penalty of the car in front.
Rosberg X Racing and Genesys Andretti United Extreme E will be the rivals of ACCIONA | SAINZ XE Team in this Sunday's Semi-Final 1. The first two cars to cross the finish line will move on to the Final of the Island X Prix.
Quotes
Carlos Sainz, driver:
"We managed to turn around the day. Qualifying 1 was a setback because we had a mistake in the switch zone, although we had a good pace. But then we were able to win our heat in Qualifying 2, so the important thing is that tomorrow we will be in a semi-final. Our chances of another Final appearance remain intact, but we must keep our head down".
Laia Sanz, driver:
"Today just shows everyone that anything can happen in Extreme E. It didn't start very well in Qualifying 1. Yesterday we led the two practice sessions, but today we were left with a bitter feeling after a mistake in the switch zone. Our pace wasn't bad at all, but it cost us many positions. We were under pressure in Qualifying 2 to try and avoid the Crazy Race, and in the end, we succeeded. Carlos did a great start and resisted like a champion, and I simply did what I had to do, which was to not take risks and maintain my position. It turned out really well and we won our heat. Step by step. For now, the goal is the Final, but it won't be easy. If we make it there, anything can happen. But let's go step by step".