The new photovoltaic unit is one of the innovative solutions that ACCIONA is proposing to implement on a large-scale in the field of portable generators.
The initiative is financed by an ACCIONA decarbonisation fund to reduce the environmental impact of its activities around the world.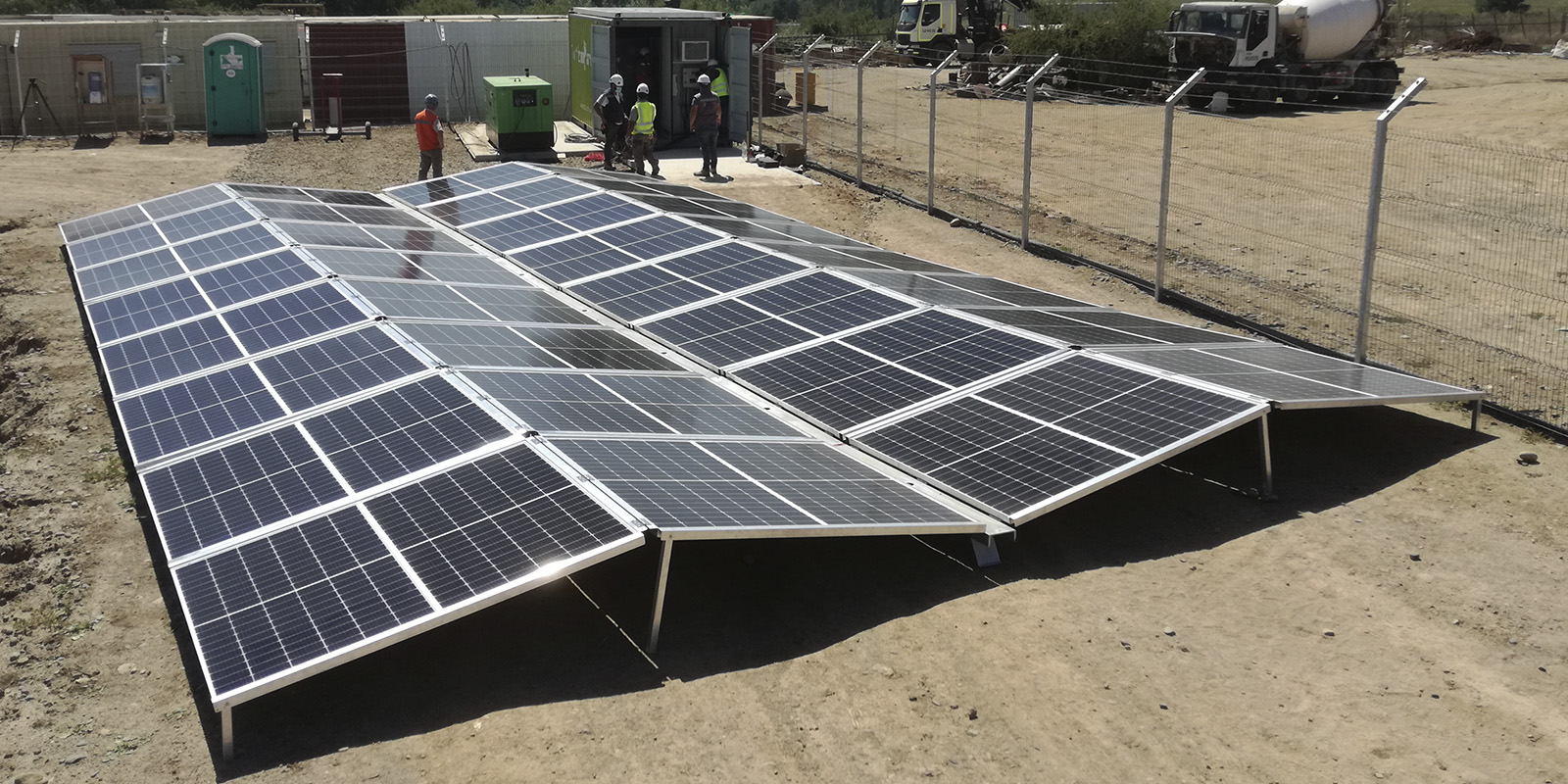 As part of its decarbonisation plan, ACCIONA has installed a pilot mobile photovoltaic power generator in Chile to replace diesel as an energy source in the construction of the new prison complex, called the "La Laguna Education and Work Centre", which the company is constructing in the commune of Talca in the Maule region.
A mains power connection has not been possible at the La Laguna project during its construction, which began at the end of 2017. Its power requirements have therefore had to be met using a large number of diesel-powered generators with the associated negative environmental impacts that these create in terms of fossil fuel greenhouse gas emissions.
The innovative mobile photovoltaic generator that has been installed consists of 70 photovoltaic panels each with a 370W capacity, which together make up a collapsible solar structure with an installed clean energy capacity of 25.9 kWp. This is capable of preventing the emission of more than 45 tons of CO2 every year, the equivalent produced by a conventional diesel generator.
"Our intention with this pilot project that we are implementing in Chile is to validate the technical, economic and environmental feasibility of this innovative technology based on mobile photovoltaic generators, to analyse their use on ACCIONA's construction projects around the world. The key success indicator for this pilot, in terms of sustainability, will be the fuel savings achieved compared to the use of a diesel generator, with the subsequent reduction in associated CO2 emissions", explained Miguel Ángel París Torres, head of the Projects, Sustainable and Industrial Building Office at the R&D Centre of ACCIONA's construction business.
Emissions reduction
Mobile diesel generators are common and standard practice in the construction sector on projects where there is no mains connection in order to satisfy their energy needs.
As a result, current fuel consumption estimates for construction equipment are nearly double the levels recommended by government reports. "ACCIONA's commitment is to reduce CO2 emissions across all business areas as much as possible. The sustainability of the power supply on our construction projects is therefore highly relevant. The adoption of new technologies and solutions that can support the decarbonisation of the construction sector is an urgent task, which construction companies like ourselves must undertake in the immediate future", said París.
Accordingly, the mobile photovoltaic unit that has been installed on the La Laguna project is one of the innovative solutions that ACCIONA is proposing to implement on a large-scale in the field of "plug and play" mobile generators powered by renewable energy sources (mainly photovoltaic), as well as hydrogen fuel cells, which results in equipment that is easier to transport, with zero emissions and zero noise and with a potential application in the construction sector.
"At ACCIONA we plan to continue with the validation tests on some of these emerging technologies throughout this year, on different types of projects with a range of specific energy needs, which will be one of the first experiences of this type in the construction sector at a global level", added Paris.
Decarbonisation Fund
The mobile solar-powered generator for Talca is the first project in Latin America that is receiving support from ACCIONA's decarbonisation fund, and one of only 14 projects in the world that has been selected for its potential to significantly reduce the carbon emissions associated with ACCIONA's business activities.
ACCIONA has been a carbon neutral company, in terms of its direct operations, since 2016. In line with climate science recommendations, ACCIONA has committed to reduce its emissions by 60% between 2017 and 2030 in line with the more ambitious target of the Paris Accord to limit global warming to no more than 1.5ºC above pre-industrial levels.
To achieve this target, the company has launched a decarbonisation fund to finance promising projects with the potential to significantly reduce emissions. These projects have been selected for their potential to drive innovation and test sustainable solutions for activities for which there are still no viable alternatives to reduce the carbon footprint.