A commemorative beam, which was painted white and signed by the workers as a reminder of the project, was installed to celebrate this milestone.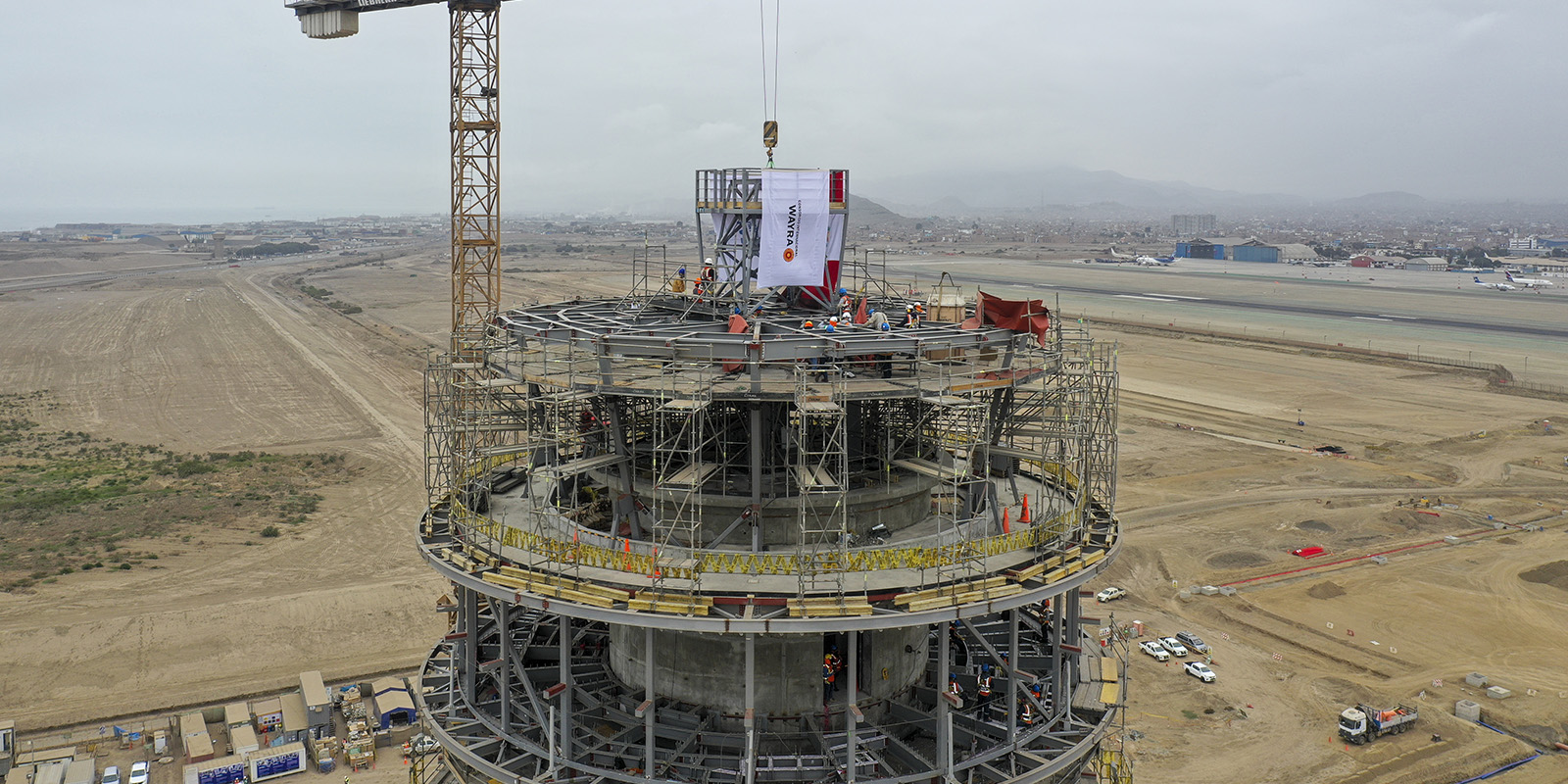 On 22 May, ACCIONA, in collaboration with its project partners, held a commemorative event to celebrate completion of the work to assemble the metal structures of the new control tower for Jorge Chávez airport in Lima (Peru).
A commemorative beam was hoisted and installed to mark the occasion, which was painted white to allow employees to sign it and leave their mark on the beam prior to its installation.
The project, which was awarded to the consortium that includes ACCIONA by Lima Airport Partners (an operator in the Peruvian airport sector), consists of constructing the airport's control tower and a series of ancillary buildings. The tower, constructed from reinforced concrete and steel pillars, is 65 metres tall. The project spans a total area of 6,100 m2, of which 2,200m2 relates to the tower and the support building. The rest of the space houses the operational facilities such as a regulation and transformer centre, a building for the fire-fighting service, a wildlife control building, an electrical substation, and external water supply and sewerage networks.
The project was awarded in May 2020 as part of the Lima airport expansion plan, which will make this one of the most modern airport complexes in the region. The contract includes the combined civil engineering and electromechanical works for the tower, as well as the auxiliary installations and services for the structure, but excluding the specialist air traffic management systems. The new infrastructure is scheduled to come into operation in 2022.
ACCIONA in Peru
ACCIONA has extensive experience in Peru's infrastructure market, where it has been present since 1998.
The company has carried out major projects in the water treatment sector such as the Talara desalination plant, the La Chira wastewater treatment plant and the Arequipa water treatment plant. It also provides water management services in Lima for state-owned firm Sedapal and has completed major construction projects such as Daniel Alcides Carrión hospital or Pucallpa prison.
Furthermore, ACCIONA has been operating in Peru's mining sector since the beginning of 2019 after constructing a pumping system for the concentration plant on the Antamina project, located in Huari province in the Ancash region.
In 2009, ACCIONA launched its "Luz en Casa" program in Peru, which today offers basic electricity services to more than 18,000 people in rural communities around the country through its corporate foundation, acciona.org.