These awards recognize outstanding concrete projects in the Philippines that stand out for their innovation and technology, inspiring excellence in the sector at an international level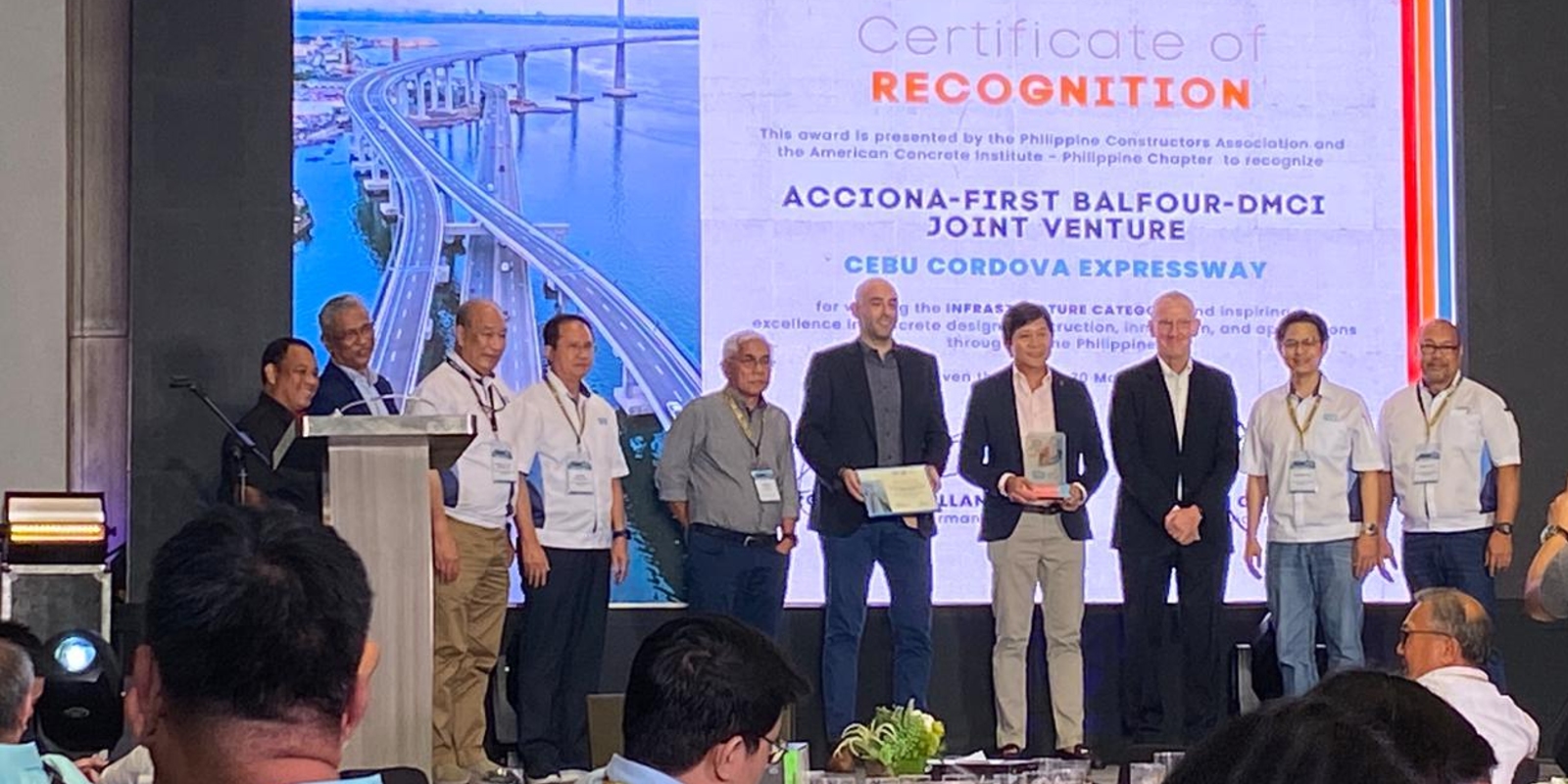 ACCIONA has received an important award in the Philippines, recognizing excellence in the concrete construction of the Cebu cable-stayed bridge.
These awards, given by the Philippine branch of the American Concrete Institute (ACI) and the Philippine Constructors Association (PCA), recognize the most outstanding concrete projects executed in the Philippines, where innovation, sustainability and technology also prevail, inspiring excellence in the sector internationally.
Carlos Ros, ACCIONA Project Manager and member of the Project Team, accepted this award on behalf of the company.
The quality and sustainability of the concrete are among the highlights of the Cebu cable-stayed bridge, which has become an icon of the country. For its construction, ACCIONA used a total of 185,000 m3 of this material, whose formulation was developed with the aim of producing Green Concrete.
ACCIONA significantly reduced its carbon footprint in the project by using Type II cement and fly ash in the mix. It also obtained a concrete with better durability, making the mix more impermeable and slowing down the diffusion of chlorides, which are harmful to the reinforcement. It should also be noted that the company used local materials at all times in the production of the mixes, which has had a significant positive impact on the local economy.
The project
Awarded by the Cebu Cordova Link Expressway Corporation (CCLEC) - a subsidiary of Metro Pacific Tollways Corporation (MPTC)- the project consisted of the design and construction of a 650-meter cable-stayed bridge, the longest in the Philippines, with a central span of 390 meters between the pylons. It also included the construction of several viaducts, as well as a 5.2-kilometer-long section of roadway over an embankment.
Its entry into operation in April 2022 has brought numerous benefits to traffic management in the area, relieving congestion on the other existing bridges by connecting Cebu City - one of the Philippines' major economic and commercial centers - to Mactan Island via Cordova.