+10
M
equivalent inhabitants
World's largest single-phase wastewater treatment plant
CLEAN WATER AND SANITATION
Ensure access to water and sanitation for all
Over 2,000 million people in the world live without access to a basic drinking water service, and 3,6 billionhave no access to a basic sanitation service, resulting in avoidable deaths, chronic disease, fewer hours of education and low productivity.
ACCIONA has positioned itself as a key player in the water treatment sector. Its innovative management seeks to resolve the challenges with respect to the shortage of water resources.
CLIMATE ACTION
Take urgent action to combat climate change and its impacts
The generation and use of energy accounts for  35 % of total greenhouse gas emissions in the world. This activity is the largest contributor to global warming. Investment in renewable energy, energy efficiency and other low-carbon technologies will continue to be essential to meet the emerging needs of humanity and to minimize their negative impact on the environment.
ACCIONA considers the fight against climate change and its effects to be a strategic priority. The company works to mitigate greenhouse gas emissions in order to contribute to the progress of society and respond to the main challenges of sustainable development in the areas of infrastructure, water and energy, leading the transition to a low-carbon economy.
The treatment of wastewater produced in the Valley of Mexico, Mexico City.
Forming part of the Valley of Mexico Water Treatment Consortium (ATVM), the ACCIONA Agua division designed, constructed, and will operate the Atotonilco Wastewater Treatment Plant for 22 years.
The Atotonilco WWTP has a nominal average treatment capacity of 35m3 per second and a maximum treatment capacity of 50m3 per second, including the final disposal of all solid waste and sludge generated. The plant is also be equipped with a cogeneration system to take advantage of the biogas produced in the digester for maximum energy saving.
The plant was designed for a maximum flow rate of 50 m3 per second during the rainy season, with its average flow rate of 42 m3 per second during the rainy season, and for 35 m3 per second during the low flow season, representing an average flow rate of 3,628,800 m3 per day and 3,024,000 m3 per day during each of the stated periods. It can treat wastewater from a population equivalent to 12,600,000 of Mexico City's inhabitants.
The plant was designed with two treatment lines in order to be able to treat water during both the low flow and rainy seasons. It has a physico-chemical treatment line for treating an average flow rate of 14.4 m3 per second during the rainy season and a conventional biological treatment line for treating an average flow rate of 27.6 m3 per second.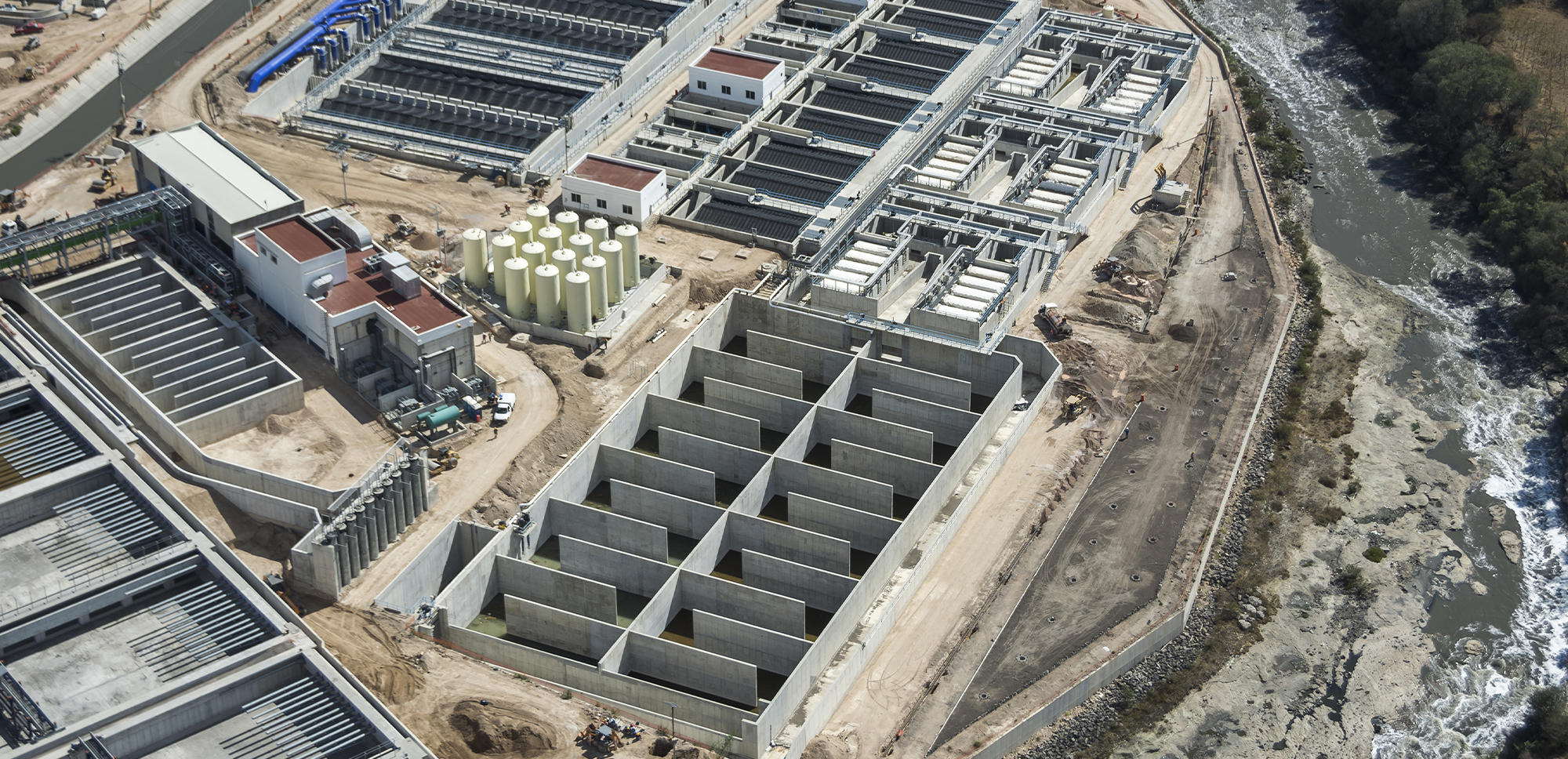 The sludges produced during the first settling thicken in 16 x 23 m diameter gravity thickeners, and the excess biological sludges thicken in 12 x 18 m diameter flotation thickeners. The mix of thickened sludges plus those from the physico-chemical treatment line are stabilised using 30 x 13,000 m3 unit capacity anaerobic digesters, and are then dehydrated using 12 x 100 m3 per hectare capacity centrifuges before being located in the 100 hectare single filling pond.
The plant is completed with a gas network to make use of the energy, with 7 x 8000 m3 capacity membrane gasometers and 12 x 2.7 mW electric motogenerators.
General Information
Location: Atotonilco, Hidalgo (Mexico)
Capacity: 35 m3 per second and a maximum treatment capacity of 50 m3 per second
Type of contract: D&C and O&M
Equivalent population: Over 10.5 million people
Key figures
+12M
equivalent inhabitants
22
years of D&C and O&M contract
80.000
hectares reused to irrigate
560M
€ of total investment
VR EXPERIENCE TO ATOTONILCO WWTP
At ACCIONA we are committed to innovation and we use new digital tools to communicate our projects. We take you to our facilities and show you how we care for and manage water in a sustainable way, to guarantee access to this fundamental resource in any part of the world. Discover the process that wastewater follows to be treated and the operation of one of the largest wastewater treatment facilities in the world.
Technology and innovation
DECLAMER®
ACCIONA developed a lamellar settling device with sludge recirculation in a contact turbine (DECLAMER®), which can provide high settling yields due to the formation of the right size and weight of flocs.
The settled sludge is concentrated using a centrally driven sludge scraper, fitted with thickening rods. The synergy deriving from suitable flocculation, along with a calculated percentage of recirculated sludge, applied with an adjustable speed contact turbine and lamellar settling with lamellas selected for each specific case, means that the solution can be adapted to the specific pollutant requiring removal, aiming for the best possible performance.