232,700
m2
in the heart of Madrid
SUSTAINABLE CITIES AND COMMUNITIES
Make cities inclusive, safe, resilient and sustainable
Today, cities represent 3 % of the planet's surface and concentrate more than 50 % of the population. A figure that will rise to 70 % by 2050. In addition, cities generate more than 80 % of the world's gross domestic product (GDP).
In addition to facilitating access to essential services for life - such as energy and water - ACCIONA contributes to making cities places of productive well-being in which to live, favouring people's socio-economic development.
CLIMATE ACTION
Take urgent action to combat climate change and its impacts
The generation and use of energy accounts for 74 % of total greenhouse gas emissions in the world. This activity is the largest contributor to global warming. Investment in renewable energy, energy efficiency and other low-carbon technologies will continue to be essential to meet the emerging needs of humanity and to minimize their negative impact on the environment.
ACCIONA considers the fight against climate change and its effects to be a strategic priority. The company works to mitigate greenhouse gas emissions in order to contribute to the progress of society and respond to the main challenges of sustainable development in the areas of infrastructure, water and energy, leading the transition to a low-carbon economy.
Gardening and landscaping services.
Arganzuela Park, within the Madrid Rio project, has been invented as the huge open green lung in the south of Madrid, accessible from the very heart of the city.
The services business of ACCIONA has helped the park to triple its size, from 84,000 m2 to 232,700 m2. Noteworthy among the works performed were the planting of 10,000 new trees and 122,300 bushes, the urban beach (a request from the children of Madrid), 10 fountains, five children's play areas and sports areas, such as skating facilities and a football pitch.
During the entire construction process, ACCIONA applied its quality, environmental and sustainability policy, such as the use of machines and electrical vehicles and the recycling of materials to minimise CO2 emissions and to contribute to the capital city's sustainable development.
General information
Customer:  Madrid Municipal Council
Commencement of contract: 2011
Ubicación: Madrid
Services: Gardening and landscaping
Aggregates: 195,014 m2
key figures
232,700
Square metres of surface area
Madrid Río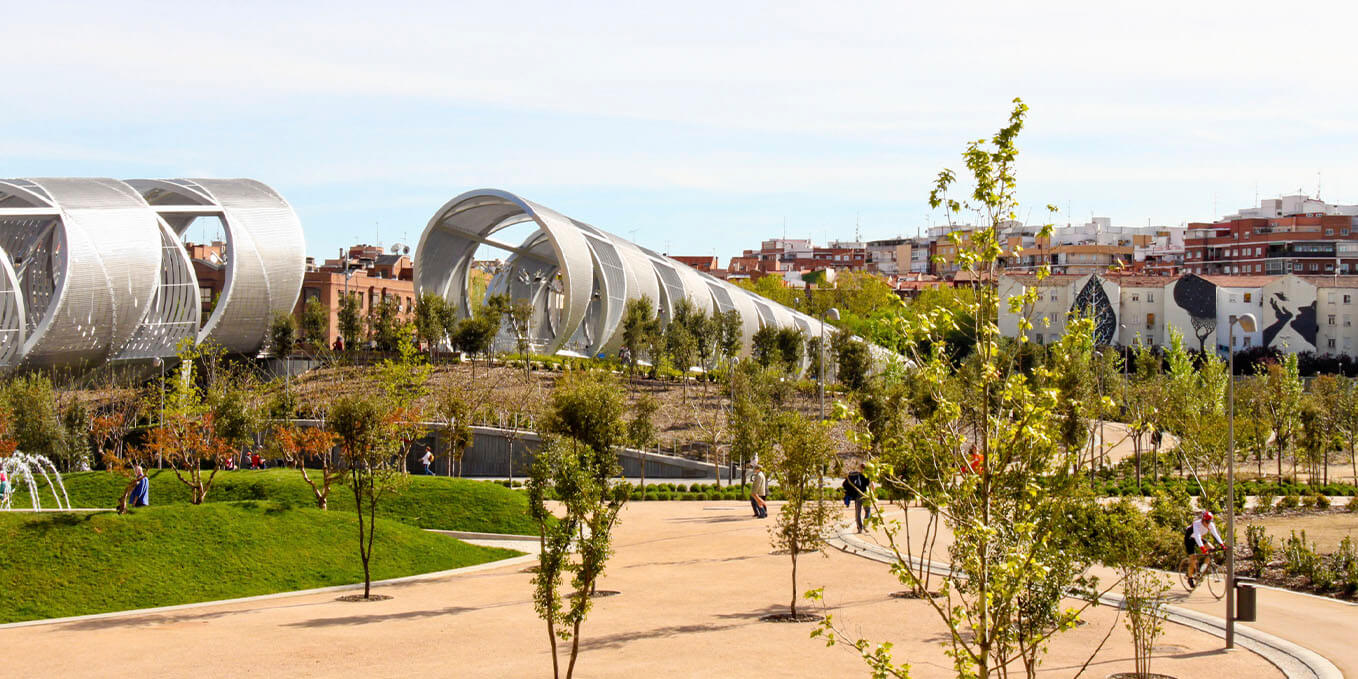 Experience
Madrid Río: the rebirth of a garden
"On water I was built, my walls are made of fire" This historic motto of the city of Madrid alludes to the Muslim settlement which, at the end of the 9th century, gave rise to a small town that grew into what is today the Capital of Spain...