We guarantee safety
Support decisions tool in maintenance tasks of winter road management.
Microweather guarantee safety and a good operation on roads during winter season. It allows us to forecast adverse weather conditions such as snow or other weather patterns thanks to the high-resolution data predictive models. With the information got by Microweather, we can schedule better our material and personal resources, becoming more sustainable and efficient at the same time.
Microweather's platform offers us all the information we need to opt for the best strategies of winter management's vehicles deployment against weather risk situations. Being able to predict variables such as the exact incident location or its severity, we are capable of maximizing the potential of our resources giving a quick and efficient answer on the roads. Besides, we pretend to obtain environmental advantages reducing the necessity of using chemical fluxes and avoiding unnecessary routes with the consequent reduction of carbon footprint.
The tool brings together different data sources in real time such as high-resolution weather forecast, weather stations data, radar data or vehicles position data generating weather alerts that helps to improve decisions and strategies of snow plough deployment and other resources assuring safety on the roads.
This tool is deployed currently in 2 contracts maintained by Acciona: British Columbia (Canada) region and A2 -Zaragoza's Highway (Spain). In both locations it is offering really good outcome despite the complexity and differences between Canada and Spain. We highlight the flexibility and adaptability that Microweather has, it's able to adapt to the necessities of each area giving reliable data anywhere.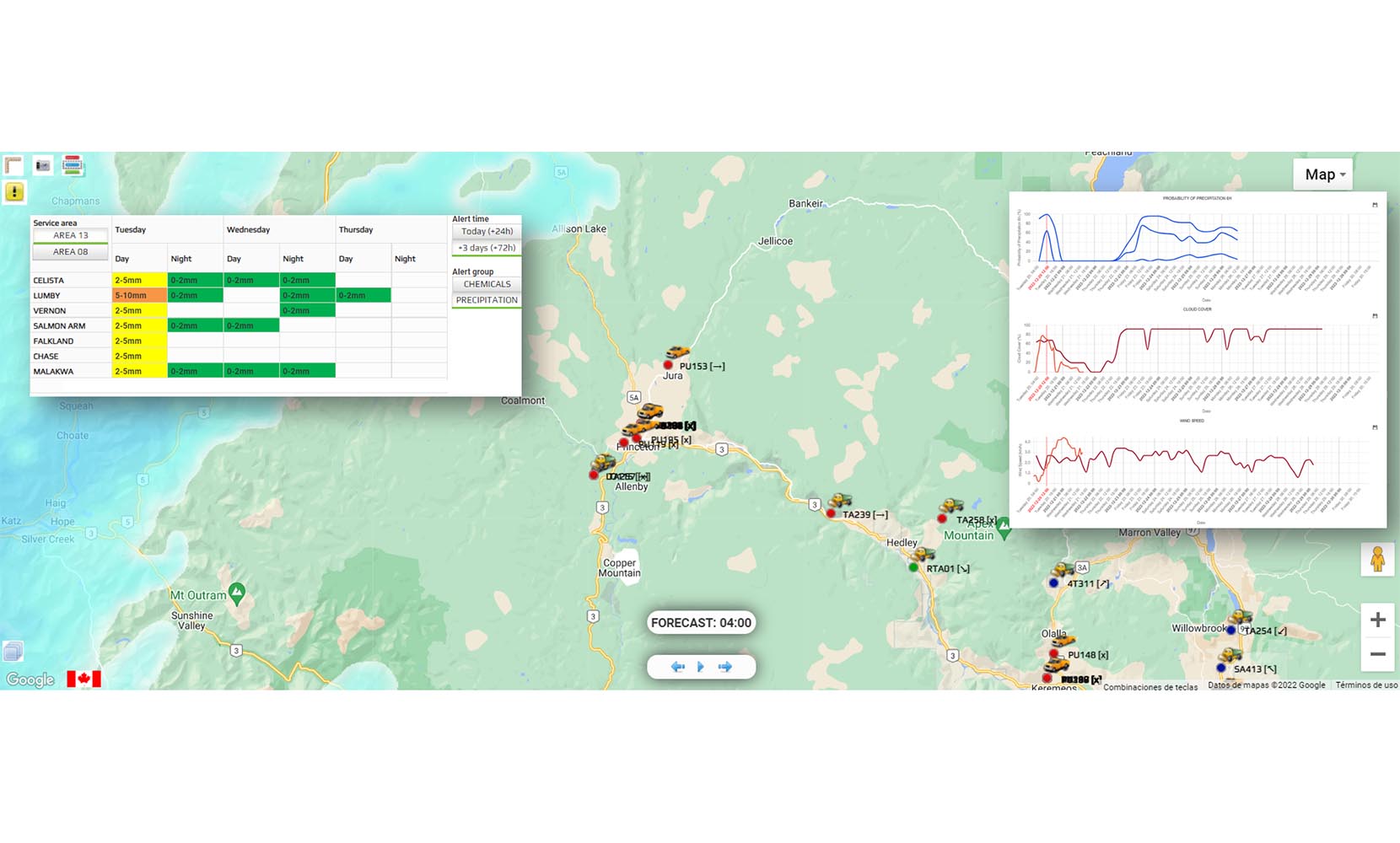 Project Objectives
The goal of the project is to provide a system which is able to forecast and integrate all the essential information for a flexible decision making. Therefore, Microweather offers the best results in different areas bearing in mind the local weather particularities which are very important when it comes to predict phenomenon as variable as weather precipitation.
Main potential and expected advantages of this tool are:
Safety increase in the roads through fast and planned actions.
Emissions reduction for improving vehicles deployment strategies.
Sustainability improvement by the use optimization of chemical fluxes.
Reduction of maintenance and operations costs.
This tool meant to be a dynamic system, capable of constantly improving in terms of reliability and offering every time a valuable and useful information for Acciona.
Technology involved
IoT e integraciones de datos 
Data analysis / Business Intelligence 
Other Digital hub projects