15.000
square meters of facilities
health and well-being for patients
SUSTAINABLE CITIES AND COMMUNITIES
Make cities and human settlements inclusive, safe, resilient and sustainable
Today, cities represent 3 % of the planet's surface and concentrate more than 50 % of the population. A figure that will rise to 70 % by 2050. In addition, cities generate more than 80 % of the world's gross domestic product (GDP).
In addition to facilitating access to essential services for life - such as energy and water - ACCIONA contributes to making cities places of productive well-being in which to live, favouring people's socio-economic development.
We strive to employ only the most pioneering design and construction practices, with the end goal being to increase the health and wellbeing of patients, staff and visitors, while committing to reducing environmental impacts during and after the construction of this project.
Through a public-private partnership, the project is an impressive example of a well-executed social infrastructure deployed through innovative, sustainable building practices.
This is ACCIONA's second healthcare facility in Canada which will be designed to achieve Leadership in Energy and Environmental Design (LEED®) Gold certification.
We hope that this is only the beginning of other healthcare facilities throughout North America which strive for sustainable, responsible and energy-efficient design to optimize comfort and liveability for the communities in which they exist.
55-bed Hospital
123-bed Residential Care Facility for seniors
An integrated services building for centralized food, laundry and material services
Sustainable building practices: designed to achieve LEED Gold certification
Pebble Partnership Project, helping healthcare providers to push beyond standard design expectations in order to encourage innovative progression in how the industry can improve and be more effective through the built environment
General information
Location: Fort St. John, British Columbia, Canada
Client: Northern Health Authority (NHA) and the Province of British Columbia
Our role: Concessionaire, Design & Construct Contractor, Hard Facility Manager
Infrastructure: 161,000-square-foot hospital and residential care building
Completion date: 2012
Key points
ACCIONA is a new neighbour in the Fort St. John community, and we've made it a priority to work closely with the local construction community to establish good working relationships based on trust and experience. Additionally, we recognize the invaluable contributions of our Consortium partners: Innisfree, Stuart Olson Construction, HCP Canada, and Cannon Design.  The strength of our team was vital to winning the project and has ensured a high-quality product will be delivered.
Making our client's vision "to be a model of excellence in rural health care" was the primary focus for ACCIONA as we began to design the new Fort St. John Hospital and Residential Care Facility.  The redevelopment of this hospital has modernized the delivery of health care for the communities in northeast British Columbia, including Fort St. John, Dawson Creek and Fort Nelson, now and into the future.  The need for this facility is evident, as the region's residential healthcare demand is currently served by three, outdated and aging facilities.
One of the primary focuses for this project was to create an elder-friendly environment, comprising of features like more single-bed rooms for comfort and privacy, as well as the outdoor space so patients and family can enjoy nature during their time spent in the hospital's landscaped areas.
Furthermore, the hospital is a partner in the Pebble project, which is an international industry initiative that challenges healthcare establishments, along with their designers, to introduce pioneering, evidence-based design practices to create healing environments that encourage the highest quality of care, advance safety standards and increase overall effectiveness and efficiency. For example, wall color and patterns, healing art themes and consideration of patient views from room windows was all create a calming environment for the caregivers and cared-for alike.
The overall design is ergonomic, reducing patient stress and thereby improving wellness and recovery rates. The measurable best-practice design methods are quantified and shared with other Pebble partners in an effort to continue the innovation and quality of care for future healthcare organizations.
ENVIRONMENTAL IMPACT MANAGEMENT
Our design objective is to support the vision of our clients to be the first northern green hospital project notable for architectural excellence and sensitivity to the needs, wellness and healthy lifestyle of patients, residents, staff and visitors.  This project's innovative, sustainable design is intended to promote the high standard to which all hospitals throughout the surrounding regions will be built in the future.
The core principles of our sustainable design include:
limiting waste and hazardous substances by using recycled materials and low-emitting building productions
utilizing local and regional materials in order to make efficient use of resources
reducing detrimental impacts on air, water, soil and vegetation by way erosion/sedimentation control
smaller staging areas and controlling stormwater runoff
promoting energy efficiency with high performance building envelope, mechanical and electrical systems
improving lifecycle performance with increased enveloped design service life and flexible equipment layouts
enhancing public health, safety and quality of life with improved indoor air quality through both design and construction, daylighting and access to views and outdoor spaces.
This facility takes many preventative health actions by improving ecological performance and indoor environmental quality.  This is accomplished through the selection of design features, mechanical systems and infrastructure, as well as material selection and operations and maintenance practices.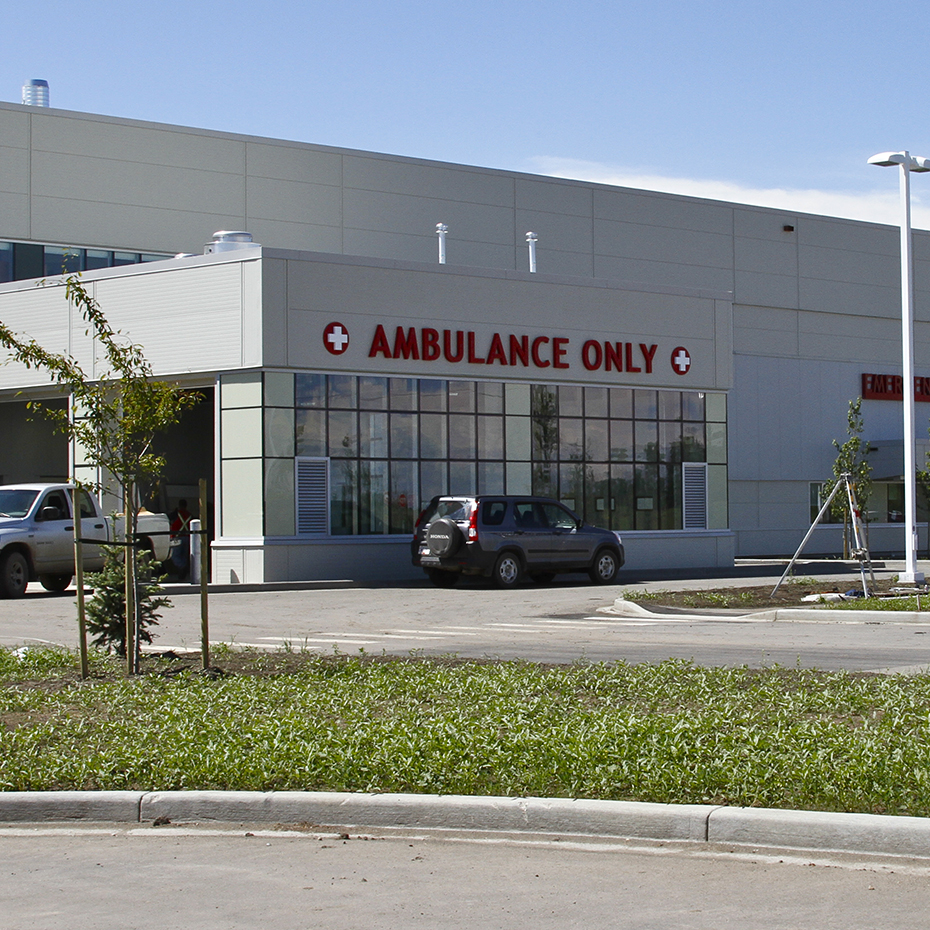 The orientation and design of the hospital's service building and residential care building was carefully planned and considered. The design has maximized the position of the builds to allow for the majority of public spaces being located to face southwest, providing the best views and gathering daylight and heat from late morning through to the evening.  In order to reduce heat loss in the buildings, northern exposure is minimized and the lower level areas are earth-sheltered, which means that surfaces of the building are built into the earth, allowing the indoor air temperature to be easily maintained.
The residential care building comprises of a uniquely-engineered, laminated timber structural deck system, developed in partnership with Canfor. The structural deck system uses 3 layers of 2x6 beetle killed pine, which is extensively available. The use of this material is ideal, compared to standard concrete options; this system uses less than half the amount of concrete by volume.  The extent of wood usage can be further expanded with potential use of wood-based wall panels, as opposed to steel stud framing or prefabricated wood panels used for exterior wall envelopes.
ACCIONA's strategy to obtain LEED® Gold Certification is founded on the desire to use an integrated design process to create a high performance, energy-efficient and healthy building. To ensure performance under LEED® Canada criteria, our team has focused efforts on achieving credits most-suited to the site conditions, programmatic and functional constraints, while delivering the greatest performance synergies.