Between Vaudreuil-Dorion and Châteauguay
INDUSTRY, INNOVATION AND INFRASTRUCTURE
Build resilient infrastructure, promote sustainable industrialization and foster innovation
Economic growth, social advancement and action against the climate emergency depend largely on investment in infrastructure, sustainable industrial development and technological progress. Today, about 1 billion people live more than 2 km from a roadway, 940 million live without electricity, and 663 million lack improved drinking water sources.
ACCIONA participates in the entire infrastructure construction value chain, from the identification of opportunity, design and execution, to the operation and maintenance of the constructed works, using the most advanced and innovative techniques.
Performance quality and safety are two of the criteria that maximize the company's value proposal in the development of large infrastructure projects and that differentiate it from other competitors in the construction field.
74 km motorway bypass south of the metropolitan area of Montreal, greatly reducing congestion in the city.
The contract included the design, construction, financing, operation and maintenance of the 42 km motorway.
A-30 was the largest transport project in the province of Quebec, and the second private public partnership (PPP). The project was provided a Bypass for the region that was allowed for a very significant reduction in congestion in the city centre and was provided an alternative route for heavy vehicle traffic.
The project consisted of two long bridges, Beauharnois Bridge and Saint Lawrence Bridge, which were 1,860 and 2,552 metres in length, respectively. Due to the area in which they were located, both were built under harsh winter conditions. Despite this, they were successfully executed, with the established deadlines having been met.
The work can be divided into two sections: the western section, 42 km of new construction, where the aforementioned bridges are found, as well as 29 shorter bridges and one tunnel. And an added section approximately 32 km in length, which was part of the Operation, Maintenance and Rehabilitation concession contract.
The new construction section had the following characteristics:
42 km of 4 lanes (2+2).
2 long bridges, 1,860 and 2,552 metres respectively.
29 structures (bridges and overpasses) and a tunnel.
GENERAL INFORMATION
Location: Montreal, Quevec, Canada.
Contract type: Design, construction, financing, operation and maintenance (PPP).
Infraestructure: 72 km of motorway that includes 2 long bridges and 29 structures and tunnel.
Year of project completion: 2012
KEY ASPECTS
ACCIONA and our partners recognised the importance of the project in terms of regional economic development, employment opportunities and supply chain and training and skills development. Benefits for the region of this project included:
Creation of up to 18,900 full-time jobs during project construction and maintenance.
Increased economic activity in the region during the concession.
Reduced travel time across the range by up to 40 minutes for heavy commercial vehicles.
Higher cargo efficiency.
Improved road and driver safety.
SOCIAL INITIATIVES
This project generated around 18,900 direct and indirect jobs during and after the work execution period. In addition, thanks to its aim of circumventing the greater Montreal area, this motorway reduces the flow of vehicles through the island where Canada's second most populous city is located.
SUSTAINABILITY
The completion of the new A30 toll road greatly eases congestion in the greater Montreal metropolitan area, thereby reducing air pollution. During construction, special attention was paid to waste reduction by reusing much of the existing excavation material and using recycled materials in fillers, aggregates and concrete. The implementation of sustainable construction practices is beneficial from an economic and an environmental point of view, making it a practical and fundamental business decision for ACCIONA.
This project was built with maximum consideration given to the environmental impact study, which was carried out in accordance with provincial regulations. The specific guidelines described in the environmental impact study required that the project be designed and built following measures to minimise noise, dust and water pollution. Complying with these measures is essential to protect wildlife habitats, and ACCIONA works very closely with environmental and ecological consultants to ensure that impacts are kept to a minimum. To protect aquatic environments, we will use trestles or barges for river access and screens to capture sediment to avoid disturbing fish in spawning areas. When it is necessary to remove trees, we will avoid doing so in the spring to not disturb the nesting of local birds.
Most networthu structures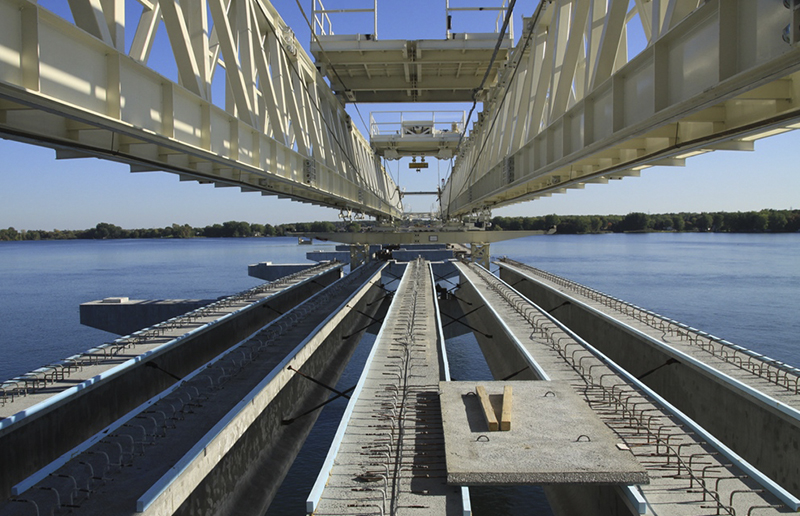 The bridge crosses the shipping canal, the Beauharnois dam and the Saint Lawrence waterway. The bridge consists of two 14.22 m wide decks, one for each roadway and 3 m apart, with three lanes each. 43 sections: 2 pillars and 42 intermediate supports, between piles 28 and 29 (150 m section) composite structure. The elevation design is limited by the need to maintain a vertical gap of 38.5 m over the shipping channel. Two deck types were chosen to build the bridge, depending on whether the bridge crosses over land or water.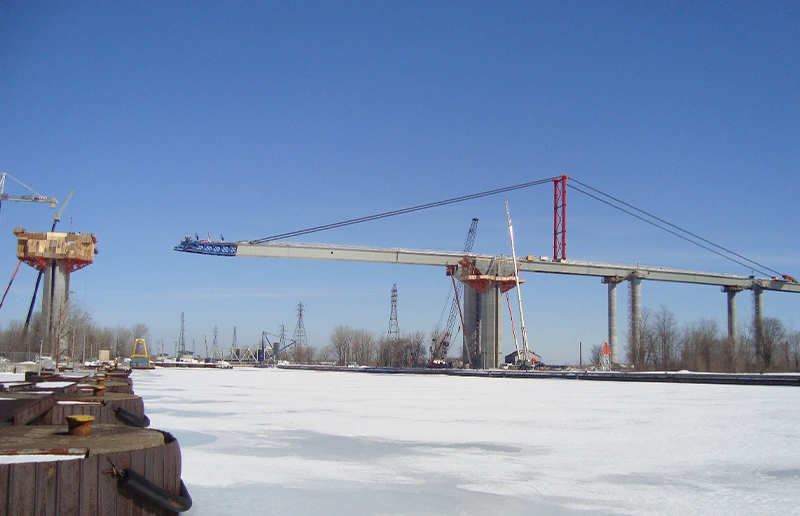 Saint Lawrence River Bridge
42 sections, 38 of which are 45 m long; the remaining four sections, two at each end, are 31 m in length. The bridge consists of two separate decks, each 12.57 m wide and with two roadways 3 m apart, supported by 82 pillars and four pillars. The base consists of shallow base foundations and micropiles; to prevent them from falling over, they are anchored to the rock with 7 m long micropiles.
awards and recognitions
The project has been awarded the following: